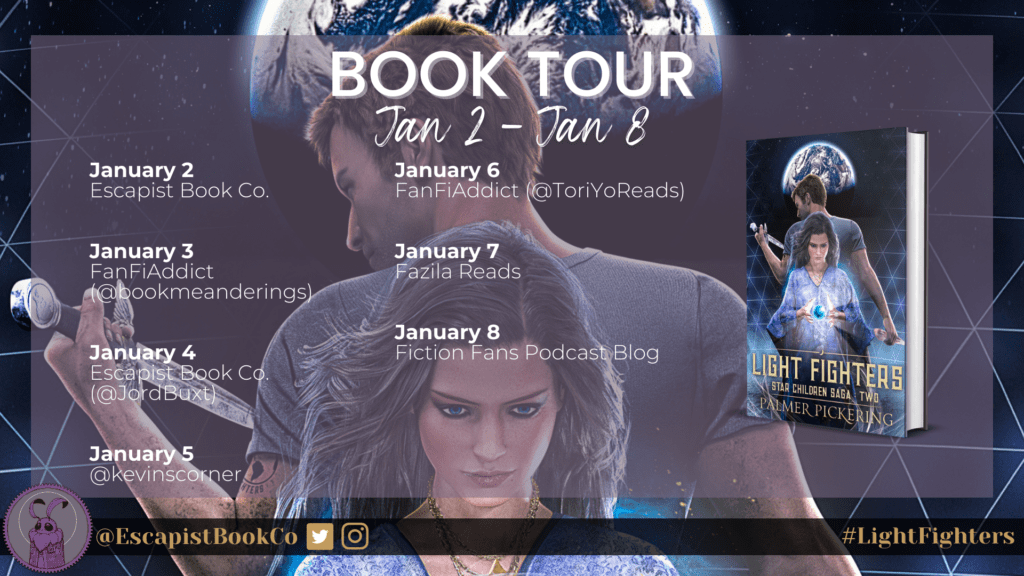 Welcome to another Escapist Book Tour post here on Fanfiaddict! Today we have a guest post from Palmer Pickering. Pickering is the author of the Star Children Saga, a Science-Fantasy series. Book 2 in that series, Light Fighters, was published March 1, 2022. Below you will find info on the author, the Star Children Saga, a guest post by the author, and a giveaway!
Book Information
Light Fighters by Palmer Pickering
Series: Star Children Saga #2
Genre: Science-Fantasy
Intended Age Group: Adult
Pages: 796
Published: March 1, 2022
Publisher: Mythology Press (Self Published)
Content/Trigger Warnings
Shown on Page (things clearly told to the reader):
Violence
Foul language
Rape
PTSD
Alcohol use/abuse
Torture
Human trafficking
War crimes
Sexism
Drug trafficking and drug use/abuse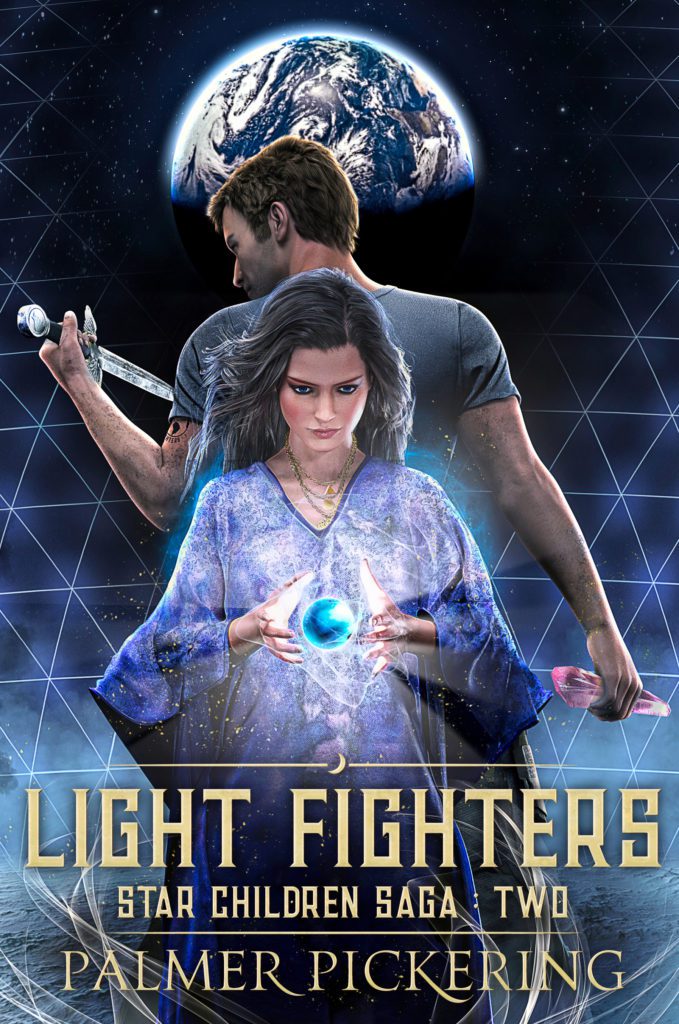 Book Blurb
In Light Fighters, Cassidy and Torr are trying to survive on the moon while facing threats from all sides. As their shamanic heritage surfaces and they hone their magical skills, they are hunted for their power, escalating into a tension-filled game of cat and mouse.
Ridge is stuck between the sadistic Balty and the desire to control his own life. His magical gifts become entangled with those around him, pulling him between opposing forces. When his path crosses that of the Star Children, he must decide whose side he is on.
Meanwhile, we learn that while the twin Star Children are hoping to find the Star People, the Star People of Turya are desperately seeking the Star Children as well. Their stories interweave as the mythology of the Star Children unfolds.
A compelling expansion of the Star Children Saga.
Guest Post: Science-Fantasy as a Subgenre
Hi Everyone,
Today I'd like to talk (rant?) about the subgenre of Science-Fantasy. This is an interesting sub-genre in speculative fiction. And by interesting, I mean odd, in several ways.
First of all, I talked to many agents and publishers while on the long, failed quest of finding a traditional publisher. They strongly advised against writing a science-fantasy book, and agents said publishers would never buy it.
Well, I had already written several hundred thousand words of the saga, so "not writing" it was not an option, and besides, I found their opinions ridiculous for several reasons. You want to know one of the main reasons behind their blind prejudice? Shelving in bookstores. Yep. They wouldn't know where to stock it.
Should it be in Fantasy or should it be in Science-Fiction? Oh,
the impossible dilemma. How would they ever classify it on Amazon? What about best-seller lists; which list would it go on? There is no BISAC code for Science-Fantasy, after all, so what ever is one to do??
What is a BISAC code? To quote scribemedia.com: "BISAC codes are 9-character alphanumeric codes that tell book retailers, distributors, and librarians what categories and subcategories a book belongs in."
Here's another one by bisg.org: "Maintained by BISG since 1995, Book
Industry Standards and Communications (BISAC) codes have become a core element of book product metadata, enabling systems across the supply chain to recognize and merchandise print and digital books in catalogs and websites, and library and retail systems."
That's right. There is no BISAC code for Science-Fantasy. There is Dystopian, Magical Realism, and one I just discovered, Mashups, which I wish I had noticed sooner. But they had a stupid point, I suppose, since I ended up using nine different BISAC numbers to describe this series. I suppose the closest is Science Fiction/Space Opera. I mean, isn't the definition of Space Opera Science-Fantasy?
Let's ask Google the definition of Space Opera. Okay, Google's first answer doesn't actually support my thesis, but it's so funny I need to share it: "Space Opera: a novel, movie, or television program set in outer space, typically of a simplistic and melodramatic nature. 'I associate the idea of space opera with appallingly bad writing'"
Hey! It's Christmas, be nice! Here's one I like better and brings me to the second point I wanted to make, which I'll get to in a minute, after I'm done ranting about genre classifications. This quote, which I love immediately because it's from an aptly website named gamerant.com, tells all those BISG classifiers, agents and trad publishers, that they are missing the boat: "Star Wars and Star Trek
spawned new eras of space opera, transforming what was once an insult into a substantial audience draw. Space opera has become one of the most important subgenres in the larger sci-fi canon."
Yeah. Take that, you inflexible industry types! OMG, hahaha, Google is a treasure trove this morning, again confirming the point I promise to get to in a minute, but let's jump ahead and answer this question: Is Dune a space opera? "Dune is a classic space opera. Let's talk about other great works in this genre. Ah, the space
opera! That "hacky, grinding, stinking, outworn, spaceship yarn," as science fiction author Wilson Tucker memorably put it when he coined the term in 1941." -Washington Post.
So, after a bunch of searching, I could not find anything to support my thesis that Space Opera is Science-Fantasy. So I guess I was wrong about that, since melodramatic journeys through space do not require magic.
So what is Science-Fantasy? In my definition, it's magic in space. (It could also be magic, or rather, alternate realities, in non-space, such as the Matrix). But my Star Children Saga is Fantasy in a space or extraterrestrial setting. I'll finish this post with why I chose to write in that genre. But first, to conclude my rant: Some of the most beloved SFF out there is Science-Fantasy, as I've already alluded to: Star Wars and
Dune.
The magical, mystical, spiritual, paranormal elements, or whatever you want to call the Force and the Bene Gesserit, are what make those works so compelling. The magical, spiritual undercurrents are what touch the hearts and souls of the readers (viewers) and transform otherwise simple stories into enduring mythologies.
You could say that Fantasy is all about mythologies, and extraterrestrial Science-Fiction is as well. That is because they both fundamentally deal with the questions of who we are, where we came from (as a species or spiritual entities), how we are all connected, and what happens after we die.
I chose to write in that genre because, firstly, I love Star Wars and Dune, and love the mixture of space and fantasy. Secondly, I chose the genre simply because the two primary prompts that launched this story both required Science-Fiction world building.
The first of those prompts (which you've probably heard me mention before) was a gag gift my brother gave me one Christmas: deeds to parcels of land on the moon. Legit ownership of lunar property. That's right, yours truly owns land on the moon. We will see how well the legality of my deed holds up when I or my descendants ever try to mine those parcels for Rare Earth minerals.
I digress… But that got me thinking that colonizing the moon was actually within the realm of possibility. I began wondering what the circumstances would be of such colonization, and what situation would drive my descendants to actually use those deeds. The second prompt was a recurring theme I noticed in religions and mythologies of ancient civilizations. Most civilizations, no matter where they were in the world, looked up to the stars as the dwelling place of gods, or the source of our species, or a destination.
You will see art of angelic beings or giants descending on shafts of light from the heavens, sometimes transporting people up with them, or people ascending to the heavens upon enlightenment or death. In addition, every civilization had names and stories behind star constellations.
So those were the underpinnings of the story that designated it as Science-Fiction. Legends of spiritual beings living in the cosmos bring in an aspect of Fantasy. But the straight-out magic is because that's what I love to read and write. I am very interested in shamanism, spiritual healing, the occult, new-age and ancient mythologies, and other mystical traditions. I consider the Star Children Saga to be primarily Fantasy that just so happens to have Science-Fiction settings and plot devices.
Thanks for hanging in with my rantings and ramblings. Have a fantastic 2023!!
-Palmer Pickering
Giveaway Information
Prize: A Paperback Copy of both Moon Deeds and Light Fighters!
Starts: January 2, 2023 at 12:00am EST
Ends: January 8, 2023 at 11:59pm EST
Direct link: http://www.rafflecopter.com/rafl/display/79e197ac74/
Author Bio/Links
Palmer has been writing fiction since she was eight. She received her BA in American Studies from Wesleyan University, with concentrations in Religion and Race Relations. She currently works in Silicon Valley in the gaming industry and high tech. In addition, Palmer holds a certificate in Chinese Acupressure, is a certified solar panel installer, and studied Tibetan Buddhism with the 14th Dalai Lama. She lives and writes in the magical redwood forest of the Santa Cruz Mountains, California.
Website: https://mythologypress.com/
Twitter: https://twitter.com/PalmerPickerin1
Instagram: https://www.instagram.com/lioncutcat/
Facebook: https://www.facebook.com/MythologyPress