Round One <—- We are Here
The 100 entries will be randomly divided amongst our judges. Each of the five judging teams will receive 20 novellas to read.
At least two members of each judging team will read each novella. They are not required to read the entire novella but are required to give each entry a fair assessment. It is up to the individual judging team how they will divide up the novellas, how many judges will read each novella, and how they will format reviews.
Each judging team will select 5 novellas from the allotted 20. These become the semi-finalists.
All semi-finalists will be selected and announced by December 15, 2023.
Round Two
The semi-finalists will be randomly assigned to a second judging team. Each judging team will receive 5 semi-finalists to read and review. As in Round 1, at least two people from each judging team are required to read each novella but it is up to each team how they will divide up the work and post reviews.
Each judging team will select 2 novellas from their group. These are the finalists.
Judging teams will select and review their finalists by January 30, 2024.
Round Three
All teams will read and review the ten finalists. As in the previous rounds, at least two people from each judging team are required to read each novella but it is up to each team how they will divide up the work and post reviews.
Each team will assign each finalist a score from 1-10, with 10 being the highest. Half points (such as 8.5) are permissible.
The finalist with the highest average score at the end of this round will be the champion.
All finalists will be read and reviewed by March 31, 2024.
Time to Meet the FanFiAddict Team!
About David W
Believer, Hubby, Girl Dad. Owner/CEO of FanFiAddict. Works a not so flashy day job in central Alabama. Furthest thing from a redneck and doesn't say Roll Tide. Enjoys fantasy, science fiction, horror and thrillers but not much else (especially kissy kissy).

About Arun
Loves over the top action, overpowered MCs, epic battles and happily ever after endings! The Michael Bay fan of book world. Reads various subgenres including GameLit, LitRPG, Progression, Superhero, Cultivation and whatnot's….with a soft spot for Western & Steampunk. Extra points for snarky/dark humour. Doesn't favor romance and grimdark that much. Lives in Garden State. Follow me @jackclaver

About Tom Bookbeard
Former chef turned constantly hungry foodie, TTRPG nerd, writer of fantasy stories about sky pirates. Currently working on The Sky Whale Trilogy. Beards.

About Ashley Brennan
Ashley enjoys multi-pov, character driven stories. Bonus for animal compananions and found family. She loves sci-fi, fantasy, and some horror and enjoys a multitude of subgenres including grimdark, space opera, first contact, gothic, epic, and time travel. Romance is always welcome. Ashley is a huge fan of series, especially the quartet. She always has three books in progress – a physical, ebook, and audiobook. Outside of work, Ashley is a homebody who loves spending time with her husband, two children, and dog. She is an avid runner who can be found listening to audiobooks during her long runs.

About Tyra
Tyra lives on the Sunshine Coast, but the rainier one in Canada, sadly not in Australia. She spends all of her free time reading books or hiking with her dog. She loves all things fantasy, and has recently found the vibrant community of self-published fantasy. She also loves playing DnD, and is just beginning to tentatively DM games.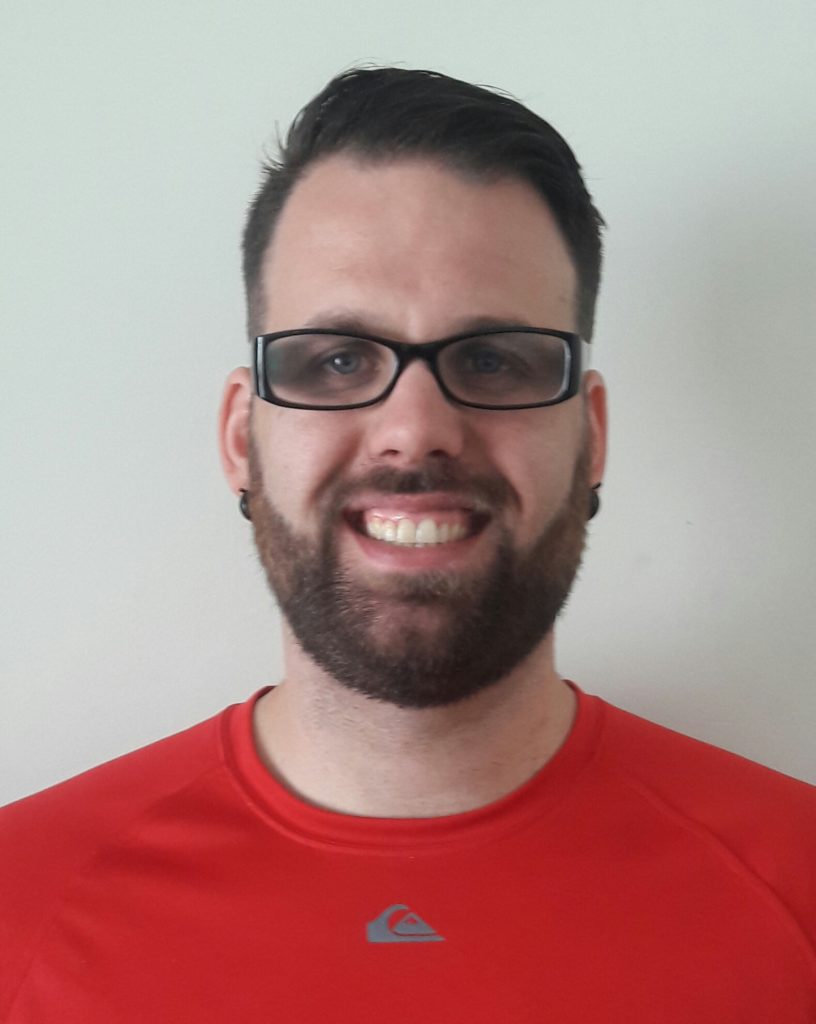 About Andy
I am, first and foremost, a storyteller and an artist–words are my palette. Fantasy and science fiction are my genres of choice, and I love to explore the darker side of human nature through the filter of heroes, villains, and everything in between. I'm also a freelance writer, a book lover, and a guy who just loves to meet new people and spend hours talking about my fascination for the worlds I encounter in the pages of fantasy and sci-fi novels.
Speculative fiction provides us with an escape, a way to forget about our mundane problems and step into worlds where anything is possible. It transcends age, gender, religion,race, or lifestyle–it is our way of believing what cannot be, delving into the unknowable, and discovering hidden truths about ourselves and our world in a brand new way. Fiction at its very best!
Time to Check Out Our Titles!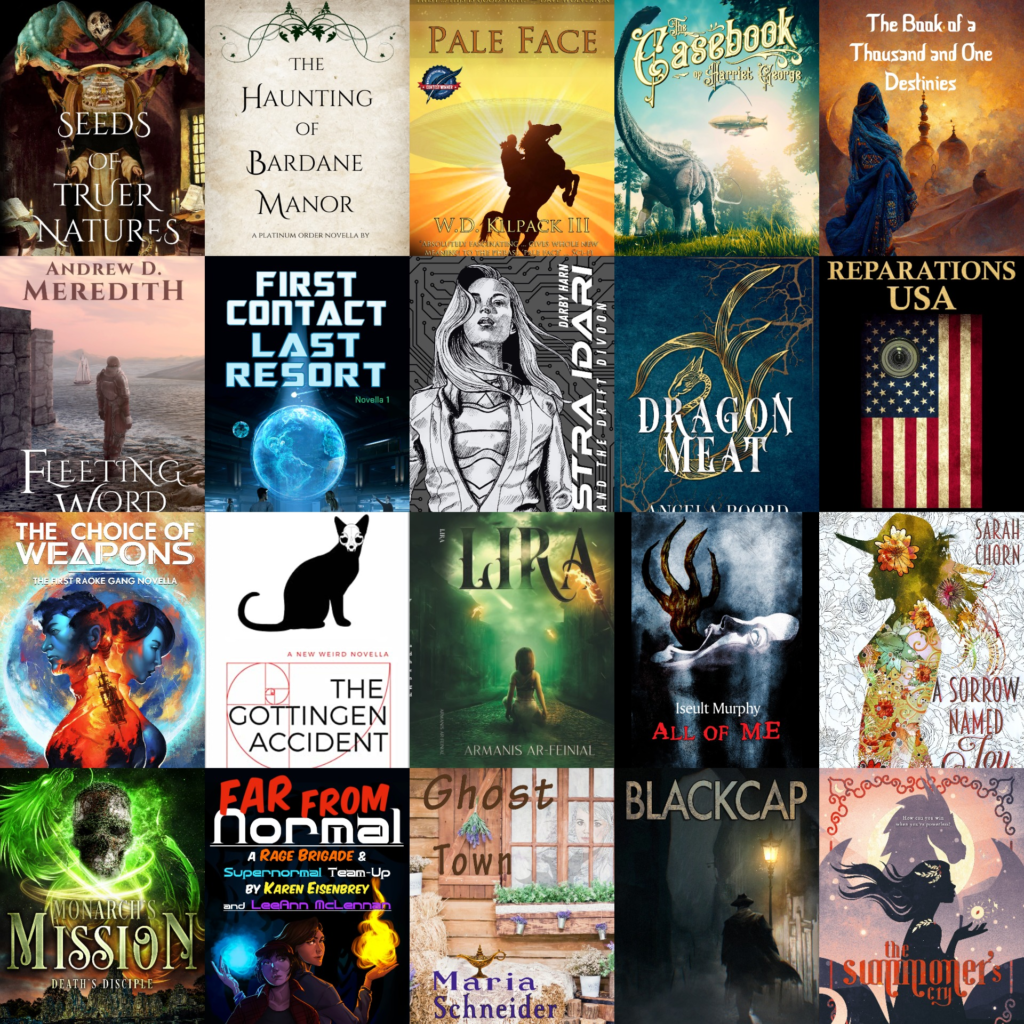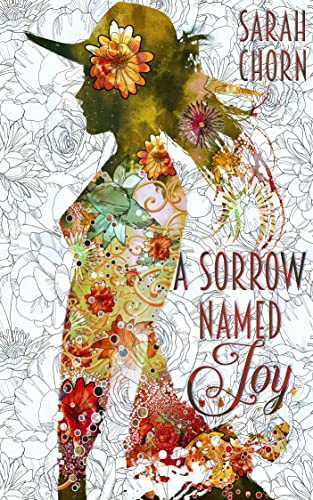 A Sorrow Named Joy by Sarah Chorn
Joy desires nothing more than her husband's happiness. She spends her days creating the perfect life for him in their idyllic suburban home. Everything is neat, predictable, and in its place.
When Joy finds a picture that hints at a past she cannot remember, the facade cracks. As secrets are revealed, Joy realizes her blissful life is crumbling and to find herself, she must first lose herself.
Perfect, after all, is only an illusion.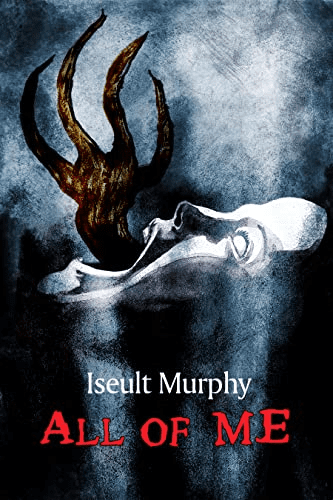 All of Me by Iseult Murphy
Sometimes you are your own worst enemy.
Margaret's unhappy with her life. Overweight, overwhelmed and passed over. When her neighbor gives her a gift, she wakes up a new person – or three.
Now Dot, Peggy and Daisy have the freedom to pursue their career, creativity, and darkest obsessions. But is it any easier living with yourself when there are three of you? And why, when they can indulge their cravings, are they still holding themselves back?
Perhaps getting what you want, and eating it too, does not lead to happiness.
From the author of the 7th Hell series comes a body horror fairy tale about self-talk, self-hate, and insatiable hunger.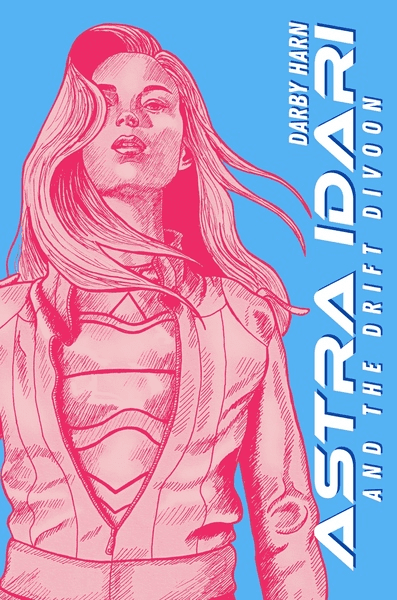 Astra Idari and the Drift Divoon (Stargun Messenger #1.5) by Darby Harn
Goodreads | Newsletter Sign-up (FREE)
Astra Idari is a Stargun Messenger out of fuel and out of work. She's aboard The Drift Divoon, a starplane tender, to seek work in a faraway star system. When a passenger is murdered aboard the tender, Idari finds the work she's looking for. Only it's far from what she expected. Idari's investigation leads to a powerful shipping magnate whose own presence aboard the tender raises major questions. The deeper she looks into the crime, the more dangerous it becomes for Idari, desperate to find some fuel to light ahead of the shadows chasing her.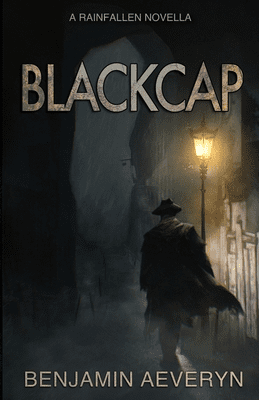 Goodreads | Newsletter Sign-up (FREE)
Kade Blackcap was once a famous detective. Overburdened with guilt at sending a man to the noose, he finds himself unable to take a case for fear of the consequences. But with the taxman breathing down his neck, he has to find work soon, or he'll lose the house his father left him.
He has one hope left.
Long has he suspected the myths of old were creeping back into the world, and with his detective background he has all the skills to hunt them. But once he finds himself on the trail of a monster, he realises how out of his depth he is.
He might have the skills to track such a creature, but what will he do when he catches up with it?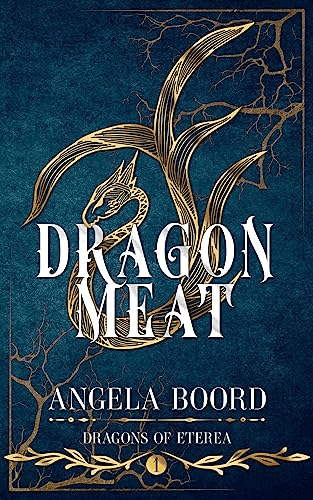 Dragonmeat by Angela Boord
Dragonmeat is poison. But what if you're starving?

Peri will do anything to keep her chronically ill father alive in a city that's starving to death. Using her now useless scholarly talents to research thievery, she's become a highly successful food thief—small, ordinary—invisible. In Medeas, gripped in the iron fist of its mad governor, ravaged by dragons, hiding is a way of life.

Then her stealing triggers a riot, and a mysterious stranger steps in to save her. Frost has food and he's willing to share his secret…but talking to him might be the most dangerous thing Peri's ever done. How can she find the courage to leave her safe shadows and take a stand when her father's life hangs in the balance?

Dragonmeat is a fast-paced novella about a woman discovering her own power under the most impossible of conditions, set in award-winning author Angela Boord's Eterean Empire universe–a lush, dangerous world of empire and resistance inspired by Rome and Renaissance Italy.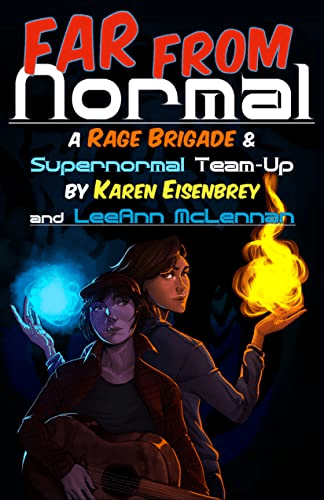 Far from Normal: A RAGE BRIGADE & SUPERNORMAL TEAM-UP by Karen Eisenbrey & LeeAnn McLennan
The band St. Rage is on tour from Seattle, and they bump into the supernormal Brighthall family in Portland, just when the city is being overrun by monsters. Eisenbrey's Rage Brigade books smash into McLennan's Supernormal Legacy trilogy just in time to save the day. Truth. Justice. Rock'n'roll. And lots of superheroes!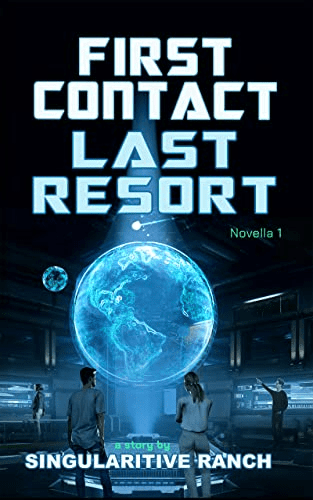 First Contact Last Resort: A Sci Fi Novella 1 (The Singularitive Scenarios) by Singularitive Ranch
A team of scientists must prove their surprising discovery or surrender it to conspiracy in this breakout soft sci-fi series exploring the pitfalls and virtues of human nature.
In 2033, a rogue experiment in a Berkeley astrophysics professor's lab leads to discoveries that astound humanity—but have uncertain consequences for the planet.
Those uncertainties incite a popular conspiracy theorist to spread apocalyptic doom. The discoveries also stir heretical ideas that provoke a firebrand religious crusader and her acolytes to vilify the leader of the Berkeley lab, a young professor striving to advance her career.
While battling to overcome all that often violent backlash, the roller coaster lives of the professor and her colleagues careen into even more chaos when their collaborations with a gutsy biotech entrepreneur, an alt-lifestyle activist, and a divergently-developed child reshape society—in beneficial but also divisive ways.
As the intimate stories of this cadre of trailblazers unfold in the face of this changing world, some will be triumphant. Others tragic.
The First Contact Last Resort series dramatizes how civilization is revolutionized by a chain of new technologies, scientific discoveries, and social movements. This crisply written saga of raw human experience will make you question our destiny—and our origins.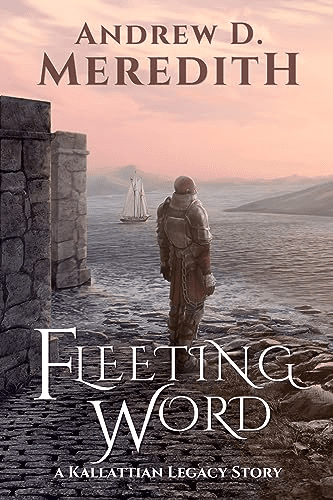 Fleeting Word (Kallattian Legacy) by Andrew D Meredith
War ends. Secrets hide. Faith beckons
Nethendel Unteel is comfortable in his life at the father monastery of Pariantur. But when the long-raging Protectorate Wars suddenly end, and life threatens to return to normal, Nethendel learns of a woman the dark gods wish to bind to their schemes. He must decide what to do with the secrets he uncovers.
Fleeting Word is a Kallattian Legacy novella, and acts as both the Prelude to the Kallattian Saga and Postlude to the Protectorate Wars by Andrew D Meredith.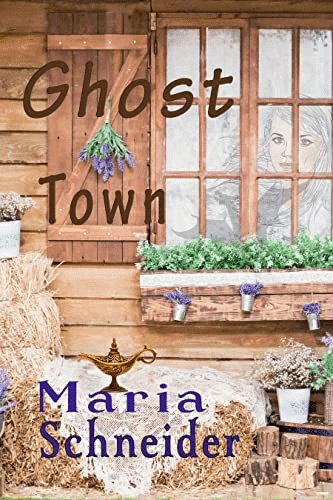 Ghost Town: A Gila Wilderness Tale by Maria E Schneider
Sometimes even in the middle of nowhere, trouble finds you. When you're a librarian working the night shift, it's even more likely, but Ava has a few tricks up her sleeve for dealing with the shifters, visitors and creatures who roam in the dark. If she's very lucky, the new stranger in town will prove to be a boon rather than a hindrance.
A cozy, romantic fantasy.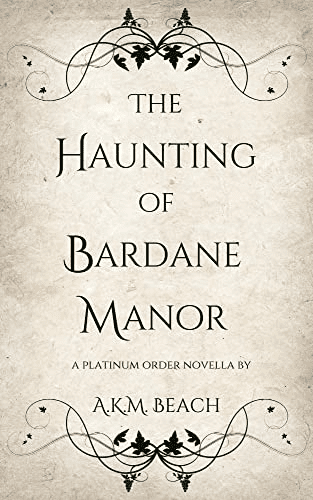 The Haunting of Bardane Manor: A Gothic Fantasy Mystery (The Platinum Order Mysteries) by A.K.M. Beach
An unnatural snow covers desolate vineyards.

A beloved nobleman's ghost torments his family.

The mystic sent to save them is at death's door.

Now a lowborn novitiate must work alone to unearth the secrets of Bardane Manor before the corrupt spirit brings everything to frozen ruin.

This creepy novella is set in the same gothic fantasy world of the Banshee's Curse Duology. It is a standalone ghost story featuring Ysoldette, one of the main protagonists of Lady Vago's Absolution.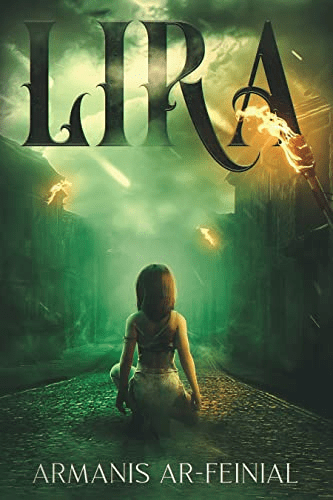 Lira by Armanis Ar-feinial
Lira is an innocent little girl, struggling to survive in a cruel, heartless world. As her father dies, she is left to fend for herself. Each day is a desperate and exhausting search for food, scouring through the Abyss, the only home she knows. Acute awareness does not always protect her from the very real risk of cannibalization or worse– being abducted. This is a horrifying reality that no child should have to face in a brutally poetic tale.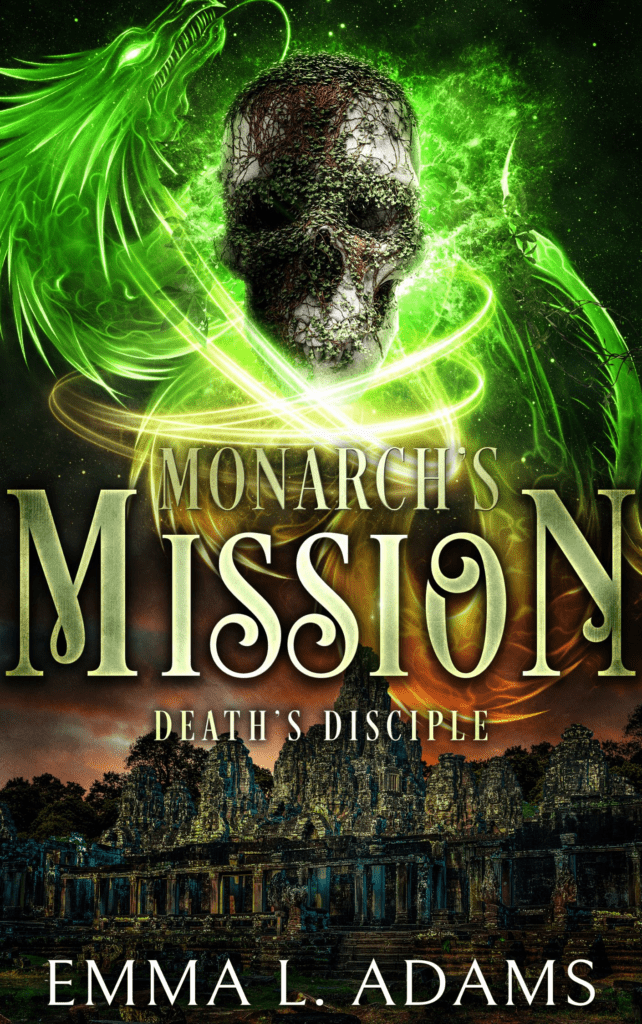 Monarch's Mission by Emma L. Adams
Goodreads | Newsletter Sign-up (FREE)
As a squad leader who frequently rides a ferocious war dragon into battle for the nation of Laria, Yala is used to narrowly escaping death. Her sole objective in war is get her team back home in one piece, and she's never had cause to pay attention to the gods or the Disciples who wield their power.
Until, that is, her monarch sends her team on a covert mission to seize control of a mysterious island. At first glance, the island contains nothing but the ruins of a long-abandoned temple, but a closer look yields a shocking discovery. The temple belonged to adherents of the god of death, Mekan, the one deity whose power is forbidden in Laria.
Trapped and surrounded by the forces of the dead, Yala soon finds herself fighting for her life amid the ruins. Even if she pulls off a miracle and gets her team out alive, nobody walks away unscathed from the god of death…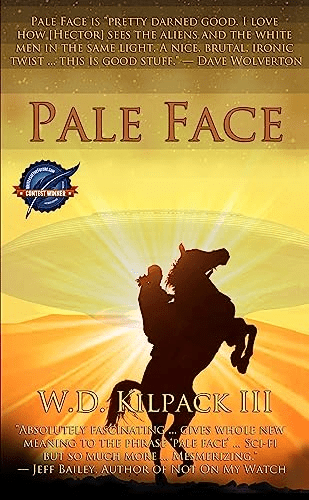 Special Recognition: L. Ron Hubbard's Writers of the Future Contest

An outcast loner survives the impossible. How can he survive becoming the proof that no one can deny?

Hector Whitehorse did not belong — not here, not anywhere.

Born on a New Mexico reservation, but educated in the white-man's school, Hector was part of two worlds, but at home in neither. It only got worse when his entrapment went from a feeling to a reality: trapped between Earth and someplace else.

Hector's close encounter nearly cost him his life. The repercussions could make him wish that he had not been so lucky.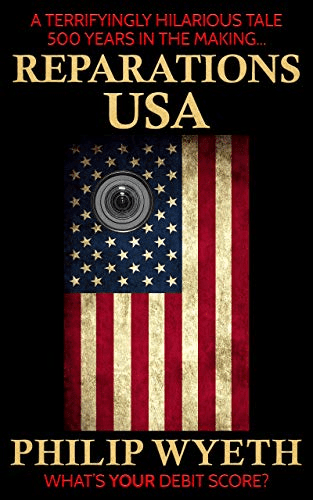 Reparations USA by Philip Wyeth
America, 2028. The War for Equity has begun! A new bureaucracy called the Historical Reparations Administration oversees enforcement of restitution for colonialism and slavery.

This is the story of everyday people caught in the crossfire between idealism and technology.

Supercomputers scan old documents while drones monitor both Debtors and Beneficiaries from coast to coast. Reality TV shows and religious cults help the nation atone for its sins.

Reparations USA is the frantically inventive future history that creates an entire world, complete with its own slang and a diverse cast of sympathetic characters.

Philip Wyeth's exuberant debut novel sets the stage for this timely series which is full of heart… humor… and total surveillance!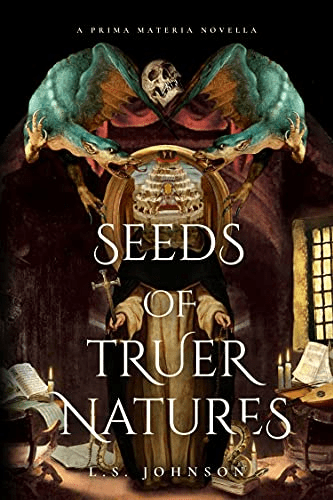 Seeds of Truer Natures by L.S. Johnson
In 15th-century Florence, two vampires plot against Lorenzo de' Medici in this prequel novella to the forthcoming Prima Materia series.
A year ago Adrian and Magnus walked out of the dungeons of their king, Gabriel, but his renewed favor is tenuous. Now they have an opportunity to make amends for good: to steal a book Gabriel desires from Lorenzo de' Medici, the most powerful man in Florence, on the condition that they do so without being detected.
To secure their prize, they decide to talk their way into Lorenzo's home—save that Adrian and Magnus are not men, but what later centuries will call vampires. Unable to walk in sunlight without burning, fearing discovery by the Florentines, they find themselves relying on an unlikely intercessor: a young monk named Girolamo Savonarola, already famous for his visions.
Soon, however, Adrian and Magnus realize that nothing about their task is what they expected, and their success could have catastrophic repercussions. To survive Gabriel's dark agenda, they will have to confront their shared past—or risk sacrificing their future.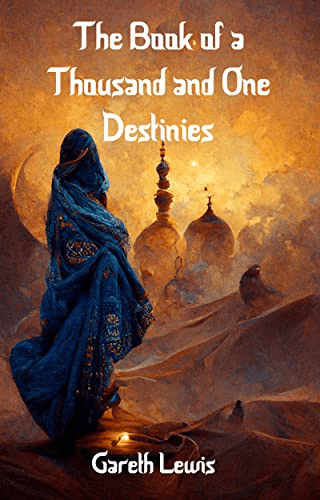 The Book of a Thousand and One Destinies by Gareth Lewis
A paranoid Sultan, an Assassin found only in stories, and a Storyteller caught up in their battle. Once upon a time, a great Sultan was plagued by an Assassin who struck at him with stories and lies. A young Storyteller is gathered with her colleagues, and forced to share her stories with the Sultan before their voices are stilled forever. In a war of destinies, enslaved jinn, and comparative truths, the Storyteller must tread dangerous ground in what may be her final recital. A fantasy novella.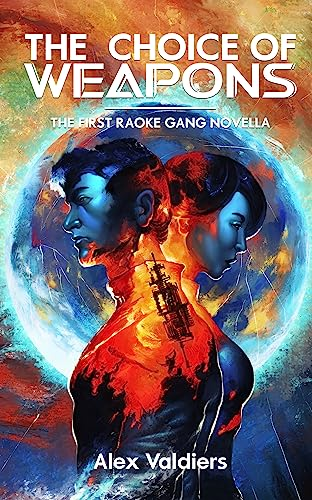 The Choice of Weapons: The First Raoke Gang Novella by Alex Valdiers
When rivalry becomes an obsession greater than the fate of mankind…
Ren is an officer on the rise, going from planetary conquest to conquest, until he crosses path with a senior female officer from his native Japan. His meeting with Izuna ends in a bloody duel — the first of many. As the war against other species progresses, Ren's obsession for Izuna grows and his discontentment for army life along with it. When Izuna gets isolated on an icy hell, Ren volunteers to rescue her for what may be his ultimate mission.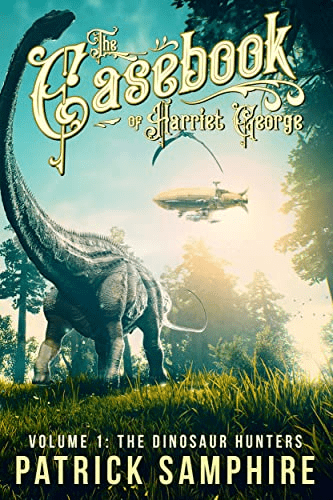 The Dinosaur Hunters (The Casebook of Harriet George, Volume 1)
Mystery, murder, and adventure on Mars… Mars in 1815 is a world of wonders, from the hanging ballrooms of Tharsis City to the air forests of Patagonian Mars, and from the ice caves of Noachis Terra to the Great Wall of Cyclopia, beyond which dinosaurs still roam.
Now the famous jewel thief, the Glass Phantom, has come to Mars, and sixteen-year-old Harriet George's hapless brother-in-law, Bertrand, has been ordered to track him down. Bertrand has never been much of a policeman, and Harriet knows he'll never manage it. When he fails, the whole family will be ruined. So Harriet comes up with a plan: she will capture the Glass Phantom herself. Even if she and Bertrand have to follow her suspects on a perilous dinosaur hunt in the deadly Martian wilderness. But there are more dangers in the wilderness than just the dinosaurs—and if Harriet can't solve the mystery, she and Bertrand may not make it back from this hunt alive.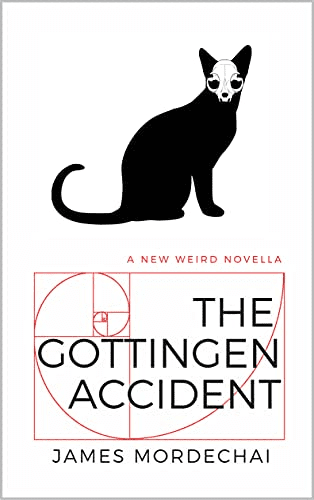 The Gottingen Accident by James Mordechai
What if three renowned scientists, each with unique superhero powers, teamed up to defeat a villain who seeks to alter the fabric of the universe by employing non-Euclidean geometry? Imagine if Germany emerged victorious in World War I and the 1917 Bolshevik revolution never occurred. Time is not always linear and can sometimes expand or contract. Charles Darwin would have the ability to alter the evolutionary fate of all living beings, existing simultaneously with Marie Curie, who possesses X-ray vision that allows her to see through walls. The result of a catastrophic event, known as the Gottingen Accident, turned them into superhumans or perhaps monsters.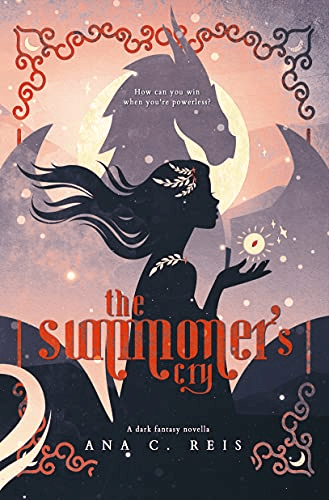 The Summoner's Cry: A Dark Fantasy Novella by Ana C. Reis
Chaos ensues in a small town when two cursed Witches are forced to confront the Queen they betrayed
After a failed coup against Witch Queen Lilith, rogue witches Lau and Adam have no choice but to flee and hide. Crushed and surrounded by enemies, the pair arrives at Latis, a peculiar island brimming with strange tales of the supernatural, where they hope to find Adam's long-lost grimoire – their only shield against Lilith's wrath.
Rendered powerless after sealing a dragon Spirit in Adam's flesh to save his life, Lau struggles with loneliness and resentment. Helpless and doomed to live forever in a child's body, Adam seeks to make peace with a spell he has no strength nor skill to undo.
Once allies in an ancient war, Lau and Adam start drifting apart. But when a dangerous visitor sets foot on Latis and the grimoire is nowhere to be found, the two estranged Witches must work together if they want to save themselves and the lives of the townsfolk they've come to love.

The Summoner's Cry blends the magic of 'Howl's Moving Castle' with demons in a a nerve-racking dark fantasy tale rooted in modern times with razor-sharp dialogues, vibrant descriptions, and dark cottagecore aesthetics. The perfect read for fans of the reluctant hero, found-family, and weird fantasy with a pinch of romance.