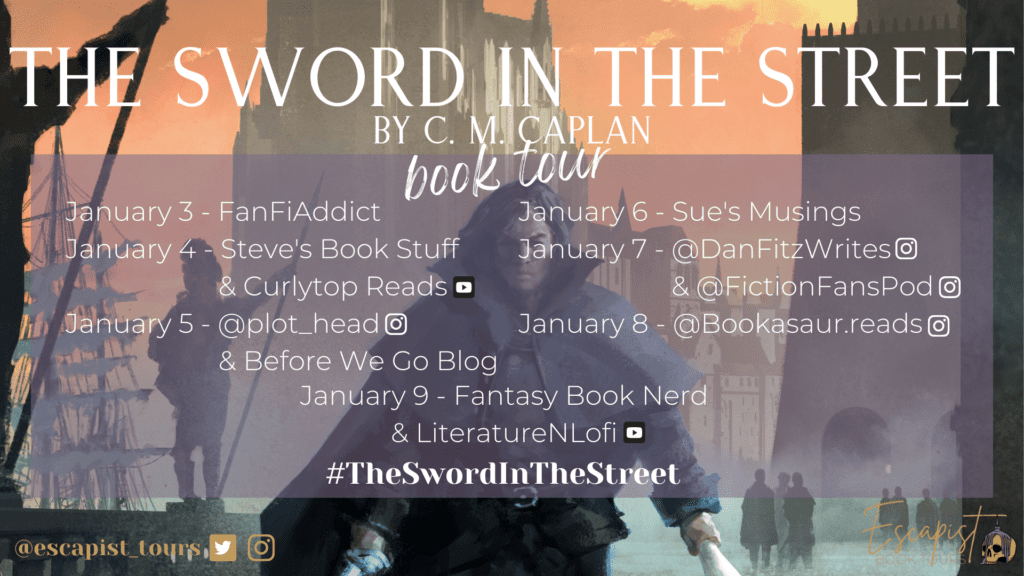 ---
Hello, everyone! Welcome to FanFiAddict's stop on Escapist Book Tours' run for The Sword in the Street by C.M. Caplan! First off, I'd like to thank Justin and Sara over at Escapist Book Tours for letting me in on this amazing book. Secondly, a huge shout out to the author (and a great friend), C.M. Caplan for giving the world such an incredible story.
Below, you'll find the information for the book as well as my spoiler-free review. Be sure to tune in to the rest of the tour!
---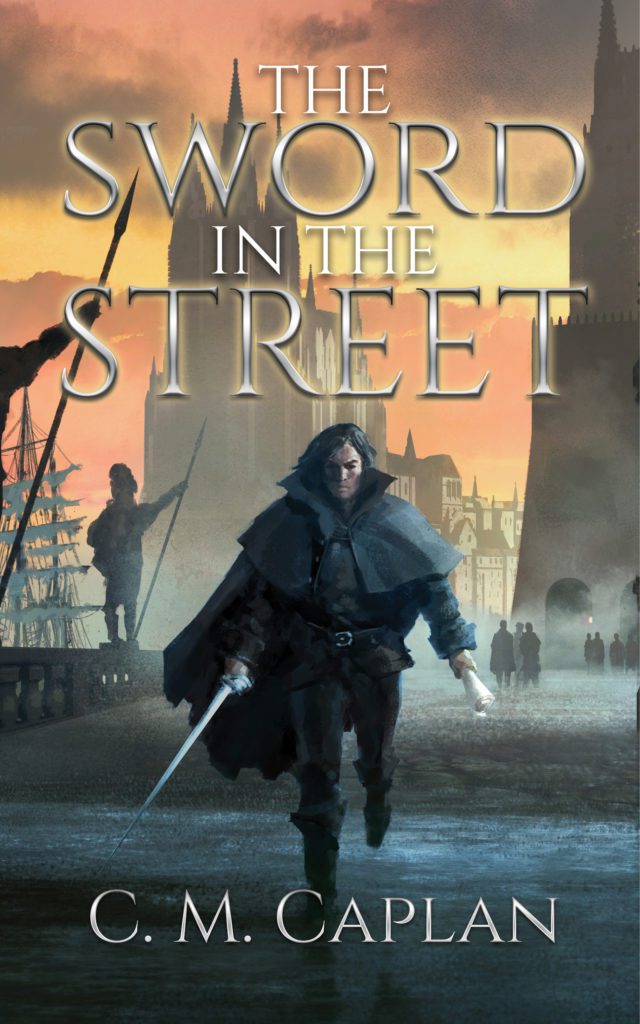 Book Information
The Sword in the Street by C.M. Caplan
Series: N/A
Genre: Fantasy
Intended Age Group: 18+
Pages: 340
Published: March 3rd, 2021
Publisher: Self-Published
Content/Trigger Warnings:
Shown on Page:
Profanity
Violence
Ableism
Self-Harm
Addiction/Withdrawal
Alluded To:
Abuse – Never shown on the page, but an important aspect to the backgrounds of each main character
Rape – It is never directly depicted, though the victim recounts the events during a monologue about halfway through.
---
Synopsis
Hired blades ought to be better at making ends meet. John Chronicle bleeds his patron's foes in savage duels. While he's disgusted by the petty grievances and corporate laws he champions, even the promise of security is better than nothing at all. But how long can he depend on a wage that barely pays enough to cover his rent?
His boyfriend Edwin is familiar with dependency. Reliant on his parents' goodwill to supply the drugs that keep the spirals of his mind in check, he wants nothing more than to get out from under their thumb. A solution comes when he finds a document full of knowledge that was, impossibly, forgotten. But while he could use those secrets to rewrite the gentry's unjust laws, it might cost him his relationship – or John's life.
The two find themselves entangled in the web of intrigue surrounding the laws, the swordsmen, and their sponsors. They're forced to question how bloody they're willing to get for a shred of agency. But will they survive this tangle of deceit together?
---
See Also
20somethings Can't Save Money · Walking Disaster Owns a Sword · Horny Idiot Attempts Magic for the First Time
---
Rating: 8/10
Review
When I first dove into TSitS, I was immediately taken with Caplan's use of language. He writes captivatingly, with vivid descriptions and intricate POVs that allow readers to truly know the characters in their own words. I've come across few other authors who are able to do that so spectacularly. That isn't to say it is a perfect book, but for a debut novel, it hits all the right notes. However, because it didn't score a perfect 10 for me, let's go ahead and hash out the issues I had.
From a craft standpoint, there are things Caplan could fix. Namely, the use of dialogue throughout felt too modern. The setting is in an Industrial Revolution-type era, and the dialogue seems to forget its time period. This is a relatively small gripe, but it is was noticeable enough to include in my review. My second biggest gripe was the worldbuilding. In the first quarter of the book, several opportunities for genuine world-building arose but fell flat. To me, it made the story seem slower. The pacing didn't pick up until much later in the book, and I truly believe that with a little extra oomph in the beginning, it would have read totally different.
Now that the heavy's out of the way, let's talk about the things I loved. And there are plenty. For starters, Caplan's characters seem to come alive on the page. They are fully fleshed-out and realized people, both with flaws and qualities that make them all too human. For instance, John and Edwin have a relationship that isn't all the time healthy, as Edwin's codependence leads to issues as does John's selfishness. I've heard a complaint regarding the power dynamic between the two, but I think the dynamic is necessary. In life, no relationship is on fully equal ground. Finding balance is the most pressing issue in both romantic and platonic relationships and despite their issues, John and Edwin make it work.
Perhaps my favorite character, though, is Aubrey. She is a spitfire of a gal, completely devoted to her family and her pride. She never takes it to the extreme, however, and serves as a perfect foil for John. She is everything he wants to be (and could be) if he were not in his own way constantly. Despite not having her own POV, she shines through in every scene she is in. It is a testament to Caplan's ability to fully realize his characters, without a doubt.
I also thoroughly enjoyed the pacing of the story in the latter half of the book. While I had my issues in the beginning, they were all but resolved by the story's conclusion. I love a good HFN ending, and Caplan delivers one with stunning efficacy and emotional weight. It is a powerhouse of a debut and I look forward to seeing more great work from Caplan.
All of this is to say that I thoroughly enjoyed my time in The Sword in the Street. It was a pleasure working with both Escapist and Caplan for this tour and I am honored that I got to be a part of it. Til next time, folx!
---
Book Links
Amazon: https://geni.us/8Atv
Goodreads: https://www.goodreads.com/book/show/57197464-the-sword-in-the-street?from_search=true&from_srp=true&qid=924gSngtc8&rank=1
---
About the Author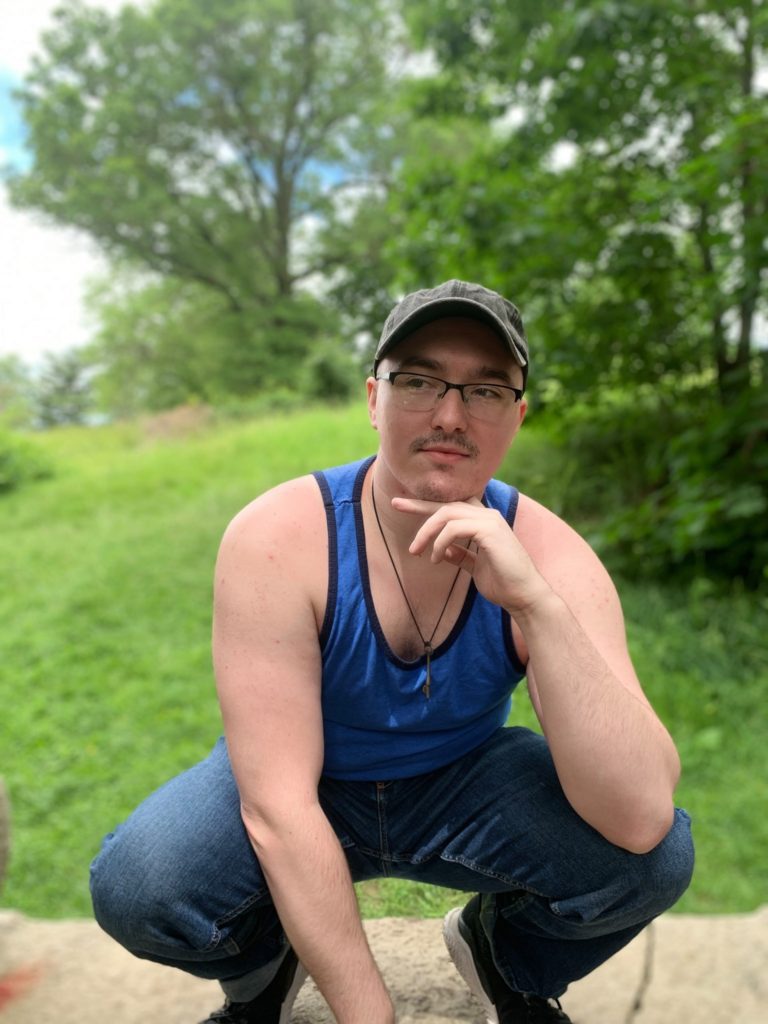 C.M. Caplan is a quadruplet (yes, really), mentally disabled, and he spent two years as the Senior Fiction Editor on a national magazine while he was still an undergrad in college.
He has a degree in creative writing and was the recipient of his university's highest honor in the arts. His short fiction also won an Honorable Mention in the 2019 Writers of the Future Contest. His debut novel, The Sword in the Street, was a 2021 SPFBO semifinalist.
He currently lives in New England.
Author Website: https://www.cmcaplan.net/
Twitter: https://twitter.com/thecmcaplan
Instagram: https://www.instagram.com/thecmcaplan/
Facebook: https://www.facebook.com/thecmcaplanauthor
---