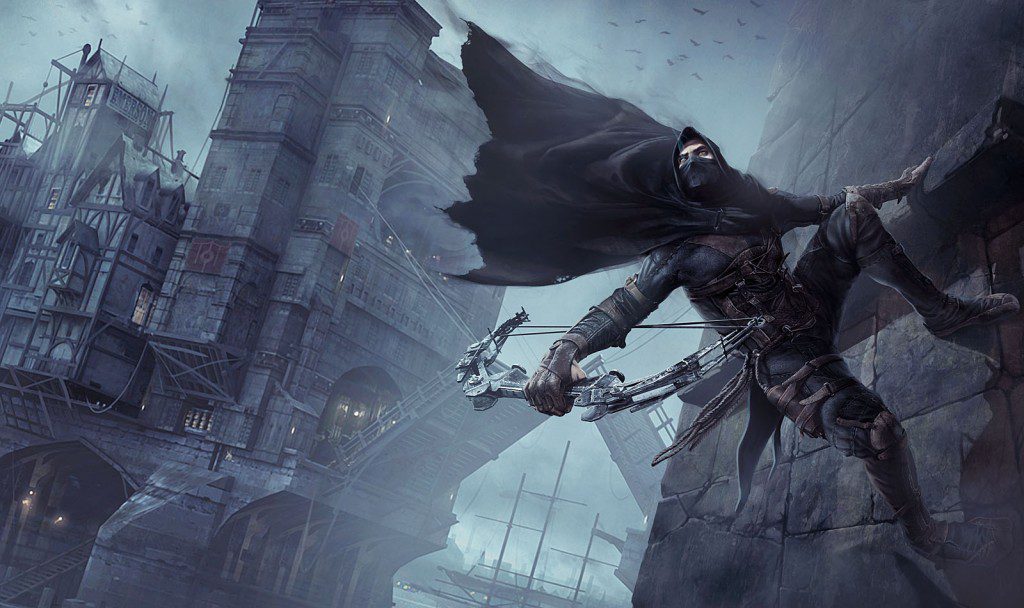 I love the tropes of snarky, witty, lovable thieves and broody, brilliant, unexpectedly deep master assassins and therefore wanted to see what is out there that I haven't read yet….cause you know, I need even more books to add to my TBR.
I made sure to include indications where I was aware that a book was self published in preparation for Self-Published Fantasy Month in September. I am very excited to share this list of 7 Thief and 3 Assassin Fantasies with you! So in no particular order, here they are.
1) The Thousand Deaths of Ardor Benn (Kingdom of Grit #1) by Tyler Whitesides
Thief or Assassin: Thief
Page Count: 784 pages
Series: Trilogy (Will be complete by the end of 2020)
The Thousand Deaths of Ardor Benn is the first in an action-packed epic fantasy series featuring master con artist Ardor Benn.
Ardor Benn is no ordinary thief. Rakish, ambitious, and master of wildly complex heists, he styles himself a Ruse Artist Extraordinaire. When a priest hires him for the most daring ruse yet, Ardor knows he'll need more than quick wit and sleight of hand. Assembling a dream team of forgers, disguisers, schemers, and thieves, he sets out to steal from the most powerful king the realm has ever known.
But it soon becomes clear there's more at stake than fame and glory – Ard and his team might just be the last hope for human civilization.
2) The Palace Job (Rogues of The Republic #1) by Patrick Weekes
Self Published
Thief or Assassin: Thief
Page Count: 438 pages
Series: Trilogy (Completed)
The most powerful man in the republic framed her, threw her in prison, and stole a priceless elven manuscript from her family.

With the help of a crack team that includes an illusionist, a unicorn, a death priestess, a talking warhammer, and a lad with a prophetic birthmark, Loch must find a way into the floating fortress of Heaven's Spire–and get past the magic-hunting golems and infernal sorcerers standing between her and the vault that holds her family's treasure.

It'd be tricky enough without the military coup and unfolding of an ancient evil prophecy–but now the determined and honourable Justicar Pyvic has been assigned to take her in.

But hey, every plan has a few hitches.
3) The Heresy Within (The Ties That Bind #1) by Rob J Hayes
Self Published
Thief or Assassin: Thief
Page Count: 528 pages
Series: Trilogy (Completed)
As any warrior will tell you; even the best swordsman is one bad day away from a corpse. It's a lesson Blademaster Jezzet Vel'urn isn't keen to learn. Chased into the Wilds by a vengeful warlord, Jezzet makes it to the free city of Chade. But instead of sanctuary all she finds is more enemies from her past.
Arbiter Thanquil Darkheart is a witch hunter for the Inquisition on a holy crusade to rid the world of heresy. He's also something else; expendable. When the God Emperor himself gives Thanquil an impossible task, he knows he has no choice but to venture deep into the Wilds to hunt down a fallen Arbiter.
The Black Thorn is a cheat, a thief, a murderer and worse. He's best known for the killing of several Arbiters and every town in the Wilds has a WANTED poster with his name on it. Thorn knows it's often best to lie low and let the dust settle, but some jobs pay too well to pass up.
As their fates converge, Jezzet, Thanquil, and the Black Thorn will need to forge an uneasy alliance in order to face their common enemy.
4) Where Loyalties Lie (Best Laid Plans #1) by Rob J Hayes
Self Published
Thief or Assassin: Thief (Pirate)
Page Count: 371 pages
Series: Duology (Completed)
Everybody knows Captain Drake Morass is only out for himself.

As the fires of a dying city burn on a distant shore, Drake sees an opportunity to unite the other pirate Captains under his flag and claim a crown for himself. If he is to succeed, he will need allies and the Oracle named Keelin Stillwater, the best swordsman in the isles, as his right hand.

With enemy ships sailing his waters and setting fire to his cities, and the sinister Tanner Black threatening to steal the throne before Drake even has a chance to sit upon it, Drake Morass must somehow convince the other Captains that his best interests are also theirs.

Where Loyalties Lie is the first book in the Best Laid Plans duology and is set in the same world as The Ties That Bind trilogy, continuing Captain Drake Morass' story where the trilogy left off.
5) Skullsworn (Chronicle of the Unhewn Throne #4) by Brian Staveley
Thief or Assassin: Assassin
Page Count: 320 pages
Series: Standalone Spin Off Prequel
Brian Staveley's new standalone returns to the critically acclaimed Chronicle of the Unhewn Throne universe, following a priestess attempting to join the ranks of the God of Death.
Pyrre Lakatur doesn't like the word skullsworn. It fails to capture the faith and grace, the peace and beauty of her devotion to the God of Death. She is not, to her mind, an assassin, not a murderer–she is a priestess. At least, she will be a priestess if she manages to pass her final trial.
The problem isn't the killing. Pyrre has been killing and training to kill, studying with some of the most deadly men and women in the world, since she was eight. The problem, strangely, is love. To pass her Trial, Pyrre has fourteen days to kill the seven people enumerated in an ancient song, including "the one you love / who will not come again."
Pyrre is not sure she's ever been in love. If she were a member of a different religious order, a less devoted, disciplined order, she might cheat. The Priests of Ananshael, however, don't look kindly on cheaters. If Pyrre fails to find someone to love, or fails to kill that someone, they will give her to the god.
Pyrre's not afraid to die, but she hates to quit, hates to fail, and so, with a month before her trial begins, she returns to the city of her birth, the place where she long ago offered an abusive father to the god and abandoned a battered brother—in the hope of finding love… and ending it on the edge of her sword.
6) The Spirit Thief (The Legend of Eli Monpress #1) by Rachel Aaron
Thief or Assassin: Thief
Page Count: 250 pages
Series: 5 Books (Completed)
Eli Monpress is talented. He's charming. And he's a thief.
But not just any thief. He's the greatest thief of the age – and he's also a wizard. And with the help of his partners – a swordsman with the most powerful magic sword in the world but no magical ability of his own, and a demonseed who can step through shadows and punch through walls – he's going to put his plan into effect.
The first step is to increase the size of the bounty on his head, so he'll need to steal some big things. But he'll start small for now. He'll just steal something that no one will miss – at least for a while.
Like a king.
7) We Ride The Storm (The Reborn Empire #1) by Devin Madson
Thief or Assassin: Assassin
Page Count: 528 pages
Series: Ongoing trilogy (1 published)
Seventeen years after rebels stormed the streets, factions divide Kisia. Only the firm hand of the god-emperor holds the empire together. But when a shocking betrayal destroys a tense alliance with neighboring Chiltae, all that has been won comes crashing down.
In Kisia, Princess Miko Ts'ai is a prisoner in her own castle. She dreams of claiming her empire, but the path to power could rip it, and her family, asunder.
In Chiltae, assassin Cassandra Marius is plagued by the voices of the dead. Desperate, she accepts a contract that promises to reward her with a cure if she helps an empire fall.
And on the border between nations, Captain Rah e'Torin and his warriors are exiles forced to fight in a foreign war or die.
As an empire dies, three warriors will rise. They will have to ride the storm or drown in its blood.
8) The Emperor's Knife (Tower and Knife Trilogy #1) by Mazarkas Williams
Thief or Assassin: Assassin
Page Count: 450 pages
Series: Trilogy (Completed)
There is a cancer at the heart of the mighty Cerani Empire: a plague that attacks young and old, rich and poor alike. Geometric patterns spread across the skin, until you die in agony, or become a Carrier, doing the bidding of an evil intelligence, the Pattern Master. Anyone showing the tell-tale marks is put to death; that is Emperor Beyon's law…but now the pattern is running over the Emperor's own arms. His body servants have been executed, he ignores his wives, but he is doomed, for soon the pattern will reach his face.
While Beyon's agents scour the land for a cure, Sarmin, the Emperor's only surviving brother, awaits his bride, Mesema, a windreader from the northern plains. Unused to the Imperial Court's stifling protocols and deadly intrigues, Mesema has no one to turn to but an aging imperial assassin, the Emperor's Knife.
As long-planned conspiracies boil over into open violence, the invincible Pattern Master appears from the deep desert. Only three people stand in his way: a lost prince, a world-weary killer, and a young girl from the steppes who once saw a path in a pattern — a path that might save them all.
9) A Thief & A Gentlewoman (Counterfeit Contessa #1) by Clare Sager
Self Published
Thief or Assassin: Thief
Page Count: 462 pages
Series: 4 Books (2 Published)
Read A Thief & a Gentlewoman today to discover a world where cards control magic, the past won't stay buried, and no one is what they seem…
She might have been born in poverty, but now Quin poses as an aristocrat to lure in wealthy targets and help her city's slums. She lives by three rules: rob from the rich, give to the poor and never get caught. Because for her crimes, the penalty is death.
Royal, charming, and handsome, Atesh is her latest mark, but he's no fool. When he starts seeing through her disguise, Quin must balance lie upon truth, teetering dangerously close to spilling her secrets and losing her heart. Even worse, wherever Atesh goes, attention follows – for him and anyone at his side. With a string of crimes in her wake, a sick mother hidden away, and a whole district's people relying on her, Quin can't afford such close scrutiny.
After a shocking murder strikes at the heart of the palace, Atesh is wrongly accused. Quin must choose between saving an innocent man from the gallows and keeping the noose from her own neck. When that innocent man might expose her lies, and hidden enemies control the game, one wrong move could destroy her and everyone she loves.
In a game where lies keep her alive, can a jewel thief prove the truth?
10) The Thief's Gamble (The Tales of Einarinn #1) by Juliet E McKenna
Thief or Assassin: Thief
Page Count: 495 pages
Series: 5 Books (Completed)
Magic? It's for the rich, the powerful…the Archmage and his elite wizards and cloud-masters.
Livak is not among them. She haunts the back taverns of the realm, careful to appear neither rich nor poor, neither tall nor short . . . neither man nor woman. Obscurity is her protection, thievery her livelihood, and gambling her weakness.
Alas, some bets are hard to resist. Particularly when they offer a chance to board a ship for Hadrumal, the fabled city of the Archmage. So Livak follows a minor wizard, Shiv, in an attempt to turn a rune or two, never dreaming that the stolen tankard she wants to sell contains the secrets of an ancient magic far more powerful, and infinitely darker, than any mortal mage's spells.
I am genuinely excited to read all of these and I hope you were able to add at least one book to your TBR! Have you read any of these yourself? Do any look especially intersting to you? Let me know in the comments.