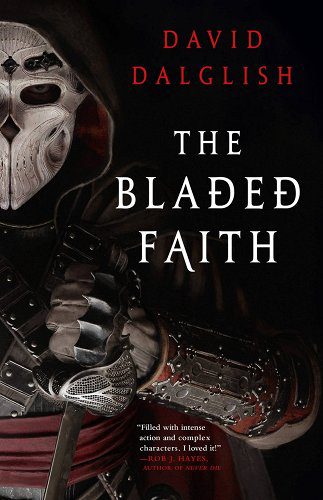 Rating: 9.5/10
Synopsis
A usurped prince prepares to take up the mantel of a deadly assassin and reclaim his kingdom, his people, and his slain gods in this epic fantasy from a USA Today bestselling author.
Cyrus was only twelve years old when his gods were slain, his country invaded, and his parents—the king and queen—beheaded in front of him. Held prisoner in the invader's court for years, Cyrus is suddenly given a chance to escape and claim his revenge when a mysterious group of revolutionaries comes looking for a figurehead. They need a hero to strike fear into the hearts of the imperial and to inspire and unite the people. They need someone to take up the skull mask and swords and to become the legendary "Vagrant"—an unparalleled hero and assassin of otherworldly skill.
But all is not as it seems. Creating the illusion of a hero is the work of many, and Cyrus will soon discover the true price of his vengeance.
Review
The Bladed Faith is a headlong sprint into the chaos of revolution and revenge. A compelling exploration of love, loss, grief, and hope.
Thank you so much to Orbit books for this advanced reading copy in exchange for an honest review.
Wow what a ride! David Dalglish is an author that I haven't had much experience with so I wasn't sure what to expect going into this one. I am a sucker for revenge stories, especially ones that aren't mindless rage all the time and delve deeper into exploring those emotions of grief and anger that the protagonist is dealing with.
"The wise can rebuild a better world from the ashes, but for there to be ashes, we must first burn down the old and the rotten. I say we get to burning."
The characters in The Bladed Faith are not one dimensional. Cyrus, Mari, Keles, Thorda, and Stasia in particular are very complex characters that felt so real and relatable in many different ways.
The main POV and who we get to see the most of is Cyrus, the last royal standing after his parents were murdered by their conquerors, the Everlorn Empire. We get in Cyrus' head quite a lot throughout the story which was the perfect way to understand exactly where he was coming from. Cyrus is a concoction of so many differing traits packed into one. He is kind and caring, yet angry and sad. He is afraid, but also courageous. Filled with doubt and insecurity, yet driven and determined. Cyrus is a perfect example of how to portray a conflicted character.
"Only we decide who we are. No one else. The Vagrant is just a mask. It is an identity you slide over yourself like a cloak. It can be removed. It can be rejected. You are not a slave to it, no matter the pressures you face or the guilt that weighs upon you. Clinging to it may grant survival, but it may also drag you under. Always know the difference. Always make it your choice."
However, each of these characters have their moments to shine. Each one brings something unique to the table to form the the main lense from which we view book 1 of this series. We have Stasia, the extremely strong and tough, yet kind warrior. Mari is the god-whisperer and the peacekeeper of the group. I loved the mix of gentleness and optimism that counterbalanced the ruthlessness she exhibits in battle. Thorda is the money and mastermind behind the rebellion. Haunted by his harsh past, he is utterly resolved and determined to do all he can to see Thanet's rebellion succeed. And then there is Keles. I honestly am not 100% sure why, but I instantly connected with Keles. She is such a compelling character. The faithless Paladin who despite herself decides to help the rebellion anyway. I loved her character in this book even though we only met her about halfway through.
Another thing that is done very well in this book is tension. In part because of the very nature of this book, the rebellion of a conquered people, the tension is almost always high. The protagonists are always in danger of being discovered and/or killed and because of that I was always worried about the fate of these characters that I had come to love very quickly.
"Empires crumble. They grow and swell and conquer, and with each gluttonous mile they swallow down, they come that much closer to bursting. Their foundation is rot. It trembles beneath them as they climb for the sky. Let Thanet be the breaking point."
I am a huge fan of found family and it is all over the place in this one. I love seeing bonds of loyalty that run so deep despite horrible circumstances. The way that Cyrus, Stasia, and Mari form an adopted sibling like bond was especially moving and heartwarming to see.
The plot moved at a brisk pace that felt like a natural fit for the story. There is an abundance of action and suspense, with some intrigue smattered here and there throughout the narrative. There is also quite a bit of introspection and meaningful character moments throughout this tale. I devoured the last 21% in one sitting, keeping myself up until 2am to do so. There were big reveals, twists and turns, and so many little hints at what is to come!
The Bladed Faith is riveting, immersive, action packed, and downright epic. Despite it being only the beginning of February I know that it will be on my list of favorites for 2022. I cannot wait until the sequel comes out next year so I can see how Cyrus and company fair in the coming chaos!
The Bladed Faith comes out April 5th, 2022. Preorder at the links above!