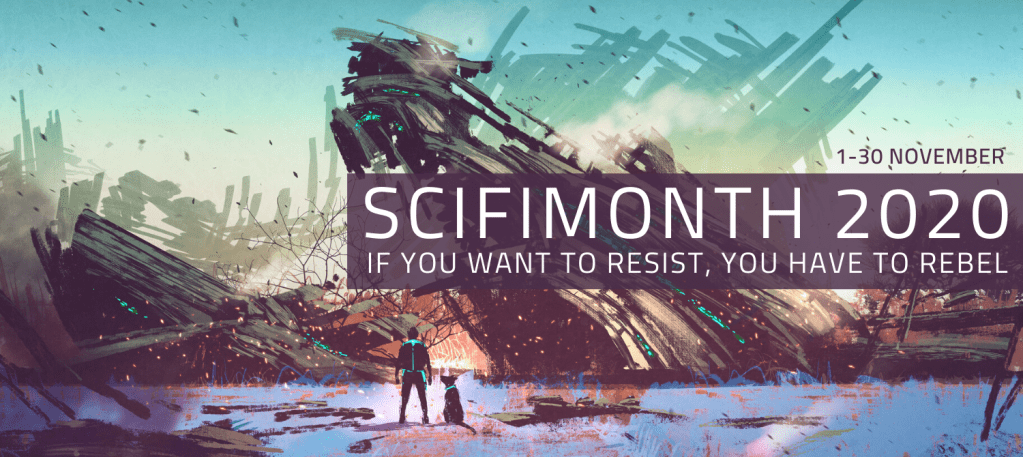 2020 has been lonnnnngggg and because of that I can't believe that it is September and we get to think about Sci Fi Month once again. I always mean to read more Sci Fi, but for some reason, maybe because Fantasy is my comfort zone, I tend to stick to fantasy and not branch out more in Sci Fi. That is why I am so thankful for Sci Fi Month.
Sci Fi Month is a month that is about celebrating everything Sci Fi! Have you been wanting to watch a Sci Fi tv show or movie, but haven't gotten to it yet? Looking to find the time to read a book that has been on your TBR for ages? Been putting off a Sci Fi video game or podcast that you just can't seem to get to? Sci Fi Month is here for you!
Imyril from There's Always Room For One More and Lisa from Dear Geek Place are hosting Sci Fi Month 2020 in November and you can see the original post as well as sign up for the event here. Come join us!
I have a huge backlog of Sci Fi books, tv shows, and movies that I want to get to, but if I'm being realistic I won't be able to get them all in only one month. So I wanted to talk about 3 books, 1 tv show, and 2 movies that I would like to at least start during Sci Fi Month. I've included links to descriptions of each in case what you see or read looks interesting!
Children of Time (Children of Time #1) by Adrian Tchaikovsky
I have heard absolutely nothing but good things about this book. I recently got a physical copy of this and it keeps staring at me from my shelf. Sci Fi Month will be the perfect time for me to pick this one up.
Nophek Gloss (The Graven #1) by Essa Hansen
I got sent an arc of this book recently by Orbit Books and doesn't it look amazing?! Anyone else get Halo vibes from this? A revenge story with a crew of misfit aliens to boot? I am really excited about this one!
Artificial Condition (The Murderbot Diaries #2) by Martha Wells
I actually read the first Murderbot novella, All Systems Read (My review), during Sci Fi Month 2019 and absolutely loved it. It was so much fun following this socially awkward security robot as it tries to find its identity and place in the world. I hope the sequel is just as good!
Killjoys
This show looks like so much fun and has really great ratings! I am really excited to check out this story of bounty hunters amidst an interplanetary class war. In addition, I believe it is a completed series so I can binge the series all the way through!
Alita: Battle Angel
I LOVE this movie! The action sequences are stunning and intense. The CGI for the city itself and the cyborgs is just amazing. This movie is fast paced, so much fun, and full of heart. I don't watch this enough, but I am planning a rewatch for Sci Fi Month!
Arrival
I've heard amazing things about this movie, but for some reason have never watched it. I'm planning on changing that in November!
Are you gonna join in on the fun of Sci Fi Month 2020? Even if you are not, what Sci Fi Things do you have on your list? I'm always looking for more to add so feel free to leave the Sci Fi things you are most excited about in the comments!