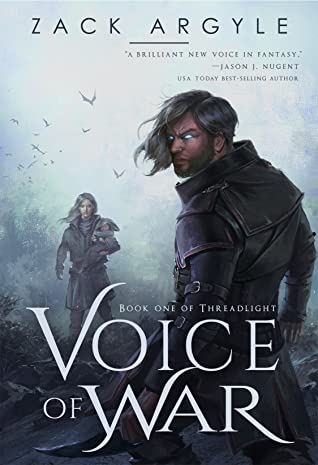 Rating: 8/10
Synopsis
While preparing for the birth of his first child, Chrys Valerian is tasked with uncovering the group responsible for a series of missing threadweavers—those able to see and manipulate threadlight. With each failure, the dark voice in his head grows louder, begging to be released.
A young girl from a secret city in the center of the Fairenwild veers off course to explore the streets of Alchea, never expecting that her journey would end in chains.
Far in the deserts to the south, a young man's life changes after he dies.
When Chrys learns who is responsible for the missing threadweavers, they come for him and his family. He must do everything in his power to protect those he loves, even if it means trusting strangers or, worse, the growing voice in his mind.
Together, these three will change the world—whether they intend to or not.
Voice of War begins the award-winning Threadlight series, filled with unique magic, exotic creatures, and a diverse cast of characters you'll love and hate.
Review
"Wishing. Hoping. They are dangerous words. If you hope for something to be true and it is not, that realization can break you. But until then, while that belief runs warm in your blood, it can drive you to do amazing things."
Voice of War is an entertaining first installment in the Threadlight trilogy, demanding your investment in its characters and laying the groundwork for what is to come.
It was about time I got to this series! Voice of War has been on my radar since it entered SPFBO. I had heard good things about this series from pretty much everyone so I was excited to see what all the fuss was about. Zack Argyle definitely delivered.
I think my favorite thing about Voice of War was the magic system. The use of Threadlight immediately reminded me of Allomancy from Mistborn and that is my favorite magic system of all time. However, don't mistake this for a rip-off of that system. Argyle creates his own twists on this magic system that make it his own and I really enjoyed finding out more about it as the book went on.
Another thing I enjoyed were the characters. A big gauge for me when I think about how well the characters in a certain book were written is how they make me feel. I must admit I wasn't sure how I felt about any of them throughout most of this story, but then things starting happening at the end that affected our characters in various emotional ways and I felt myself tearing up at points and hating certain villains at others. So in my humble estimation, the characters were written quite well in this one.
"Self-betterment is the rarest form of ambition."
The plot was solid, moving at a solid clip without feeling fast paced. There was action, intrigue, and mystery. A majority of it surrounded a group called the Blood Thieves who were kidnapping Threadweavers, those in this world that can use the magic of threadlight. Their crimes and the pursuit of them by Chrys, one of the MCs, was a huge plot point that worked so well to keep the reader turning the page. The world and plot expanded about halfway through with the introduction of Alverax's POV and I really enjoyed this change, even if I had no idea about the cool things that it would add to the story at that time. The ending of this story was also absolutely insane. The last 50 pages in particular were so fast paced that I legitimately could not stop reading until I found out what happened. I had an immediate desire to read book 2 which I ended up starting that very same day.
My one constructive criticism for Voice of War, and one I never thought I'd be saying, was that I would have liked to see more worldbuilding and explanations of certain things. Now, I don't normally care too much about worldbuilding. As long as it is sufficient to understand the world and plot then I am good. However, I felt that there were several things that were just mentioned and then skimmed over that could have really brought more to the table if they were just explained a little more thoroughly. However, I will say I am now most of the way through book 2 and many of the things I mentioned have been addressed and I am happy about that. I just wish it would have been done sooner in the story as I think it would have taken book 1 up a notch.
Overall, Voice of War was a solid start to the Threadlight series. A fun story with a balanced pace and well developed characters. I am already 74% into the 2nd book, Stones of Light, and I'm excited to see where Argyle will take the rest of the story!