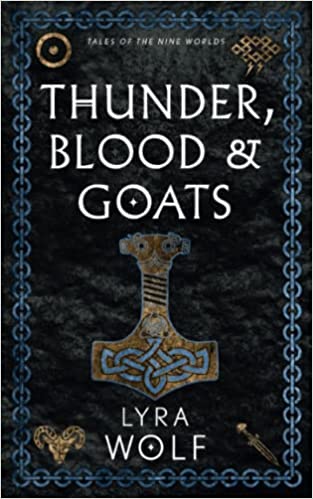 Rating: 9.0/10
Synopsis
Killing one measly dragon wasn't supposed to be a problem.
It seemed like a good, if not practically heroic, choice to join Thor on a quick mission to rid the realm of Alfheim of a minor dragon infestation. It all goes wrong when Thor insists on bringing the goats. And then it gets worse when Elénaril—an elf with an attitude and a crossbow—steps on the scene.
Loki finds her absolutely charming.
And so does Odin. He craves Elénaril for his army in Valhalla. Loki sees this as a (second) chance to secure his place in Asgard and impress the gods.
He wants to show them he isn't as bad as they say.
But if Loki does what Odin wishes, it might not necessarily prove he isn't as bad as they say, but prove that he is.
Review
Thunder, Blood, and Goats is a novella side story in Lyra Wolf's The Nine Worlds Rising series (previously titled The Nine Worlds Chronicles). I have been a big fan of this series (read my reviews of the previous books here, under the old series name: Truth and Other Lies [The Nine Worlds Rising #1]; Chaos Rising [The Nine Worlds Rising #2], and this latest release has done nothing to diminish that experience.
"Irritable things are easier to kill while they are asleep." [Loki]
"But not as much fun." [Thor]
I am a big fan of Norse Mythology, and so reading Norse-inspired fantasy has really been a treat for me. There are so many great writers in the genre, right now, and Wolf is one of my favorites. I like the author's writing because the style is light and the stories are fun, but the lore is there, as well. And that is exactly what the readers get with Thunder, Blood, and Goats.

This book (and the series, overall) is very character driven, in my opinion, and Wolf's consistency with writing characters comes through in this book really well, also. Loki is as mischievous as always, Thor is constantly looking for a fight (and really attached to his goats, apparently, which is new information to me), and Odin has the end of the world on his mind (among other things, but we will get to that in a minute). Of course, Elénaril is a big part of the story, too, which adds to the ever-growing classic Norse character set. There is also a dragon, which I am always a sucker for.
"This is perfect," Thor said. I can't wait to bury my blade into its skull."
The narrative itself is a good medium for showcasing the characters. Odin sending Loki and Thor on a mission to kill a dragon is just asking for trouble. These two get into all kinds of shenanigans (because nothing ever seems to go the way they plan), and Elénaril ends up getting caught up in the mess they made. For a novella, I was impressed at the way the author was able to fit so much mayhem into only 100 or pages.

Going back to what Odin has on his mind, let's just say it would not be a Lyra Wolf book without a steamy scene. I am going to let you experience that for yourself, but trust me, it is hot.

Thunder, Blood & Goats is a great compliment to Lyra Wolf's The Nine Worlds Rising series. The characters really shine, the storyline is fun, and the author's genuinely lighthearted writing style comes through in spades. If you have read this series, I definitely recommend picking it up. If you have not read the series, I still recommend it because I think it can be read as a playful Loki standalone, as well.


Irritable things are easier to kill while they are asleep.

B