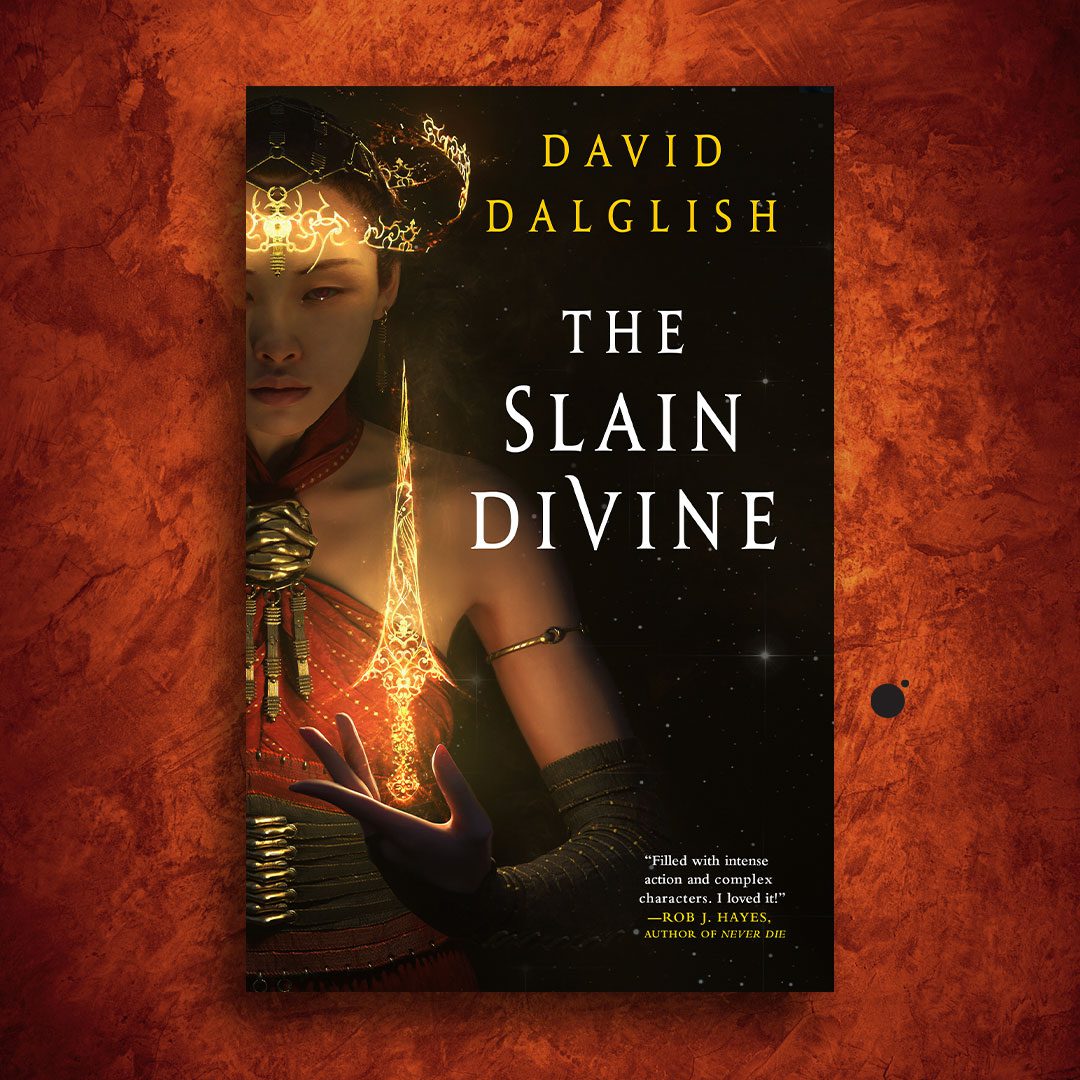 Rating: 9.5/10
Synopsis
The Everlorn Empire's grip on Thanet is tighter than ever. The God-Incarnate himself has arrived on its shores to crush the struggling rebellion and carry out his final, sinister plan: he will sacrifice the entire island in order to rise, reincarnated from its ashes.
The rebellion is struggling to separate allies from enemies, and to figure out a way to stop the slow destruction of everything and everyone they care for. Meanwhile, Cyrus is disappearing deeper beneath the vicious mask of the "Vagrant". Under the mantel of the legendary assassin, he may be strong enough to take down the Empire, but at what cost?
Review
"War doesn't let us write our own stories."
Thank you so much to David Dalglish and Orbit Books for this extremely early copy in exchange for an honest review!
I have been a hype man for this series for a while because it doesn't get talked about nearly enough. The Vagrant Gods trilogy has been excellent all the way through and The Slain Divine was no exception to that rule.
David Dalglish ended this series in such a satisfying way that both made sense and hit me in my feels a couple times.
What I found most fascinating throughout this series is the character growth, both personal and physical, of Cyrus Lathan. I loved seeing Cyrus grow from a scared, abandoned princeling to the embodiment of the Vagrant. There is an emotional complexity to Cyrus that was so relatable and compelling. Who couldn't relate to wanting to be more than you are. To overcoming fears and fighting for what you believe is right? Who can't relate to the fallibility of humanity even when intentions are initially pure? Cyrus is a fantastic character and one I will remember for a long time.
"There was once a kind young man who spent his nights reading in the library," she said. "One who was scared of crowds, and who barely knew how to dance. Sleep came to him rarely, and when it did, he dreamed of his parents, and their loss. This man cherished his friends above all else…..That man is still in there," she said. "I trust in him. I believe in him. He is wounded, broken, and afraid, but he is alive."
Another of my favorite characters from this series was Mari. She is a god-whisperer who can take the form of slain gods to fight against the Everlorn Empire. Mari is fierce and caring. She is bold, kind, and gentle. With Mari, Dalglish was able to show the complexity of a normal person. That we are all made up of many different parts. Just because Mari is a woman doesn't mean she can't be a warrior. Just because she is a warrior doesn't mean she can't have a sensitive and caring heart. Just because she is empathetic doesn't mean she can't hate her enemies or boldly call the people she cares about out on their crap. Mari is a fantastic character in that she can be all these things and it only makes her feel all the more real and relatable.
All the other characters are very well done. I would be hard pressed to find a character that I didn't enjoy on some level, whether protagonist or antagonist. However, I will stop there talking about specific characters so as not to make this review overly long.
"I take gods into my flesh, and within me, they break. Who are you compared to them?"
Dalglish's signature action sequences are on full display here. For an author who says that he really doesn't like writing this type of scene, Dalglish does a spectacular job at making them epic every time. Not only the swordplay, but the powers on display are all so cool and add a ton to the fun and epic-ness of each battle. Each scene matters and the stakes are always high. I couldn't ask for more.
There was a twist at the end of this story that I did not fully see coming and I absolutely love how it played out. I also really enjoyed that the ending felt conclusive while leaving plenty of room for a continuation if the author decides to continue the story in this world. I sure hope he does!
I loved this concluding book and I love this trilogy. A story of found family and the love they share. A tale of hope in the darkest of night, of joy amid the horrors of the world. Deeply moving and patently epic, The Vagrant Gods is not a series you want to miss!