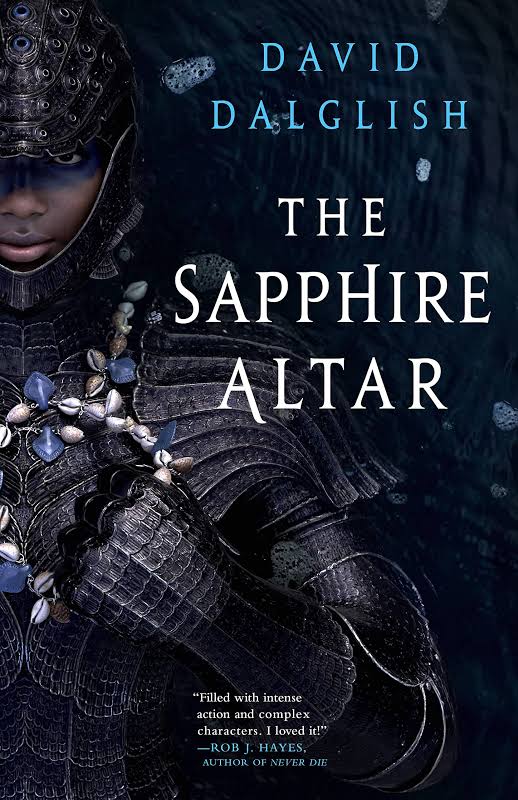 Rating: 10/10
Synopsis
A usurped prince must master the magic of shadows in order to reclaim his kingdom, his people in the blockbuster second novel in USA Today Bestselling author David Dalglish's new epic fantasy trilogy.
Cyrus wants out. Trained to be an assassin in order to oust the invading Empire from his kingdom, Cyrus is now worried the price of his vengeance is too high. His old master has been keeping too many secrets to be trusted. And the mask he wears to hide his true identity and become the legendary "Vagrant" has started whispering to him in the dark. But the fight isn't over and the Empire has sent its full force to bear upon Cyrus's floundering revolution. He'll have to decide once and for all whether to become the thing he fears or lose the country he loves.
Review
"There is no truth upon that bloody altar."
Thank you so much to Orbit books for this review copy in exchange for an honest review. All quotes pulled from this review copy are subject to change in the final version.
A conquered city. An unbroken people. A tale of empire, of war and rebellion. A chronicle of faith, fanaticism, love, grief, and hope. This is the story of the Vagrant.
The Sapphire Altar took what the author did in the first book and improved on it in almost every way. I was especially impressed by the character development that Dalglish was able to accomplish within these pages. The characters were even more vivid as we get to see even more of what makes them who they are.
"To forgive and accept ourselves is the hardest task we may ever know."
Keles, Mari, and Arn were three that I felt were done exceptionally well. We didn't get to know them too much in The Bladed Faith, so to have more focus put on them was such an amazing touch to this story. There is just so much that happens with these three. Looking back on it I am just blown away by the love and care that Dalglish implemented in writing his characters in this one. I felt Cyrus, Rayan, Stasia, and Thorda got less spotlight in book 2, but it was okay because we already knew them so well from the first book. Their collective taking on of a somewhat smaller role left room for the aforementioned three characters to truly shine and have some incredibly deep and emotional moments.
The action scenes were superbly done. I find it funny that the author will lament on Twitter that all he has left to write are action scenes (leaving them to be written until he has written everything else because he doesn't like writing action) when in truth these are some of the very best scenes in his books. They are intense, visceral, and oh so much fun to read.
"Some say sleeping on hard floors and depriving yourself of comforts will make you a stronger person. I say it leads to a bad back and an unwelcoming disposition."
Rayan's quote above is so relatable it actually made me chuckle. I really enjoyed how this story can get pretty dark, but Dalglish is able to inject just the right amount of humor here, a heartwarming gesture there to keep the tone of the story where it should be. There is darkness and horrible things happening, but there is always hope. There are still things to be excited about, to laugh about with friends. I love this brand of dark fantasy.
The plot in this second book was just as fast paced as the first. It moved at a steady clip and I really enjoyed that about this book. There are slow down moments throughout the book that felt so well placed to keep the story from feeling rushed. I especially liked the characters moments that I mentioned above that were so impactful and powerful. The overall structure of the narrative was just perfection.
"You would destroy a world of beauty and wonder to achieve your hollow peace," he said. "You would build a gray land of ash and soot, where the faithful bend by the boot on their necks to offer shallow worship. You do not get to drown the world in blood and then call yourself peacemaker, Galvanis. The conquered deny your delusions. Tyrant, I name you. Warbringer, I condemn you. May all the gods and goddesses spare us your peace."
Despite the fast pace of the plot, there was quite a bit of worldbuilding mixed in. We learn some more about the other countries of this world, but we are also treated to more information about Thanet. Secrets that have been buried for generations are revealed that have huge repercussions for our characters and the country as a whole.
When I first started The Bladed Faith earlier this year I had no idea what to expect. I had only read a few other books by David Dalglish at that point so I didn't have a lot to go off of to form expectations for this series. It quickly became one of my favorite books of the year. The Sapphire Altar not only surpassed The Bladed Faith, but it has catapulted The Vagrant Gods into one of my favorite series of all time. I cannot wait to see what book 3 brings!