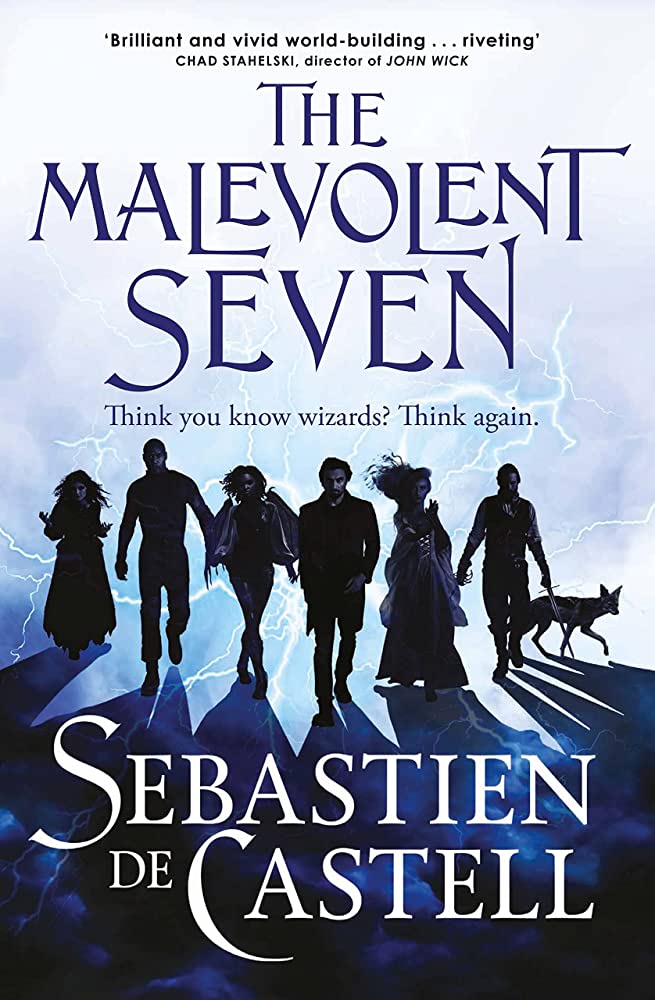 Rating: 9.5/10
Synopsis
'Seven powerful mages want to make the world a better place. We're going to kill them first.'
Picture a wizard. Go ahead, close your eyes. There he is, see? Skinny old guy with a long straggly beard. No doubt he's wearing iridescent silk robes that couldn't protect his frail body from a light breeze. The hat's a must, too, right? Big, floppy thing, covered in esoteric symbols that would instantly show every other mage where this one gets his magic? Wouldn't want a simple steel helmet or something that might, you know, protect the part of him most needed for conjuring magical forces from being bashed in with a mace (or pretty much any household object).
Now open your eyes and let me show you what a real war mage looks like…but be you're probably not going to like it, because we're violent, angry, dangerously broken people who sell our skills to the highest bidder and be damned to any moral or ethical considerations.
At least, until such irritating concepts as friendship and the end of the world get in the way.
My name is Cade Ombra, and though I currently make my living as a mercenary wonderist, I used to have a far more noble-sounding job title – until I discovered the people I worked for weren't quite as noble as I'd believed. Now I'm on the run and my only friend, a homicidal thunder mage, has invited me to join him on a suicide mission against the seven deadliest mages on the continent.
Time to recruit some very bad people to help us on this job…
Review
"'Are you both complete fools, or do you just act like it to mask your lack of any coherent plan to get us out of here alive?' 'A little of both,' I mumbled."
Thank you to Jo Fletcher Books for the advanced reading copy of this book in exchange for an honest review.
The Malevolent Seven is a march through mayhem. A unique mix of murderous mages, polymorphic angels, cunning demons, found family, and much more.
The quote above is a pretty good indicator of the type of prose and tone that you are going to get from this book. This story has its dark moments. In fact, there are some scenes that are very dark. However, by utilizing all kinds of humor and snark, witty banter, and genuine emotional moments between characters De Castell is able to strike a solid balance that manages to make the reader feel hope and even joy in the midst of bleak circumstances.
"'Oh, look,' he said snidely, 'here we all are, standing on one side of a stupid line in the dirt. I feel so magnificent now. It's like all the pain and suffering we're sure to endure before our inevitable deaths won't be so bad now because we're all standing on one side of this pathetic little line that you couldn't even draw straight.'"
Much like De Castell said in a recent interview with TrackofWords, the characters really sneak up on you. I especially enjoyed the love-hate brotherly friendship between Cade Ombra and Corrigan Blight. Cade, the main character and the one who narrates this tale, was instantly likable for me. However, it took a little while before I started to really like the rest of the band. Some only because they weren't introduced until later in the book. However, by the end I was in love with this chaotic mess of a found family. I need them to have more adventures. This is my plea to the author to please make this into a series. These characters deserve it.
I did have one thing as I read that I did not prefer and that was the heavy exposition at times, especially concerning the magic system. However, the fact that the exposition was interesting along with the conversational style of the narration where Cade was speaking directly to the reader really helped this to not be as much of an issue. It was like having a conversation with a friend who is passionate about something that you aren't necessarily as passionate about. You may not need to know all the details, but they're your friend so you enjoy the conversation anyway.
"How do you explain to a demon that you've come to realise nothing you ever did mattered –that all your petty efforts at freedom have served only to make you a more valuable slave?"
I was engaged in the plot from beginning to end. The overall arc of the job that Cade and his group end up agreeing to has an intriguing mystery that kept me guessing. And the other little micro-plots (is that a word?) along the way were just as interesting if not more so (looking at you Cade's back story). De Castell also does a fantastic job of writing the action sequences that always made them feel high stakes and at times, hilarious.
The Malevolent Seven is going to be one of my favorite books of the year no question. I can't wait to see where our "heroes" go from here!
P.S. I really loved the short chapters. I don't think there was a chapter over 10 pages. It gave momentum to the story and almost made it feel fast paced at times even when it wasn't. It made it so easy to feel engaged throughout the entire thing.