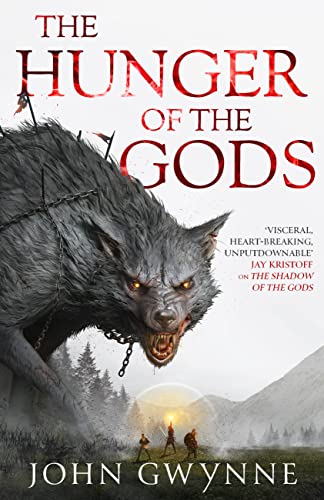 Rating: 10/10
Synopsis
Lik-Rifa, the dragon god of legend, has been freed from her eternal prison. Now she plots a new age of blood and conquest.
As Orka continues the hunt for her missing son, the Bloodsworn sweep south in a desperate race to save one of their own – and Varg takes the first steps on the path of vengeance.
Elvar has sworn to fulfill her blood oath and rescue a prisoner from the clutches of Lik-Rifa and her dragonborn followers, but first she must persuade the Battle-Grim to follow her.
Yet even the might of the Bloodsworn and Battle-Grim cannot stand alone against a dragon god.
Their hope lies within the mad writings of a chained god. A book of forbidden magic with the power to raise the wolf god Ulfrir from the dead . . . and bring about a battle that will shake the foundations of the earth.
Review
Thanks to the publisher for an advance reading copy for review consideration in exchange for an honest review, this had no bearing on my thoughts or feelings.
The Hunger of the Gods is the second book, so please if you haven't read The Shadow of the Gods, turn around now and do that first. This is an incredible sequel and I cannot understate that enough. Everything that was great about book one somehow only improved in book two.
The sweeping and vast norse setting grew even more, stretching out to islands and fortresses we haven't seen yet. There is also just something so enchanting about the Norse setting with heavily wooded forests and rolling seas that I just can't help but love.
The characters also continued to develop and grow. There were three POVs in book one, Orka, the bad-ass warrior mother on a quest, Varg, the escaped thrall new to the Bloodsworn, and Elvar, daughter of a Jarl out to make a name for herself with the Battle Grim. In book two there are two new POVs, Biorr and Gudvarr, both of whom we already know from book one. We also continue to follow our wandering bands of warriors the Bloodsworn, the Battle-Grim and new to the fray at the end of book one, the Raven-feeders. There is a chaotic weaving of paths in book two that was so satisfying to watch.
Book one definitely kept the reveals and action coming and book two does the exact same, there was never a dull moment throughout this book. Lik-Rifa shakes up the world in surprising ways and new players to the game make it more interesting as well.
I can safely say, I'm now anxiously awaiting book three, do not miss out on this series and The Hunger of the Gods release on April 12th, 2022. Also if you are an audiobook reader, I highly recommend checking that out, I read The Shadow of the Gods via audio and Colin Mace did an incredible job.