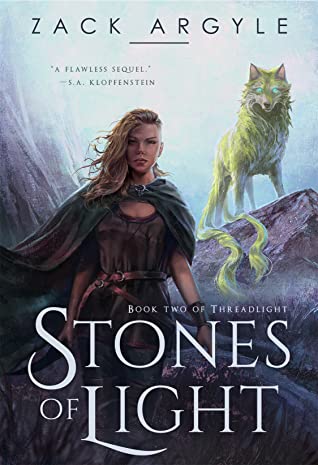 Rating: 8.5/10
Synopsis
Chrys swore to never again let the Apogee take control but, in a moment of desperation, he gave in. Now, he will learn what the Apogee truly wants.
In Alchea, Laurel will do anything to get her threadlight back, even if it means working for the leader of the Bloodthieves. But she has no choice…a life without threadlight is no life at all.
To the west, Alverax travels with the Zeda people to the large port city of Felia, where they seek refuge after the fires in the Fairenwild. But he shattered the coreseal, and no one quite knows what the consequences will be. They only know it won't be good.
Together, they changed the world—now, they must save it.
Review
"We are nine parts ignorance and one part enlightenment, but we grab hold of that little knowledge we have and pretend that it is greater than it is. The man who is ignorant of his own ignorance holds most tightly to his perception of the truth."
Stones of Light is a fantastic sequel, improving upon everything that was great about book 1 and adding in new elements that I really enjoyed.
I wanna give a shoutout to Adam Gold, the narrator for this series. He is doing a fantastic job with all the different character voices that go into this story and I've been really enjoying his narration!
There were a few things that I really enjoyed about Stones of Light, number one being more time spent with Alverax. I like his character a lot and it was so nice to see him as a main POV throughout all of this book versus only having him for a part of book 1. His growth in this book in both character and power was really cool to see!
"She winked and it nearly killed him."
I also really liked where Chrys' story went, even if Chrys didn't really develop too much himself. I especially enjoyed the developments with the Apogee. There was some really cool things that we find out as the story goes on that has me excited to finish the story up with The Bonds of Chaos this year!
Overall, this was a really solid second book in the Threadlight series. The plot was fast paced and engaging throughout, standing on its own while setting up the final book beautifully.