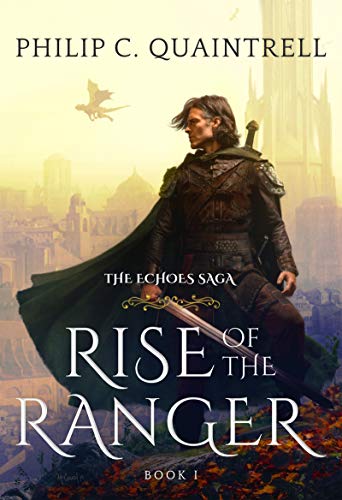 Rating: 9.0/10
Synopsis
The Echoes of Fate, a prophecy uttered unto the world a thousand years ago, cannot be denied…
Mankind has lorded over the land of Illian for a thousand years, building on the ruins left by the elves, as if it were their birthright. A thousand years is a long time for an immortal race to see the truth of things, a truth that has remained unsaid for a millennium – elves are superior. They are faster, stronger and connected to the magical realm in a way that man could never grasp. Illian should belong to them.
Unaware of the shadow that looms in the east, the six kingdoms of man are fractured, unallied, and clawing at each other's gates for more power.
This isn't just war set to ravage the land, but a slaughter – the world of man cannot hope to survive.
Thrown into the heart of this war is a man known by many names; an Outlander of the wilds, an assassin, a ranger. Asher was born a thousand years ago, to a life he doesn't remember. Forty years of brutal training and killing for money has beaten the earliest years of his life away, leaving his ties to the oldest of evils a mystery to all…
Rise of the Ranger launches an unmissable epic fantasy series.
Review
"Children of fire and flame offer great promise,
but only one perceives the time we will fall.
As the Gods recast their fortune and power,
one will suffer the burden of destiny for all."
You know those movies that don't really have a ton of substance, but they are just so dang entertaining and fun that you love them anyway? In a nutshell, that was my experience with Rise of the Ranger.
The world of The Echoes Saga felt like a love letter to the fantasy genre as a whole. A beautiful mashup of all your favorite fantasy tropes and races. Dragons, elves, dwarves, and humans populate the world, though we see none of the Dwarves in this first installment. Ancient evil threatens, an assassins guild conspires, magical artifacts abound, the main character has powers even he doesn't understand, nobles are mostly terrible people, and we have a band of likable characters that are going try to save the world. Sound familiar?
Despite, and most times because of the familiar tropes utilized, I really enjoyed my time with this story. Like a favorite pair of well worn shoes, this world was easy to settle into. More emphasis was put on characters, plot, and the fantastic action sequences that take place, of which there were plenty.
"To the ranger, prophecies were like old history tomes: lengthy and full of shit."
The plot was fast paced and there was never really a lull in the story. From the prologue to the epilogue things are almost constantly moving. In fact, so much happens in this book that I was starting to wonder how the heck this story will last for 8 more books. There were many twists on the typical fantasy tropes I talked about earlier that I really enjoyed. Namely some unique usage of the ancient evil trope. I'm really excited to see where the author will take the story.
As for characters, the one that really stuck out to me was Asher. Asher is a complex character due to his past as an assassin. He was taken in as a little boy and took part in a lot of horrific things due to his blind devotion to the Arakesh, the Assassins Guild of which he was a part. Asher lives with the constant burden of his past actions while living as a for hire ranger to day by day try to make up for them. I really enjoyed every single chapter where Asher was involved.
There were quite a few POV characters in this one. Some were recurring throughout the whole book and some only had 1 or 2 chapters. I actually really enjoyed how the author told the story through so many POVs. That, along with chapters that were 15 pages or less, gave the story momentum and made this little over 500 page book very easy to read. I also appreciated that there was never a time where I felt like I was sick of a character's POV as each character was interesting and the events surrounding them were always important.
The one thing I did sometimes struggle with was what I considered to be writing mistakes. This is a debut so I by no means expect perfection, but there were times that I felt that more edits were necessary. Specifically, there were instances where the author reminded us of things multiple times that were already explained. There were also times that adjectives were overused to make the characters seem extra cool, but for me it just made it feel overdone. However, I must say that this by no means ruined the story for me because those things don't really bother me too much, but if you are a person who can't let those types of things go then this might not be the book for you.
Overall, this was a fantastically fun book full of action, interesting characters, and a plot and world that ended up being bigger and more complex than I anticipated. I am so excited to continue this series! And my fellow reader, I will leave you with my favorite quote from this book:
"Pray that you never discover the true depths of duty. Men and elves alike are capable of great atrocities if they can do it in the name of another, be it gods or kings. Duty can give you courage and a sense of honour, but it can give you cause to act without thought."