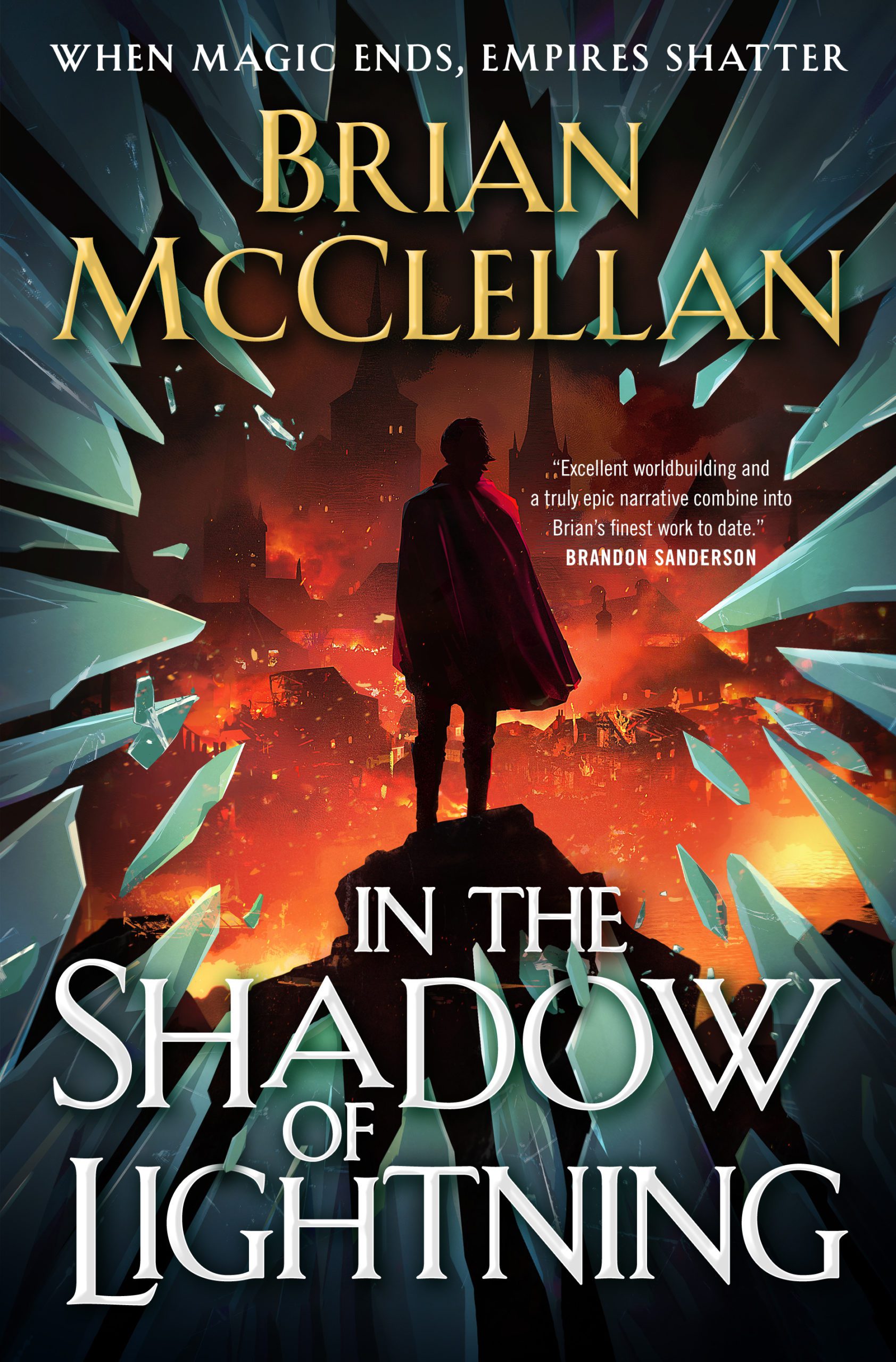 Rating: 9.5/10
Synopsis
From Brian McClellan, author of The Powder Mage trilogy, comes the first novel in the Glass Immortals series, In the Shadow of Lightning, an epic fantasy where magic is a finite resource—and it's running out.
Demir Grappo is an outcast—he fled a life of wealth and power, abandoning his responsibilities as a general, a governor, and a son. Now he will live out his days as a grifter, rootless, and alone. But when his mother is brutally murdered, Demir must return from exile to claim his seat at the head of the family and uncover the truth that got her killed: the very power that keeps civilization turning, godglass, is running out.
Now, Demir must find allies, old friends and rivals alike, confront the powerful guild-families who are only interested in making the most of the scraps left at the table and uncover the invisible hand that threatens the Empire. A war is coming, a war unlike any other. And Demir and his ragtag group of outcasts are the only thing that stands in the way of the end of life as the world knows it.
Review
Thank you to Tor books for this advanced copy in exchange for an honest review.
McClellan has done it again, crafting a story that felt at once familiar and unique. Set in a flintlock fantasy world, McClellan combines elements of murder mystery, deadly political intrigue, and military warfare into a seamless whole.
When I think of my favorite magic systems the Powder Mage series is right up there with the best of them. That being said, I went into this hoping that the magic of the Glass Immortals series would be at least close to as interesting and fun to experience as Powder Mage. I was not disappointed. Glassdancing, Godglass forging, and the practical and battle applications that came from them were so cool to experience. I would even say that it is on the same level for me as the Powder Mage magic system. McClellan knows how to write fantastic magic systems!
Now let's dive into the characters and plot. I have not written many reviews lately so bear with me as I ramble a bit. I felt invested in Demir Grappo from page one. He is likable, witty, and in possession of a genius level intellect. He is also a glassdancer which is freaking awesome as you will see when you read this book! However, what really drew me to Demir was his heart. Demir truly cares about people. Of course his friends and family, but also those that most nobility or just generally those with power in this world would consider "less than". He is a caring and kind person despite all the world has thrown at him and the level of privilege he was born into. He also bears a weight of guilt and shame for things that happened in the past. Demir's past is a tragic tale of misplaced trust in a person who didn't deserve it. His struggle through mental illness while also dealing with all the things happening around him was incredibly compelling to me.
There were a few times that I longed to get back to a Demir chapter. There was something about him and his part of the plot that had me so dang intrigued every time he had a chapter. We also get to see Demir's best friend and one of the fiercest warriors of this world "Baby" Montego through Demir's POV for the majority of this book. He was just so cool every time he was in a scene and is easily my favorite side character.
I also really enjoyed the other main POVs of Kizzie, Idrian, and Thessa. Kizzie, the disgraced bastard daughter of the powerful Vorcien family. Through Kizzie's eyes we get to see a murder investigation which was so much fun! Kizzie is smart, doing a ton of research and "detecting" in the pursuit of figuring out the mystery (exact nature of this left out due to spoilers) that is central to the plot. Kizzie is also an enforcer which means she is basically a mercenary, and an excellent one at that, who protects the interests of whichever Guild family she is employed by at the time.
Idrian is a Breacher, which ends up amounting to a super soldier. Breachers are much stronger, quicker, and more agile than normal soldiers due to the use of a super cool type of armor. While that was cool to see, it was Idrian's personality that shined. He is the papa bear to his unit, protecting them at the risk of his own life constantly. His inner struggles were also really fascinating to witness.
Thessa is a siliceer, a Godglass forger. Excellent at what she does, we get to know a lot about the magic system through her eyes. I really enjoyed Thessa's side of the story and what she brought to the table with who she was and even moreso her Godglass forging skills and knowledge.
The majority of this book is centered around mystery, political intrigue, and the ongoing war. At times when a story's focus is split like this it can feel as if one or more plot elements are not as well done as the others. However, this is not the case with In the Shadow of Lightning. McClellan not only does an excellent job with these elements individually, but also manages to intertwine them in ways I did not expect and that kept me guessing constantly. The plot had layer upon layer and I could not for the life of me predict what would happen next.
Suffice it to say I had a fantastic time with this book and I am really excited to see where the rest of this series will go after the big reveals, twists, and turns that made up the stunning conclusion to this part of the story. I definitely recommend checking this one out! In the Shadow of Lightning comes out on June 21st, 2022 and you can preorder at the links above!