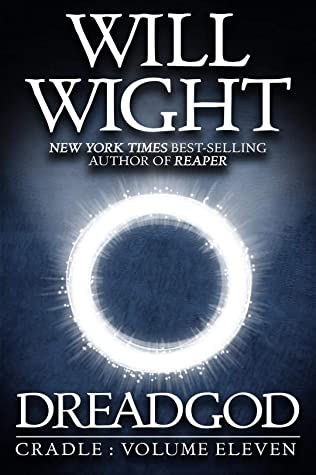 Rating: 7/10
Synopsis
The battle in the heavens has left a target on Lindon's back.
His most reliable ally is gone, the Monarchs see him as a threat, and he has inherited one of the most valuable facilities in the world. At any moment, his enemies could band together to kill him.
If it weren't for the Dreadgods.
All four are empowered and unleashed, rampaging through Cradle, and grudges old and new must be set aside. The Monarchs need every capable fighter to help them defend their territory.
And Lindon needs time.
While he fights, he sends his friends off to train. They'll need to advance impossibly fast if they want to join him in battle against the kings and queens of Cradle.
Together, they will need power enough to rival a Dreadgod.
Review
"The entire Iteration shook as Death entered."
Travis Baldree did an excellent job of narration as always. He has been able to bring this series to life in a way that I think wouldn't have been possible with another narrator. Extrememly well done!
Dreadgod was my most anticipated book release for 2022. I love this series and for me its books range from solid to great. Unfortunately, for me Dreadgod fell on the lower side of the spectrum.
I think the biggest thing for me that was a disappointment in Dreadgod was the pacing. There is only one book left in this series so I expected there to be more plot progression. Unfortunately, only after the first 50-70% of the book was past did I feel like the plot of this one really got going. It not only felt like a bridge book to get to the 12th and final book, but it also almost felt like filler at times.
The other criticism I have is that some of the character portrayals felt quite inconsistent with who the characters were in the rest of the series. In particular, Lindon felt like a completely different person at parts of the story. However, I did feel as the story progressed that was corrected so that was not as much of a problem for me as the pacing was.
Now let's get to the good stuff. There were a few big, significant moments in this installment that hit really well. I can't talk about any of them in specifics because spoilers, but there were two fights that were amazing. There was also a new development that really saved this book for me and even had me tearing up at one point.
Yerin, Mercy, Dross, Orthos, Eithan, and Ziel were amazing as always. I do wish that Mercy and Eithan were in the story more as they are two of my favorite characters, but I still loved following all of these storylines and the developments that went along with that.
Will Wight used this book to set up the final showdown both on Cradle and in the Heavens and I am here for it. If that was Wight's goal it served its purpose pretty well. Although this was not one of my favorite books of the series, I hope and believe that Wight is gonna nail the finale in the next book!