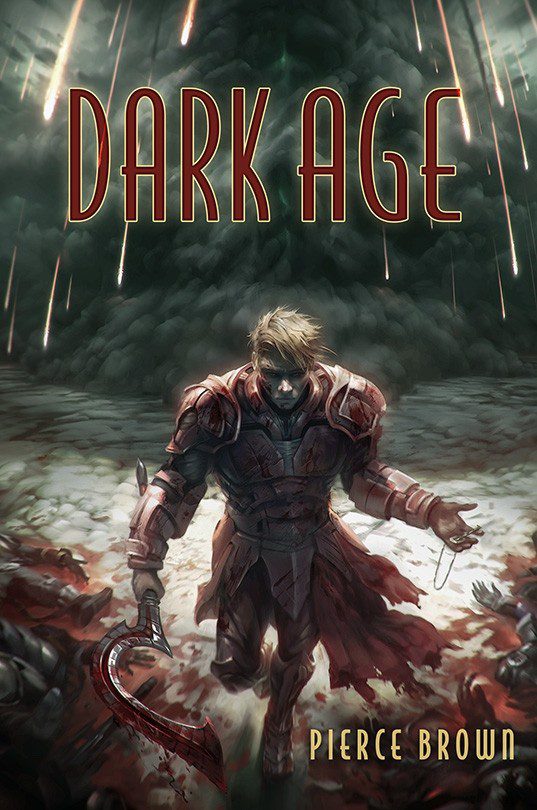 Rating: 10/10
Synopsis
The #1 New York Times bestselling author of Morning Star returns to the Red Rising universe with the thrilling sequel to Iron Gold.
For a decade Darrow led a revolution against the corrupt color-coded Society. Now, outlawed by the very Republic he founded, he wages a rogue war on Mercury in hopes that he can still salvage the dream of Eo. But as he leaves death and destruction in his wake, is he still the hero who broke the chains? Or will another legend rise to take his place?
Lysander au Lune, the heir in exile, has returned to the Core. Determined to bring peace back to mankind at the edge of his sword, he must overcome or unite the treacherous Gold families of the Core and face down Darrow over the skies of war-torn Mercury.
But theirs are not the only fates hanging in the balance.
On Luna, Mustang, Sovereign of the Republic, campaigns to unite the Republic behind her husband. Beset by political and criminal enemies, can she outwit her opponents in time to save him?
Once a Red refugee, young Lyria now stands accused of treason, and her only hope is a desperate escape with unlikely new allies.
Abducted by a new threat to the Republic, Pax and Electra, the children of Darrow and Sevro, must trust in Ephraim, a thief, for their salvation—and Ephraim must look to them for his chance at redemption.
As alliances shift, break, and re-form—and power is seized, lost, and reclaimed—every player is at risk in a game of conquest that could turn the Rising into a new Dark Age.
Review
"Is a man a coward if he realizes that bravery is just a myth the old tell the young so they line up for the meatgrinder?"
If I had to describe Dark Age in one word it would be brutal. This book was absolutely, by far, the darkest of the Red Rising series. I kept thinking throughout this book, especially after a certain part, that this was in fact grimdark Sci Fi because it was just that dark.
I absolutely loved it. Dark Age was a crazy, intense, wild, non-stop, action packed ride that just wouldn't let up. The pace was very fast and I think this increased the stakes dramatically. Our heroes had to be smarter, faster, and deadlier because their enemies were the greatest they'd ever come against.
One of the biggest weaknesses with multiple POV novels is that sometimes not all of the characters are interesting or there is nothing happening around them so you as the reader become disinterested. This is not the case in Dark Age. Every time I switched POV's there was always something interesting happening to each character that kept me engaged and intrigued. Of course I had my favorite POV's Darrow and Ephraim, but seeing Lysander's machinations, Mustang's cunning, and Lyria getting some deeper character development was all enjoyable reading.
"I kept looking for hope in the world. Expecting the world to supply deliverance if I plucked the right chords. Demanding that it supply validation to my labor if I just gave enough effort. But that is not the nature of the world. Its nature is to consume. In time, it will consume us all, and the spheres will spin until they too are consumed when our sun dies. Maybe that is the point of it. Knowing that though one day darkness will cover all, at least your eyes were open to see moments of light."
Speaking of characters, I have to give a shout out to Ephraim. In my opinion, Ephraim has had the best character arc of anyone in the new trilogy so far. He has been the comedic relief often in what so far has been a really dark series. Even more than that though, he is a return to why I started and will continue to read Red Rising. Characters that are real and that you can really empathize with and understand where they are coming from. I was really impressed by the way that Pierce Brown wrote Ephraim's processing of grief in both Iron Gold and Dark Age. I just couldn't help but root for him.
I enjoyed Darrow's POV in this one. The battles of Mercury are epic and intense and he is always in the middle of them. The Reaper has returned in full force and I couldn't have been more happy with what we saw of the Reaper in action. It is clear in the 10 years of war that Darrow has grown even better as a fighter and commander. There was also a lot of introspection and doubt of the rightness of his cause. This was a return to the Darrow of the first trilogy, but more mature. The Darrow that may not always be sure of what is right, but does the best he can. The Darrow that may not be strong enough, but has his friends as his strong support.
"But the measure of a man is not the fear he sows in his enemies. It is the hope he gives his friends."
I enjoyed Mustang's POV. It was fun to get to see the behind the scenes work of the Sovereign and see what she was like from her own point of view. It was also really great to see her support and love for Darrow confirmed time and time again throughout all the darkness of the events happening around them.
Lyria finally got interesting! I never had anything against Lyria in Iron Gold. I just never found her compelling. However, her POV got more and more interesting as Dark Age went along and I started to really love where her story was going and where it will go.
I really enjoyed the politicking between the Core Golds and how it impacts them as individuals as well as the ongoing war with the Republic. Lysander's POV especially shows a lot of this and it's really interesting to see it through a Gold's eyes. Lysander changes quite a bit in this book and my opinion of him changed as well. I can't give more of my opinion about him without spoilers, but if you want to check out my goodreads review I will have a spoiler section there.
"I knew war was dreadful, but I did not expect to fear it. How can anyone not, when death is just a blind giant with scissors?"
I think the only thing that I wish Dark Age would have done just a little bit better was to slow down for the big moments. Everything was happening so fast at times it almost felt like those moments just passed us by and we weren't able to properly process them or give them their due. However, that is my only complaint and it is a small one.
This book shook me and I am still feeling the effects days after finishing it. I never felt that any of the characters I've come to know and love were safe. There were moments I laughed and ones where I cried. Where I was scared, horrified, amused, thrilled, disgusted, and just plain numb. I'm still not sure I've recovered even as I write this. Undoubtedly, one of the best books of the year.
"Hail Libertas, Hail Reaper!"