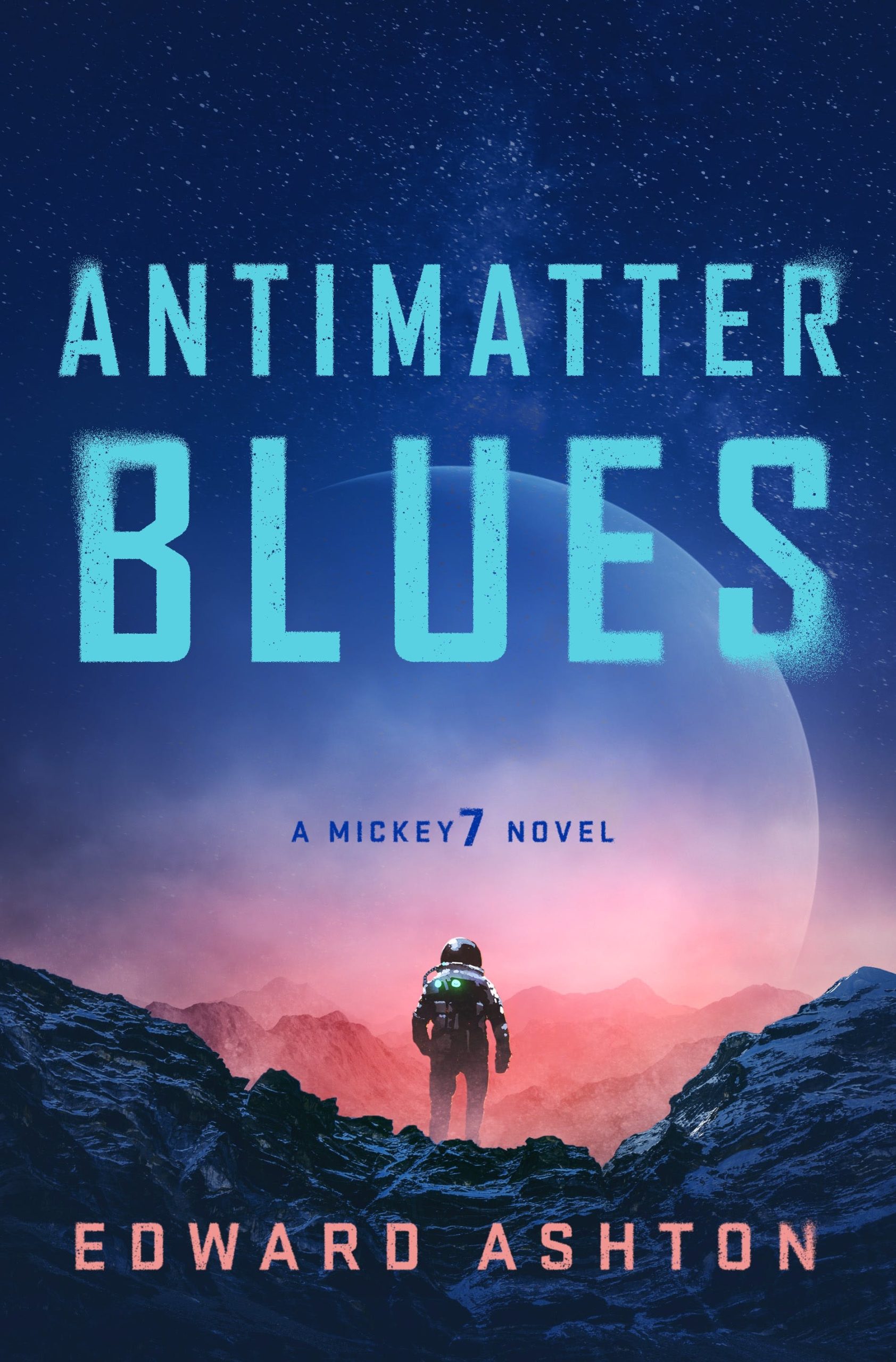 Rating: 9/10
Summary:
Edward Ashton's Antimatter Blues is the thrilling follow up to Mickey7 in which an expendable heads out to explore new terrain for human habitation.
Summer has come to Niflheim. The lichens are growing, the six-winged bat-things are chirping, and much to his own surprise, Mickey Barnes is still alive—that last part thanks almost entirely to the fact that Commander Marshall believes that the colony's creeper neighbors are holding an antimatter bomb, and that Mickey is the only one who's keeping them from using it. Mickey's just another colonist now. Instead of cleaning out the reactor core, he spends his time these days cleaning out the rabbit hutches. It's not a bad life.
It's not going to last.
It may be sunny now, but winter is coming. The antimatter that fuels the colony is running low, and Marshall wants his bomb back. If Mickey agrees to retrieve it, he'll be giving up the only thing that's kept his head off of the chopping block. If he refuses, he might doom the entire colony. Meanwhile, the creepers have their own worries, and they're not going to surrender the bomb without getting something in return. Once again, Mickey finds the fate of two species resting in his hands. If something goes wrong this time, though, he won't be coming back.
Info:
Release Date: March 14th 2023
Pages: 295
Publisher: St. Martin's Press
Audio: 9 hrs and 27 mins
Narrator: John Pirhalla
Audio Publisher: Macmillan Audio
Review:
The books that I cherish the most are those that take me on a heralding adventure, adds a hapless underdog, stirs up some hilarious dialog, and garnishes with some heart and humanity. Mickey7 was one of those books, and with Antimatter Blues, Ashton takes those ingredients to a whole new enjoyable metamorphosis.
This story continues to unravel all of the lies that Mickey had in place in the previous book to prove his role as a critical part of the colony. Through his charming witlessness, we follow him and his crew (Nasha, Berto, and a few others) as they fall into one dire situation after another with Mickey's lead.
The humor here is guaranteed to put a smile on your face and interspersed with action and dire consequences to keep the pace up. The crew is pushed to their limits and met with unbeatable odds and new allies and foes. The world is strange out there, and they must traverse the treacherous lands to complete their mission.
One of my favorite parts of the writing here (besides the witty banter and everyone's recall of Mickey's track record of stupidity) is the method in which we learn that it's not always the super-qualified or well-trained-mind that will come up with all the solutions. Sometimes it takes an unorthodox approach to achieve the best possible outcome. The character of Mickey isn't a complete idiot, but when things look bleak, only someone of his history of bad choices and poor swindling that can dig out of the hole. His unwavering optimism embraces the 'ignorance is bliss' attitude and it fills the book with a little more light than would be otherwise.
Finally, the cherry on top was the finale of this story. No spoilers but I hope you enjoy it too.
Ashton has pulled off a 1-2 knockout so far. Antimatter Blues is a hilarious, spirited, and a purely enjoyable SciFi read! It's a great heralding underdog adventure story with a unique cast of characters. If you enjoyed Mickey7 in the slightest, you'll love this follow up.