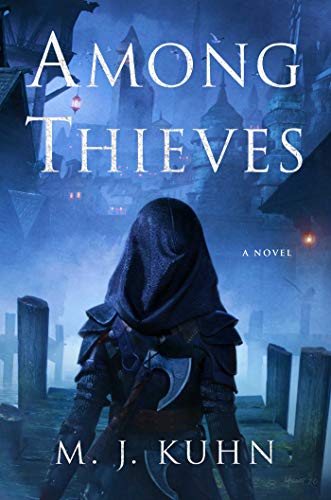 Rating: 10/10
Synopsis
In just over a year's time, Ryia Cautella has already earned herself a reputation as the quickest, deadliest blade in the dockside city of Carrowwick—not to mention the sharpest tongue. But Ryia Cautella is not her real name.
For the past six years, a deadly secret has kept her in hiding, running from town to town, doing whatever it takes to stay one step ahead of the formidable Guildmaster—the sovereign ruler of the five kingdoms of Thamorr. No matter how far or fast she travels, his servants never fail to track her down…but even the most powerful men can be defeated.
Ryia's path now leads directly into the heart of the Guildmaster's stronghold, and against every instinct she has, it's not a path she can walk alone. Forced to team up with a crew of assorted miscreants, smugglers, and thieves, Ryia must plan her next moves very carefully. If she succeeds, her freedom is won once and for all…but unfortunately for Ryia, her new allies are nearly as selfish as she is, and they all have plans of their own.
Review
Before I tell you why I cherished this book (without spoilers), I simply want to say WOW. Among Thieves is a first-novel triumph for M.J. Kuhn and in my top ten list for 2021! M.J. demonstrated she had a marvelous writing ability and just carved herself a seat at the table with the brilliant authors of our time, and can't wait to read what she comes up with next. Bravo!
And my fondness for this book starts with how well plotted it was. I was astonished and delighted at every turn, pages and twists unfolding in front of me, and couldn't wait to see what would happen next. M.J. weaved a series of events where nearly every character's wants and needs included and properly executed. She also built a splendid world filled with fascinating places, governments and magic ingredients that beg expansion beyond this first novel.
Then, if the plot wasn't enough, M.J. established a gang of misfits—all different in their own ways and in dire need of an arc—and delivered by allowing us to live the scenes, dialogues and betrayals that make these characters shine (and 3-dimensional). Each had a well-developed history that we've experienced through the finely tuned narrative. Her prose was perfect, written with a slight touch towards the poetic, yet widely accessible for all to enjoy.
Now, if, like me, you stay at the end credits of every Marvel movie expecting to see a sequence revealing new plot points for the MCU, wait until you read the epilogue of Among Thieves. I loved the book before the epilogue. Then my expectations were snatched and thrown to the wall to reveal that not everything was what it seemed… but what an ending. A "what's in a box/Seven" moment. She closed all the doors and answered all questions set throughout the book, yet left a window open to let a breeze in, whispering to us…"but there is more…"
In conclusion, if you love (who wouldn't) an amazingly well plotted fantasy/heist novel, with spicy-well-written characters and a top-notch ending, do yourself a favor and read M.J. Kuhn's incredible first novel Among Thieves.