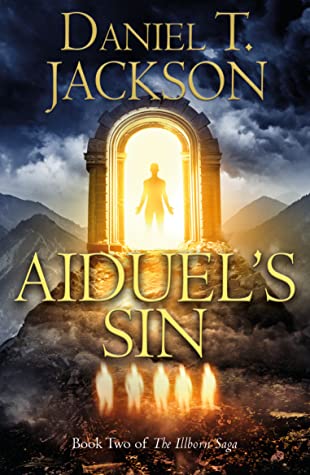 Rating: 10/10
Synopsis
How does the opportunity ever arise for one person to alter the destiny of a world?

As the nations of Angall move closer to a Holy War, the four Illborn are to face momentous challenges, while seeking answers about who they are and what their growing powers mean.

After Arion and Allana are drawn to opposing sides in the coming conflict, their mutual obsession threatens to bring ruin to them both. In Arlais, Leanna finds herself a target of both the Holy Church and of the killers who are closing in on her. And in Karn, Corin must respond to a deadly new peril, whilst coping with the devastating aftermath of the attack on his wife.

How will the choices and actions of the four shape each of their destinies? Only this much is certain; the mysteries of the Gate and of their dreams still await them, and there will be no peace for the Illborn.

Aiduel's Sin is the thrilling and emotive second instalment of The Illborn Saga, the acclaimed epic fantasy series by Daniel T. Jackson. 
Review
Aiduel's Sin is Daniel T. Jackson's second novel in his Illborn series and an excellent one at that. If you enjoyed Illborn, it goes without question that you should read this. As before, the follow-up to Illborn is all that one can ask for in the perfect fantasy novel, with superb writing, multi-dimensional characters, fast-paced action, politics and a plot that leaves you gagging for more. It's no surprise that this has already gone down as one of my top reads of 2023 and cemented Jackson as one of my favourite authors of all time.
Imagine that; two books and already a favourite.
After the mind-blowing ending and cliff-hanger in Illborn, it was a tough year of waiting and building high expectations. Luckily for me, this more book than delivered and made up for the wait. Aiduel's Sin quickly jumps into the action, continuing on with an uneasy post war situation between Andar and the Holy Church. Things look pretty bleak for Andar, now on the receiving end of a huge invasion and it's quickly clear that things are about to spiral even further out of control. At the same time events occur behind the scenes, setting up events that could potentially be even bigger than an all out war.
As in Illborn, the plot in Aiduel's Sin is excellent and makes for an intriguing and immersive read, and one that I never struggle to just get back into. However, what really makes Aiduel's Sin shine is its characters. We follow Allana, Corin, Leanna and Arion as they come to terms with their ever growing power and the mysterious presence behind. What I really enjoyed about Aiduel's Sin is that these characters cross paths much more and realise what this might potentially mean for them in the future. While Corin is the only one that doesn't cross paths with the others, it's clear that his quest is just as important. I also liked the little hint where Arion might have felt his "presence in the west." While the other three are thrown into the midst of events, Corin tries to find ways to heal Agbeth and find out answers to the presence lurking within her.
Allana, Arion and Leanna on the other hand are much more in the midst of things, unfortunately taking opposing sides, a direction I'm really looking forward to seeing the resolution of! Events quickly spiral out of control between them and take some dark turns, setting up potential explosive events in book three. I cannot stress enough, that if you read fantasy for it's characters, you're in the right place. It's rare to read such multi-dimensional characters, that feel unique, like-able while not being perfect and at the same time leave you cheering them on.
The writing is absolutely excellent and well-paced which made Aiduel's Sin such an easy and immersive read. It was the perfect balance between world-building, plot and character interaction that just felt so natural and unforced. Action scenes really stood out and were extremely well written. For me what stands out the most is how well Jackson writes a multi-POV story, weaving each characters section together and never breaking the pace.
If you're reading this review I assume you've already read the first book and are possibly trying to decide whether the series holds up and whether you should continue. I can absolutely confirm that this is the case and you most definitely should continue and be ready for another explosive, character driven adventure that will leave you wanting more.