I had been thinking the other day, I know dangerous for me, and I decided that I was done having all of these series that I start book 1 and then take forever to get to the rest of the series. In light of this, I've decided to challenge myself in 2022. My goal for this year is to read 10 completed series out of the 27 listed below. Some of these series are ones I've already started and some are not, but all are ones I very much want to read. Which series will I read? Which series will get pushed to 2023 and beyond? I have no idea (well except Cradle, Mistborn, and Legend of Eli Monpress. Those are certainties for this year) and that's part of the fun of it! I may even keep you all updated with my progress or lack thereof. So without further ado and with some trepidation, here we go!
Series I've Already Begun
Mistborn Era 2 by Brandon Sanderson
The Last book in this era is coming out in November. I plan on doing a reread of the first 3 and then finish up with the 4th book, The Lost Metal, in November or December. This series has been a blast so far and I can't wait to finish it!
Cradle by Will Wight
2 more books in this series and both should come out this year! I simply cannot wait, but am also dreading the end of this incredible series.
Greatcoats Quartet by Sebastien De Castell
I've read the first book in this series and enjoyed it quite a bit. I've actually already started Knight's Shadow and hope to fit the rest of the series in by year's end!
Tawny Man Trilogy by Robin Hobb
I have had a somewhat tumultuous experience with this series. It took me 3 tries to get through Fool's Errand, but in the end I enjoyed it and definitely want to continue this series, even if Fitz is currently driving me crazy.
Age of Tyranny by Cameron Johnston
I really enjoyed The Traitor God's mix of reluctant hero, murder mystery, and monsters. Only one book left to complete this series!
The Legend of Eli Monpress by Rachel Aaron
I LOVE this series and will most likely be completing it in the next month or two.
The Echoes Saga by Philip C Quaintrell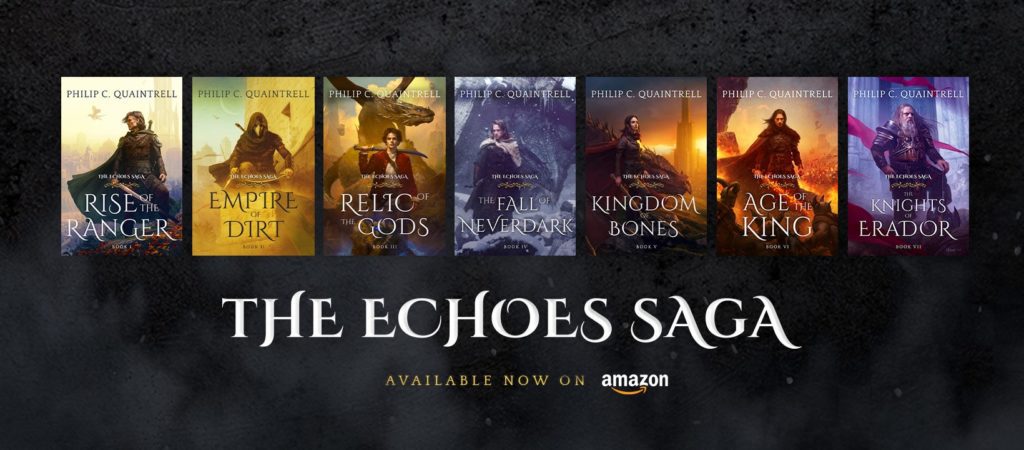 I am currently on book 2 of this series and it has been an improvement on book 1 which I really enjoyed. This is a 9 book series with 3 story arcs so I'm undecided what completing this series will mean as far as counting it for this goal. We shall see!
The Vengeance Trilogy by Devin Madson
This is another series where there is no reason I didn't continue immediately as I enjoyed book 1 a LOT. Hopefully going to finish it this year!
Lightbringer by Brent Weeks

I have read 4 of the 5 books in this series, I won an early copy in a giveaway, and I really liked the series up to this point. So why haven't I finished it you ask? I think a big part of it was that I saw quite a few reviews from people whose opinion I respect saying they were quite disappointed with the finale. I also read the first 100 pages and wasn't super into it. BUT, I still feel like I want to finish this series, I'll just need a recap of the first 4 books before I can do so.
Series I Haven't Started
Dragons of Terra by Brian Naslund
Threadlight by Zack Argyle
Best Laid Plans by Rob J Hayes
The Arthurian Tales by Giles Kristian
Paternus by Dyrk Ashton
Liveship Traders by Robin Hobb
Dragonlance Chronicles by Margaret Weis and Tracy Hickman
The Drowning Empire by Andrea Stewart
Age of Madness by Joe Abercrombie
The Reborn Empire by Devin Madson
Death books (Discworld) by Terry Pratchett
The Tales of Einarinn by Juliet McKenna
The Song of the Ash Tree by T.L. Greylock
Chronicles of The Black Gate by Phil Tucker
The Interdependency by John Scalzi
Fallen Blade by Kelly McCullough
Tyrants and Kings by John Marco
Feel free to join me on this quest! It is sure to be an interesting ride.