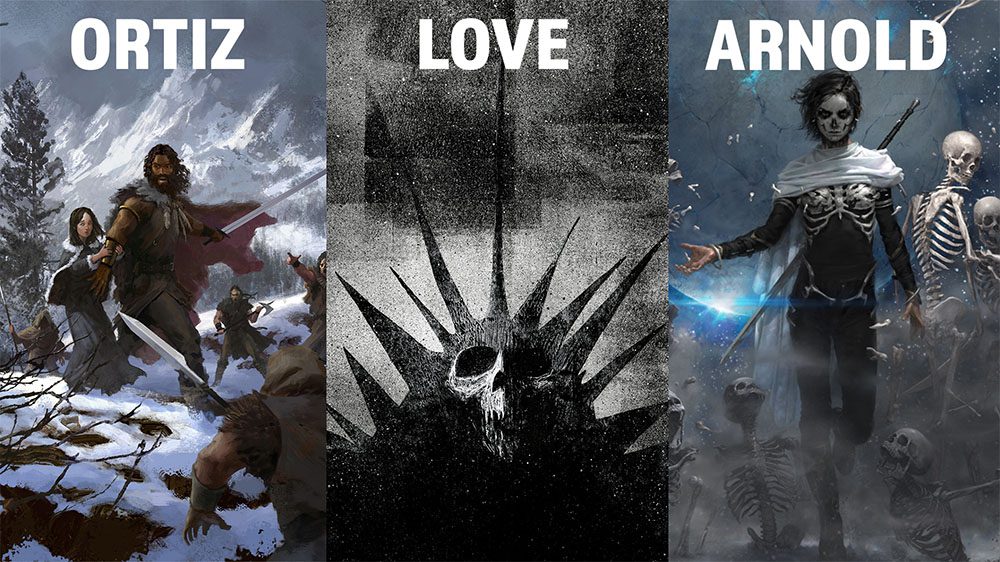 ---
As an author, the book cover is the brand and marketing of your novel. Titles help, but ultimately, before reading the summary or reviews on the book, the cover incites the reader to pick up the book or pass to the next one. Having a brilliant cover that truly represents your story is imperative for your novel.
We recently had the pleasure of interviewing three amazing cover artists on this subject. This article uncovers their process, but also guides authors on how to approach the process when discussing it with the artist. Whether you're a traditionally published author or self-published, you'll find snippets of information to help you across their responses. 
The artists we're interviewing today are:
Felix Ortiz: Félix is a lifelong graphic designer and art director who in the past few years has somewhat successfully made a niche for himself in the indie fantasy genre as a cover art illustrator. Currently, he and his family are planning to move from Brooklyn, NY to Worcester, MA. Some of his achievements include winning the cover competition for the SPFBO, and a Stabby award for best artist. Notable clients include Tor Books. From the indie scene SPFBO winner Rob Hayes, SPFBO runner up Alec Hutson, and many, many more who one way or another have helped him immensely in his growth both as an artist and as a person.
Jeffrey Alan Love: Jeffrey is an award-winning artist and writer. He is the author of THE HERO'S QUEST, THE THOUSAND DEMON TREE, THE MOUNTAIN OF SMOKE, and NOTES FROM THE SHADOWED CITY. Winner of the World Fantasy Award for Best Artist, the British Fantasy Award for Best Artist, a gold medal from the Society of Illustrators, two Silver Spectrum Fantastic Art Awards, the Zilveren Penselen (Silver Brush) Award, and two Academy of British Cover Design Awards, he has been nominated for the Kate Greenaway Medal, The British Science Fiction Award, the Locus Award, and the Chesley Award. His clients have included Walker Books, DC Comics, Image Comics, The New York Times, The Washington Post, TIME, The New Yorker, Scholastic, HarperCollins, Tor, Tor/Nightfire, Gollancz, Ballantine Books, Candlewick Books, Small Beer Press, Del Rey, Lemniscaat, Mondadori Libri, Mnémos, Subterranean Press, and others. Born in South Carolina, he has lived in Germany, Texas, North Carolina, Nebraska, South Korea, Hawaii, Colorado, Florida, Pennsylvania, Virginia, Tennessee, Missouri, and California.
Tommy Arnold: Tommy is an award-winning artist having worked on covers for Tor books, Orbit Books, Ace Books, Del Rey Books and many others. He's been nominated for the Best Cover Illustration (both hardcover and paperback) Chesley Award in 2018, 2019 and 2020 and for a Jack Gaughan Award in 2016. He focuses mainly on Science-fiction and fantasy.
So let's get started. For Tommy's answers, listen to this audio (podcast) interview.
What are the elements an author needs to prepare before approaching a cover artist (in other words what does a cover artist want from the author when first approached)?
Felix: I usually ask the author what the tone of the book is (high fantasy vs grimdark, for example), if they have something in mind already and/or examples, and a very brief description of the main elements, usually characters and story. After that I bounce ideas with sketches to land on a final concept.
Jeffrey: This question seems to be aimed more towards authors who are self-publishing, where the author would approach the artist themselves. In traditional publishing, an art director or designer would be the person approaching the artist or the artist's agent. I prefer working through an AD or publisher, and the few times I have worked directly with an author (such as John Hornor Jacobs) is when we have become friends and I can trust that they respect my vision and voice just as I respect theirs. As for what to prepare when first approaching: Title of book, elevator pitch or back cover copy, budget, rights requested, deadline. I need to know if it fits in my schedule and if it pays enough for my time. If I take the job, I prefer to read the entire manuscript myself and come up with my own ideas/designs. I don't like when a concept for the cover is already in place, but I imagine it is different for every artist.
Do you have an example of a great cover, and why that is?
Felix: This is a very tough question, as I follow some incredible artists. I'll just say look up "Jaime Jones cover art" and behold. His art is so good it doesn't quite matter if the design is great. He is usually the first artist I look up for reference and inspiration nowadays. Now for a specific one, I'll just use my favorite that I have done. I'm not saying it's a great cover, just my favorite:
https://cdnb.artstation.com/p/assets/images/images/032/250/031/large/felix-ortiz-wolfeater-ecover-webpng.jpg?1605885503
1 word title, great design and an illustration that tells a story.
Jeffrey: I think this varies depending on what you're after. A great cover for the publisher may be a bad cover for the reader, or the artist, or the writer. When a cover first comes out, its goal is to get readers to pick up the book and buy it. It is a fishing lure and the book, hopefully, is the hook. They read a few pages and need to know more so they buy it. But then as the years go by the cover becomes something more. It can evoke nostalgia, emotion, the sensations a reader had when they first read the book. It can encapsulate the entirety of the book, and the reader's individual experience of the book. So there may be "bad" covers that are actually great covers – there are tons of covers from the 80s that I would think are not that great, but because I read them as a child when I see them now I am transported back to that time. It's magic.
What are the 3-4 elements a cover should express to a potential reader?
Felix: For me a good cover must be easy to read, so good design and a short title. It must hint what it is about. I almost never buy a book without some kind of illustration on it. I want to know the genre and mood by just looking at it. And finally, it must show the author spent some time finding a good artist and designer. Cheap covers really won't do for me.
Jeffrey: I think that's too many elements! I suppose you could say genre and tone, but I want the cover to evoke an emotion first and then ask a question. The question could be as simple as "what's happening?" or "how did they get there?" or "how can they possibly survive that?" but there needs to be, again, that hook or lure to make the reader want to know what happens next or how they possibly get out of this situation they find themselves in.
Can you explain briefly the basics of a cover, the technical specs a publisher or self-publishing distribution tool are looking for (size, terms, requirements)?
Felix: As an illustrator I only really deal with the art, all the printing/publishing specs are taken care off by the author, Shawn King or some unknown entity. What I do make sure of is that the image is large enough to print a poster. I make sure that there's space for nice, big titles, and what I wrote earlier about what makes a good cover. In terms of licenses I'm really no expert, the price for my illustration usually covers the rights for the book cover and audio book, and if they want to use it for social media promotion.
Jeffrey: Whatever size the publisher is printing the book at, at 300dpi (or higher, I generally scan at 600). As for terms and requirements, here's a good article discussing rights: https://www.printmag.com/post/10-things-to-consider-when-pricing-illustrations#:~:text=Clients%20can%20purchase%20an%20illustration,one%20or%20more%20specific%20uses.
and here's a great guide for basic contracts and legal forms for illustrators. https://www.amazon.com/Business-Legal-Forms-Illustrators-Crawford/dp/162153488X/ref=sr_1_1?dchild=1&keywords=legal+guide+illustrator&qid=1613410082&sr=8-1
Again, publishers will have their own contracts, but for self-publishers I would recommend knowing about these things. I'm lucky to have a great agent, Alison Eldred, who manages that side of things for me so I can focus on making art.