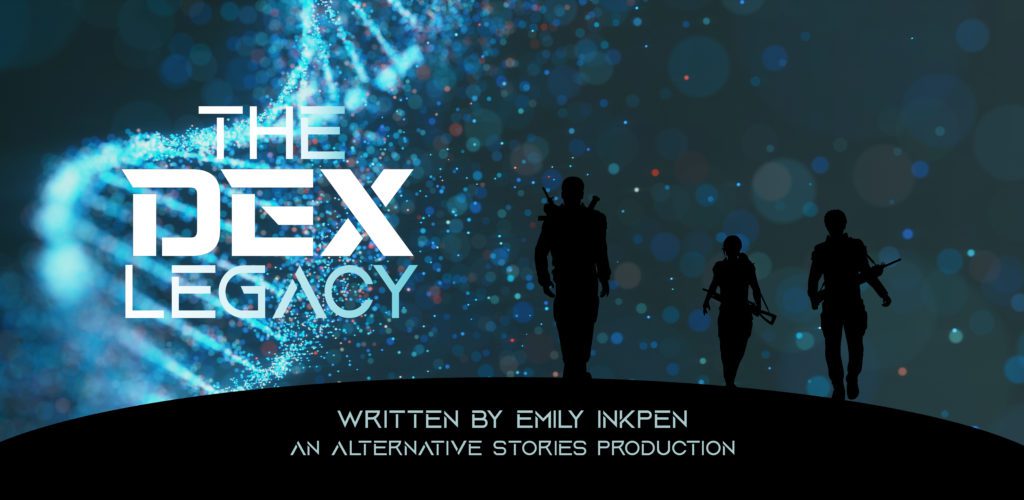 If you've listened to the grimdark, political sci-fi audio drama, The Dex Legacy, then you'll know it's awesome. If you haven't had chance to listen to it, and you wondered what it was like, you can check out my review of season one by clicking right here.
But instead of hearing me babble on about it, why not let the author and creator of the show tell you about it herself?
I had the chance to interview Emily Inkpen, the dark princess of sci-fi, about what it was like to create this fantastic series. The show is produced by Chris Gregory (of the Alternate Stories and Fake Realities Podcast), but Emily writes every episode and also stars as the voice of an AI called Auto. You can read what Emily had to say about The Dex Legacy below…
Hi, Emily!
Hi, Frasier!
Could you tell us a little bit about the show? If you had to sum it up in a few words, what would they be?
Twisty, dark and relentless… and hopefully intriguing and a bit addictive too.
The Dex Legacy is so unique, but is there anything else out there in sci-fi or in other media that you could compare the show to? Any aspect of the show that fans of other stories would enjoy?
I honestly don't think there's much out there like it. And I say this with some confidence. The Dex Legacy audio drama is a prequel to my debut trilogy of novels and when I was submitting book 1, my now Agent asked for comparative titles, and I couldn't give him any. There's simply nothing out there like this story.
I would say that at a stretch, it's like Final Fantasy VII meets Dune meets Game of Thrones. That combination could give a taste!
Your pilot was initially a standalone episode. Then, due to popular demand, the episodes expanded and became a series. Did anything change in your approach from writing the pilot to suddenly writing an entire series?
Well that's an interesting question! So after episode one, which did well for over a year, we made episode two, and I thought at that point a trilogy would be nice. So I was quietly planning a third episode. Then Chris started talking about a series and suddenly I needed to think about six-episodes. So the first season is written in a highly episodic format. Each episode deals with a specific incident and as a whole it ramps up to the final concluding line. So far the writing of season two has been very different, because I can set a destination and get us there… I can create sequences of action that will carry across episodes, knowing there will be another to follow, and that changes everything.
On top of this, with season one we were making the episodes and releasing them as we went. When we were creating and releasing episode three, I still hadn't written episodes five and six. This time around we're making the full season ahead of time. It's going to be very different and hopefully more organised!
There's such a great atmosphere to the show which creates a lot of intrigue and tension. How important is the music in creating that? And how important do you think music is in the production of audio drama?
Music is SO important. I can't overemphasise this enough. Our theme was composed by the brilliantly talented Allen Stroud. In that track he's captured the momentum, the tension and the very genre of the show perfectly. When episode one was released as a standalone we didn't have a full theme, so the soundtrack was applied retrospectively when we re-released for the full series. As soon as we added the music the whole episode felt different. That driving rhythm preceding the conversation between Nathaniel and Tristan adds to the imminence of what's about to happen… it elevates the entire production.
What was it like starring in the show as well as being involved in creating it? Were there any challenges you encountered that you didn't expect?
Yes. The duvet fort.
So to achieve "dead sound" – which means a completely neutral space with no echo or anything, you can use a sound-proof booth, or you can get creative with a duvet fort. Now, this means staying pretty still while delivering lines, so as not to create any rustling sound. It was also super-hot! So in the summer time I was often not wearing very much while recording. Now there's an image for you!
How did you feel listening back for the first time to it all?
It was weird.
I spent fifteen years with these characters before I wrote book 1, so hearing their voices outside my head for the first time ever was very surreal. Hearing them using each others names, and the names of places I'd invented… it was all very strange and uncanny. There are conversations in Season 1 that were difficult to write, and hearing them performed was highly emotional. There's a conversation between Ren and Isra at the end of episode 3 that… well when I listened to the vocal mix for the first time I cried. I just sat down and cried. It was a combination of relief and deep connection to the characters and the actors in that moment and it took me by surprise.
If you could go back in time to day one of making the show, knowing everything you do now, and you could give yourself some advice, what would it be?
Ooo interesting. It's really hard to say because the journey is so important. I might say, "be clear about the ethnicity of your characters from the start" – because that would have avoided the recasting of Varian we had to do for episode 2, and the remix of episode 1 when we re-released as an independent series! Kam Elliott is brilliant as Varian and absolutely right, and I'm so happy we made the decision, but it's never easy recasting an actor.
I feel like audio drama is a perfect format for sci-fi stories because it triggers the imagination so well, but it doesn't seem to get the same kind of attention as books and movies. Do you think with a show like The Dex Legacy, you could be on the cusp of the next big thing in sci-fi? What do you think is the future of sci-fi audio drama?
Well I hope we're on the cusp of the next best thing in sci-fi!
Visually, sci-fi can be hard to bring to life without a lot of money and time spent on visual effects, but with audio there's no need for that. You paint the pictures with sound and the listeners fill in the rest. It was through listening to The Hitchhiker's Guide that I first saw space ships. And I really did see them while I listened! I've long believed that audio drama is the home of sci-fi and I stand by that. Exciting shows are being produced all the time and it's such a rich medium. To anyone reading this, if you don't already listen, I strongly suggest that you do!
Normally, when authors are featured on the SFFAddicts podcast or the FanFiAddict blog, it's always nice to hear what they're reading, so have you got any audio dramas you're listening to currently?
Right now I'm listening to We Fix Space Junk and Midnight Burger, and both are excellent! But honestly I try not to listen to too many. I don't want to be influenced by what those shows are doing, because the unique nature of Dex is what makes it stand out. I also don't want to psych myself out of writing it because I might get intimidated by the competition!
What's next for The Dex Legacy?
Season 2 is in production – and in the meantime we have a whole bunch of bonus episodes, so subscribe and stay tuned! I'm honestly so excited to bring you more of this show!
Huge thanks to Emily for joining me for this interview.
So, now you know all about the show, how can you listen to it? You can find season one of The Dex Legacy wherever you get your podcasts. Just search for it on whatever platform you prefer, and you'll find it. Or visit the official Dex Legacy website to get links and other bonuses, such as additional stories, scripts, and more. I can't recommend it enough.