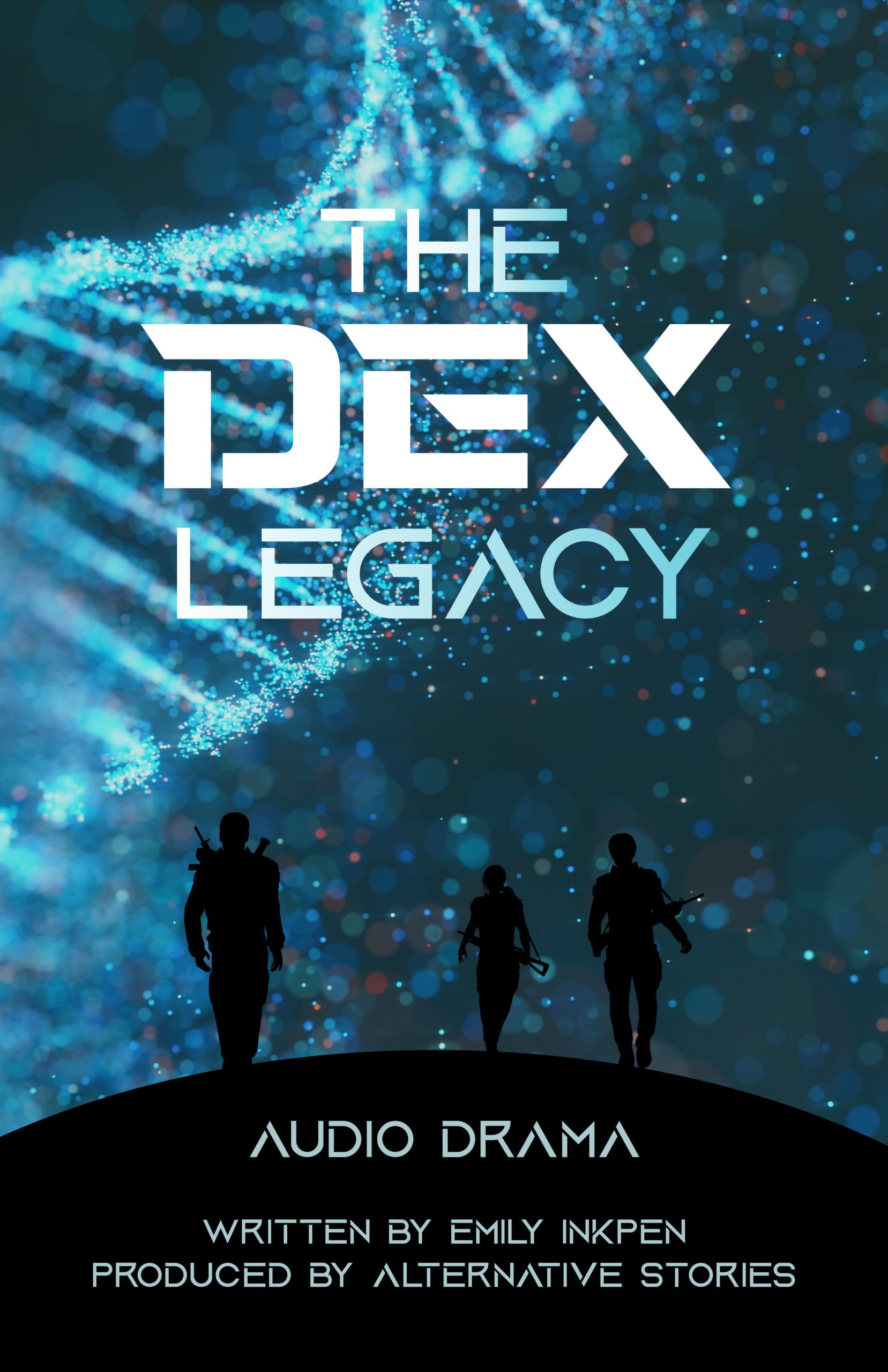 Rating: 10/10
Synopsis
On planet SP714, Nathaniel Dex is a megalomaniacal weapons manufacturer who adopted three children — Varian, Isra, and Ren. Through years of genetic enhancements, he raised these children to become the ultimate weapons. They're teenagers who are deadlier than entire armies. They're his legacy. They're his future. They're the biggest threat to the planet. And they're trapped in whatever cage he chooses for them. For now, at least.
Review
On paper, The Dex Legacy is a grimdark character-driven sci-fi audio-drama series. But in reality, it's so much more than that. It's the first step on an incredible journey, and an introduction to characters that'll captivate your heart. Above all, it's an outstanding achievement.
The first thing that struck me as I listened to these episodes was just how deep this world goes. There's an immersive richness to the backdrop, environment, and politics of planet SP714 which pulled me in right from episode one. The stage on which this story takes place possesses layers upon layers upon layers, all just waiting to be discovered. It feels lived in. It feels real. It's amazing.
But the thing about the show which stands head and shoulders above everything else is its characters. Each of them is strong, memorable, and perfectly cast. Sci-fi audio-drama tends to lean towards plot over character. So many shows focus on concept or setting or story to hook a listener in — they're then required to balance their characters into an already crowded mix. What makes The Dex Legacy so different and so brilliant is that it doesn't try to balance its characters against anything else. It puts them front and centre, and refuses to let the focus be taken away from them for even so much as a single sentence of dialogue. It's unreservedly and unapologetically a show about people, and that makes it utterly compelling from start to finish.
The cast is huge. Each of them is exceptional, but it would be remiss of me not to highlight Isra Dex (played by Kelsey Griffin) and Osa Srivastava (played by Annika Cordes) who steal many of the scenes they're in. The whole cast does so well at breathing life into these characters, they feel absolutely alive in every sense of the word. There's not a moment where they feel contrived or cliched. They've all got flaws. They've all got issues. They're all twisted and damaged and imperfect and raw. Gloriously so. I started thinking of them as friends after a couple of episodes, and by the time the series had ended, they'd become like family.
There are no stereotypes on display. An example of this is Auto (voiced by Emily Inkpen, who is also the writer and creator of the show). Auto is an AI that sees and processes all, but also learns and grows and changes through the season. Yes, even the AI has an arc — a fully developed, fully realised one in which morality and ethics play a big part. Auto isn't a generic computer repeating orders and commands. Auto so much more. The AI could easily have its own spin-off show, which would be brilliant and intriguing and addictive to listen to. But the same could be said for every single one of these characters.
The atmosphere of the show is fantastic, set in a futuristic society that's perfectly mirrored by its score. The music was composed by Dr. Allen Stroud, chair of the British Science Fiction Association, and it's excellent.
Interludes between the six main episodes showcase a variety of scenes that help to expand the world. They range in tone from ominous to light-hearted. Some made me chuckle, some broke my heart, and some sent shivers through my spine. The show provokes such a wide array of emotions — so be prepared to feel. The Dex Legacy isn't content to stay lodged in the brain. It aims for the heart, and it doesn't miss.
I found myself thinking about the dialogue long after I'd finished listening. There are loads of quotable lines peppered throughout the show. At least one line in every episode got me pondering things which were bigger than simply what was happening in the scenes, and there's almost a poetry about the dialogue in that it evokes so much in so few words.
Be warned, there are some scenes of torture. There are moments in the main episodes which get very dark. This is not a young-adult coming-of-age story. This is an intense, nerve-splitting struggle which won't appease the faint of heart. But it's also rewarding and intriguing, sure to surprise in the best ways. The drama is high, as are the stakes, as is the quality.
In short, The Dex Legacy is ear-tinglingly good. It's thoughtful, grown up, complex sci-fi, made all the more epic for its stellar cast of characters who are guaranteed to get under your skin and tune your emotions to their maximum setting. It's an impressive start, and leaves a tremendous legacy in and of itself — one that's sure to endure in the hearts of all who listen — and I cannot wait for season two. 

The Dex Legacy is produced by Chris Gregory as part of the Alternative Stories and Fake Realities Podcast. All episodes are available to listen to wherever you get your podcasts.