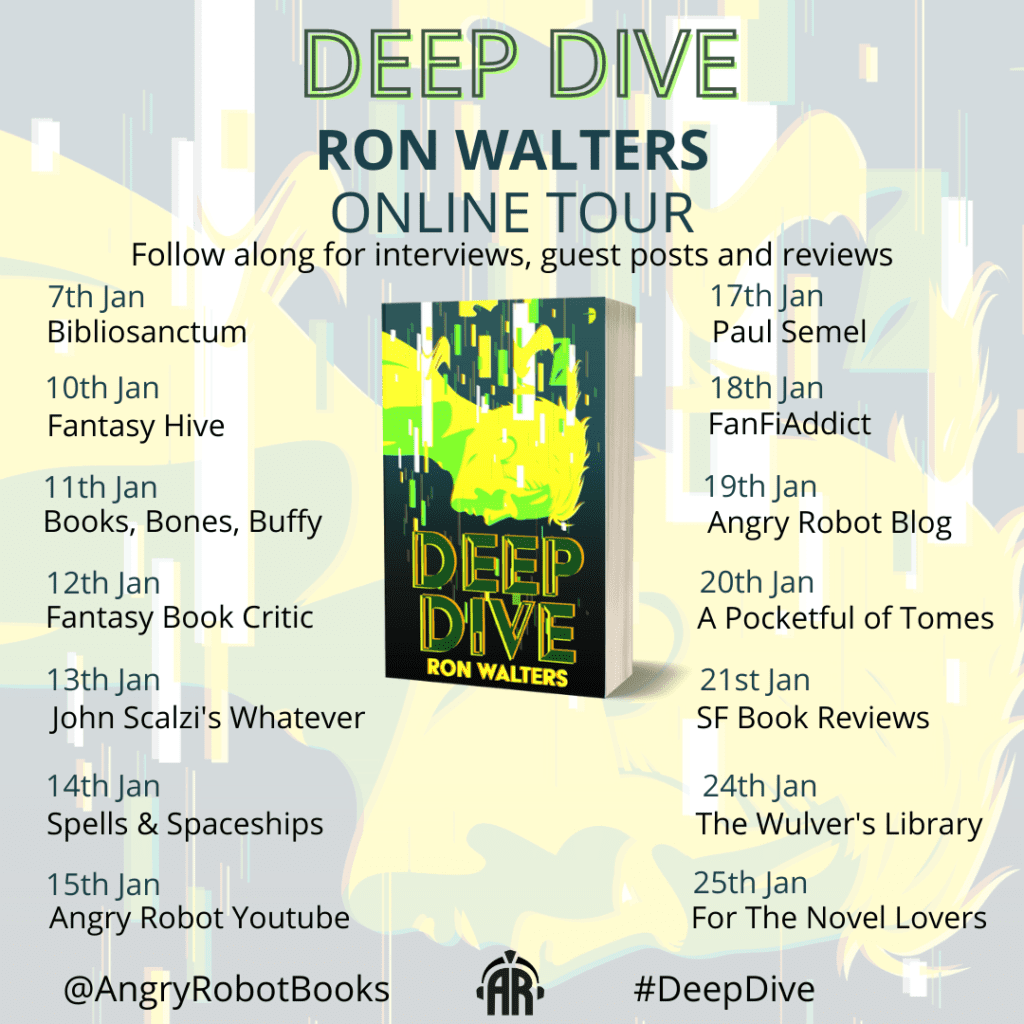 Thanks to Ron and Angry Robot for allowing FFA to host a Tour Stop and Guest Post on the Deep Dive Online Tour!
Below, you will find information on the book, links to purchase your very own copy, Ron's Guest Post '5 Game Characters I'd Like to Become for a Day', and information about Ron himself (including where you can find him online).
Enjoy!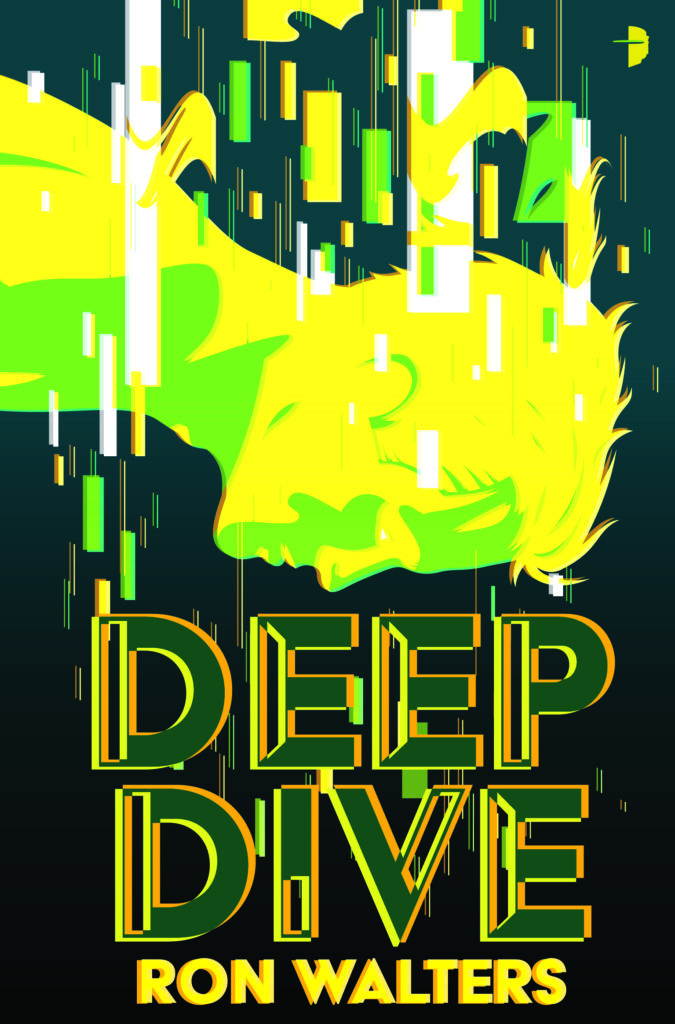 Book Info
Author: Ron Walters
Title: Deep Dive
Publisher: Angry Robot
Genre: Science Fiction [ Game Grumps | Whole New Virtual World | Headset Havoc | Lost and Found ]
Format: eBook, Paperback, Audio
Length: 307 (eBook), 400 (Paperback), 9hr 5min (Audio)Z
Amazon
Audible
Goodreads
Angry Robot
Book Blurb
When your reality shatters, what will you do to put it back together again?
Still reeling from the failure of his last project, videogame developer Peter Banuk is working hard to ensure his next game doesn't meet the same fate. He desperately needs a win, not only to save his struggling company, but to justify the time he's spent away from his wife and daughters.
So when Peter's tech-genius partner offers him the chance to beta-test a new state-of-the-art virtual reality headset, he jumps at it. But something goes wrong during the trial, and Peter wakes to find himself trapped in an eerily familiar world where his children no longer exist.
As the lines between the real and virtual worlds begin to blur, Peter is forced to reckon with what truly matters to him. But can he escape his virtual prison before he loses his family forever?

I'm relatively new to video games. I played them as a kid, but sometime around middle school they fell to the wayside. Thankfully I rediscovered gaming a few years ago and have been appropriately obsessed ever since, to the point where it inspired me to make the main character of Deep Dive, my debut sci-fi thriller, a game developer. With any luck, readers will connect with Peter the same way I've connected with so many amazing characters in the games I've played. In that spirit, here are the top five video game characters I'd love to be for a day.
First up is Nathan Drake, from the Uncharted series. I grew up on a steady diet of Allan Quartermain and Indiana Jones, so playing Uncharted gave me the chance to go on the globetrotting adventures I always dreamed about. Like Quartermain and Jones, Drake is funny, good-looking, and pulls off the kind of impossible feats usually reserved for superheroes. The number of buried treasures and lost cities he discovers is staggering, and a testament to the amount of time he's devoted to studying ancient texts and languages. What I truly adore about Drake, though, is his arc across the series as a whole. He goes from a stereotypical action hero with commitment issues and an extraordinarily high body count to a man of maturity who finally comes to grips with the ghosts of his past, allowing him to put aside his more destructive tendencies and achieve the kind of stability he never had as an orphaned kid. The adventurer in him remains as strong as ever, but it's tempered by the responsibilities that come with starting a family, which, as most parents know, is an adventure like no other.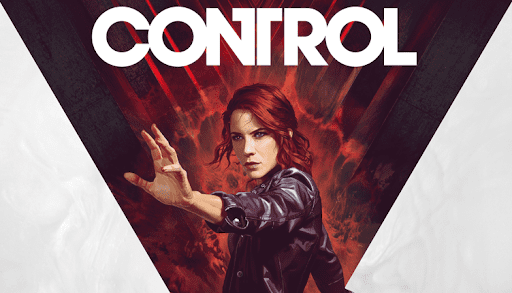 Up next is Jesse Faden, from Control. When we first meet Jesse she's entering the Oldest House, a mysterious building that houses the Federal Bureau of Control, a clandestine government agency tasked with investigating paranatural phenomena. Jesse is searching for her missing brother, Dylan, who was taken by the Bureau when they were both children. For justifiable plot reasons, she quickly becomes the Director of the Bureau, giving her access to a plethora of stupendously fun weapons and skills. While there's nothing more satisfying than levitating above a squadron of bad guys while pummeling them with telekinetically-flung copy machines, it's Jesse herself who makes the game so memorable. Her elevation to Director is necessary for the story, but it's also a natural outgrowth of the persistence that's compelled her to spend most of her life looking for her brother. The closer she gets to finding him and uncovering the truth about what really happened to them as children, the more dogged she becomes, even in the face of inner doubt and seemingly insurmountable interdimensional entities, and in the end that's what makes her a character worth emulating.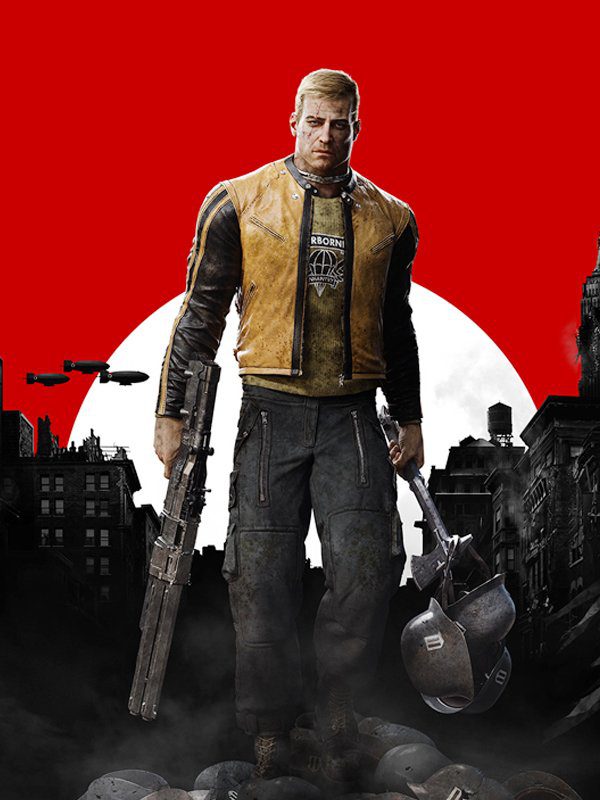 The third spot on my list goes to B. J. Blazkowicz, the bombastic star of Wolfenstein: The New Order. This game is absolutely bonkers in the best sort of way, with an alternate timeline where the Nazis won WWII and a combat system that's fun and fast-paced without ever getting so frenetic that I feel like I'm about to have a heart attack. (Looking at you, modern Doom games.) The biggest selling point for me, however, is Blazkowicz himself. He's a full-fledged badass, a one-man army fully capable of mowing down entire legions of bad guys without breaking a sweat, and yet for as powerful as he is, the true draw of Blazkowicz is his heart. Yes, he's nobly dedicated himself to ridding the world of the Nazi menace, but the thing that keeps him going when all hope seems lost is the fact that his ridiculously awesome action-hero theatrics are rooted in a level of compassion that's woefully lacking in most murder machines. His foremost concern is protecting other people, be they his friends, fellow soldiers, or love interest, which is what makes him a character I'd happily share headspace with for a day. But probably not much more than a day, because damn his life is stressful.
Fourthly is Aloy, from Horizon Zero Dawn, one of few games I've replayed in full. Aloy is simply amazing. She's cunning, resourceful, and compassionate, an agile bow master who can take down a machine the size of a T-Rex as adroitly as she can help a distraught woman find her troubled brother or return a set of lost prayer beads to a crotchety old woman. Navigating the beautiful, harrowing, post-apocalyptic wilds of HZD as Aloy is an absolute joy. The combat is fluid, the vistas are stunning, and uncovering the secrets of the old world as well as the truth behind Aloy's mysterious origins is totally exhilarating. While other characters might embrace the bitterness that would naturally come from growing up as an outcast, shunned for nothing more than a happenstance of birth, Aloy instead uses it as a wet stone to hone herself into a fierce, determined warrior. By the end of the game I felt like I'd experienced the sort of immersive, life-affirming narrative I used to only find in novels. Needless to say I am beyond pumped for the sequel.
Finally, there's Jin Sakai, from Ghost of Tsushima. Tsushima is portrayed with such beautiful, vibrant colors that you sometimes forget the story is set during the Mongol invasion of the island, but then you stumble across a charred, defiled corpse and remember this isn't a stroll through the fall foliage after all. Luckily, Jin's sword skills are more than up to the task of repelling the Mongol invaders. However, doing so requires him to shed the samurai code of honor that he's grown up with in order to become the titular ghost, a vengeful warrior who spends more time in the shadows than in the light. The dichotomy between what Jin thought was right versus what he now knows to be right is what makes him such a compelling character. He's willing to do anything to save his people and reclaim his homeland, even if it means turning his back on the traditions that underpin the very training that makes him such a fearsome samurai. His path down the road of the ghost plays out over the course of the entire story, culminating in a heartbreaking final choice that makes Jin one of the most unforgettable characters I've ever played.
About the Author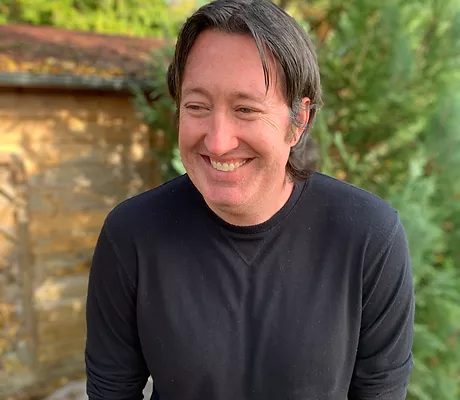 I'm a former ice cream scooper, lifeguard, waiter, journalist, college registrar, and stay-at-home dad who now writes science fiction and fantasy for readers of all ages. I also occasionally substitute teach at the local high school just to remind myself I'm not nearly as cool as I think I am. When I'm not writing I like to drink coffee, play video games, drink coffee, play my bass & electric guitars, drink coffee, fry food, and drink coffee. I currently live in Germany with my wife, two daughters, and two rescue dogs.