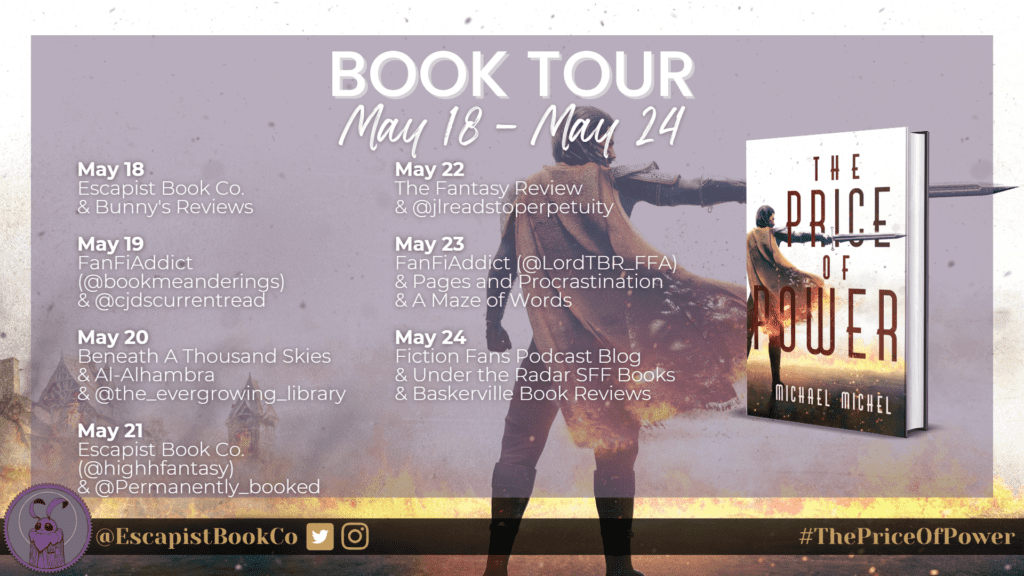 Welcome back to Fanfiaddict! I had the honor of interviewing Michael Michel, author of The Price of Power, for the Escapist Books Tour and I am very excited to share everything we discussed with you! Below you will also find more information about The Price of Power and the author himself. Enjoy!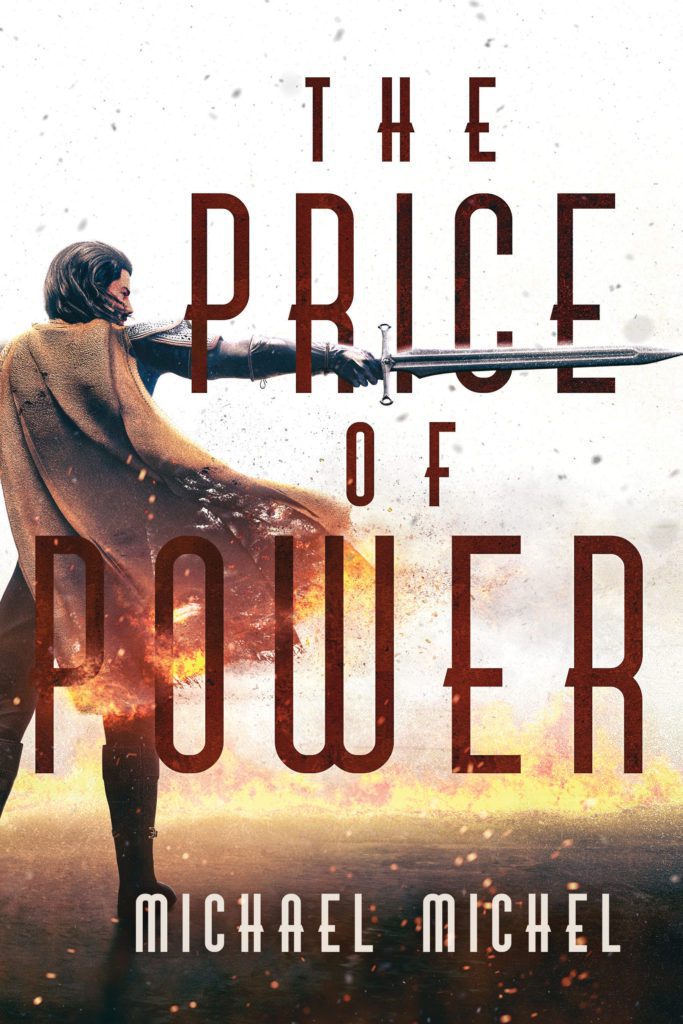 Book Information
Title: The Price of Power by Michael Michel
Series: The Price of Power #1
Genre: Epic/Dark Fantasy, Grimdark
Intended Age Group: Adult
Pages: 384 (print), 730 (eBook)
Published: February 6, 2023
Publisher: Morningstar Books (Self Published)
Book Links
Amazon: https://www.amazon.com/Price-Power-Book-1-ebook/dp/B0BNXYDVZT/ 
Goodreads: https://www.goodreads.com/book/show/63945821-the-price-of-power
Storygraph: https://app.thestorygraph.com/books/d219fd34-2c66-4bbd-a3b9-fc4e41244079
Author Interview
1) I love talking about subgenres. So my first question is, how or why did you decide that The Price of Power would be Grimdark Fantasy?
I never actually decided. I was naming it noble-dark, grim-gray, and other such silly things up to release day. It's the reviewers who seemed to lean that way and dub it as such, though I've seen a few debates between them about whether or not it is grimdark. But I see why it's been categorized this way.
All my favorite authors write grimdark. Because grimdark operates without limits, I think it gives writers greater freedom, and therefore, the prose and characters end up being better. You could say they're truer to real life, where there are similarly, no limits on what can be thought, said, or done.
I love freedom. I love the journey of writing. I love being able to go wherever I'm called to in service of a character's journey. I never want to stop mid-sentence during an emotional scene and have to say to myself, "Oh wait, Timmy can't cuss right here even though his friend just got murdered. He's a good boy and I'm marketing this as a noblebright/mainstream epic." Well you're safe to do whatever the fuck you want, Timmy. Rage, Timmy, rage.
2) I've never thought about the freedom aspect of Grimdark. That's a really great point! I personally like my grimdark with at least a dash of hope. Does The Price of Power do that, and if so, what themes can be found within that help keep that hope alive in a grimdark world?
I'm with you. Grimdark books that are bereft of hope usually leave me feeling like I just had a nonconsensual experience in a basement with the author. No thanks. Complete grimness, to me, falls into the realm of pure fantasy alongside more noble epic works where main characters carve through entire armies by themselves. Somewhere between abject despair and flourishes of hope is the most realistic.
The Price of Power orbits one specific theme for all characters: the inherent power and danger of our beliefs. How we see ourselves, for better or worse, shapes our actions and our path in life. Without a strong sense of self along the way, we can become prey to groups looking to sell us a piece of our own identity. Some of my characters find themselves in difficult circumstances at their weakest moment of self-understanding. This is the way a lot of people get tangled up in hate groups, cults, and gangs. An eroded sense of self-worth or agency.
As a professional coach and counselor, I wanted this book to align with what I knew of the common issues we all share, including but not limited to, suffering, desire, grief, hope and perseverance. I wanted it to reflect life as we know it. So, it can't be all grimdark. There has to be hope.
Besides, I'm pretty sure carrot (hope) and stick (despair) story-telling is more engaging than the monotony of either one alone. Keeps readers guessing.
Other topics include: redemption, empowerment, self-discovery, and dedication.
3) I love those themes! Especially the main one. What are some other non-spoiler things that we can expect when reading your book?
Expect to get dropped right in. No big exposition dumps or hand holding. It's a complex world with a lot of political intricacies, deep history, and interwoven cultures and subcultures. If I have to have something explained to me by an author I'm reading, it takes me out of the story and I get bored very easily. I've carried that preference over into my own work. I know some folk like things to be clear early, but that isn't my style and The Price of Power may not be for you.
Now, if you like when characters aren't safe or bullet-proof, this could be your jam. When I was first writing this book, I used to worry that I wasn't killing enough characters to make things interesting. I didn't overcorrect, but I like a few gut punches per book…is this spoilery?
Oh, and get ready for some psychedelic horror. Psychedelics play a role in this book's magic system. They also go hand in hand with some frightening demons that appear. Not for the faint of heart.
Last but certainly not least, there will be violence.
Plenty of violence. It's a mildly-paced burn at first, but the last third is pretty much all climax. I try to keep my action scenes fresh too. I get SOOOO bored when the same things happen over and over in books. I work to think of circumstances that make fight scenes unique and interesting. Hopefully, you enjoy them. I think I write them quite well.
4) I am a big fan of stories that make the protagonists feel unsafe and where there isn't a ton of plot armor so I love that!
I also know that readers, including myself, get attached to certain characters and those characters getting killed off too often can start to detach the reader's emotions from the story. How do you find the balance of building a connection between the reader and characters while telling a story with minimal plot armor?
Love this question and it immediately made me think of the importance of side-characters. My goal is to create an ambient sense of reality–like the whole world is real, not just my MCs. I don't want it to feel like it's only a matter of a few characters moving through levels of a video game with a bunch of encounters with hollow-souled NPC types. I want readers to feel like there's a face, a backstory, a history to every character that pops up in my books, no matter how quick they come and go, so that readers connect to all of it, not just a few parts.
I think George R.R. Martin and Stephen King are the masters of making you like someone with less than a paragraph sprinkled throughout the book about them. Lyn Corbray, one of the best characters in GOT, has a couple of pages. I've always appreciated that skillset, so I try my best to replicate it.
As to the balance of killing MCs, specifically. While I think bringing side-characters up to their level to offset the care of them is crucial, the more direct way of doing this is by feel. I put myself in the reader's shoes and ask lots of questions. I hear you're not supposed to ask questions you're afraid to hear the answer to, so I align with that and sometimes it leads to difficult choices about beloved fictional people.
Lastly, the trick of writing a book is balance; it's a dance between fulfilling promises to a reader and snatching them away at the right moment. In neuroscience, the cingulate cortex acts like our center for expectations. When expectations aren't met, our dopamine drops and then we strive to bring it back to baseline (in healthy or otherwise unhealthy ways). If our expectations are met, we get to ride that pleasurable wave. So we're all either fighting for the up or riding it out. A well-done book should cultivate this sine wave experience. Too much satisfaction and things get stale, too little, and readers won't be motivated to continue. Carrot and stick. Carrot and stick.
A nice little feelings-math equation.
5) I've never really thought of it in that way, but the carrot and stick metaphor is so true. It's such a delicate balance to strike between anticipation and delivery. Whether that be the outcome of a battle, an answer to a specific question, a mystery, or even something as basic as the unfurling of the overall plot.
For you, is that balance usually planned, more felt out similar to what you said about killing off MCs, found through alpha and beta readers, or a combination of all of the above?
I'd say more than anything, it's the dance again. Where can I develop a little heartbreak and get away with it? Where will readers be yelling, "Oh fuck yeah!" if I come through on a promise? Questions are the heart of any great story and I ask myself a lot of them. I take long drives, 2.5+ hours without using my phone or the radio, and just think. It's like a little meditation on story. I see what's going to be the most satisfying outcome possible for my books in those moments, even if that sometimes means the death of a beloved character.
Regarding beta readers, the thing I get most from them is vetting for likability of characters, as well as any other glaring issues like characters biting their lips too often, or someone being a bit too whiny or inconsistent in their motives.
The dance though, analyzing the highs and lows and the poetic justice of it all…that's my job. If anyone is going to fuck with your emotions, it's probably going to be me.
6) I love that answer and I've loved chatting with you! However, before this gets too long we had better wrap it up. Thank you so much for the interview! I will leave you with one last thing to discuss.
Please give an "elevator pitch" as to why people should read your book.
The Price of Power is about loss, redemption, grief, and the dangers of belief. It's kind of like Game of Thrones meets X-Men but without the incest, or First Law with a spiritual edge and a lot more plot. For those who love gritty heroes, violence with a muddy-bootheel-feel, psychedlic horror, and badass ladies, in addition to all the classic stuff–big burly fellas with swords and impending doom and all that–you should read this!
Then again, who am I to tell you what you should do. Maybe you shouldn't. Maybe it will make you reimagine your beliefs about yourself and turn your life upside down. But maybe that's a good thing…maybe you need that!
Okay now I'm back to thinking you should. Yeah, just do it.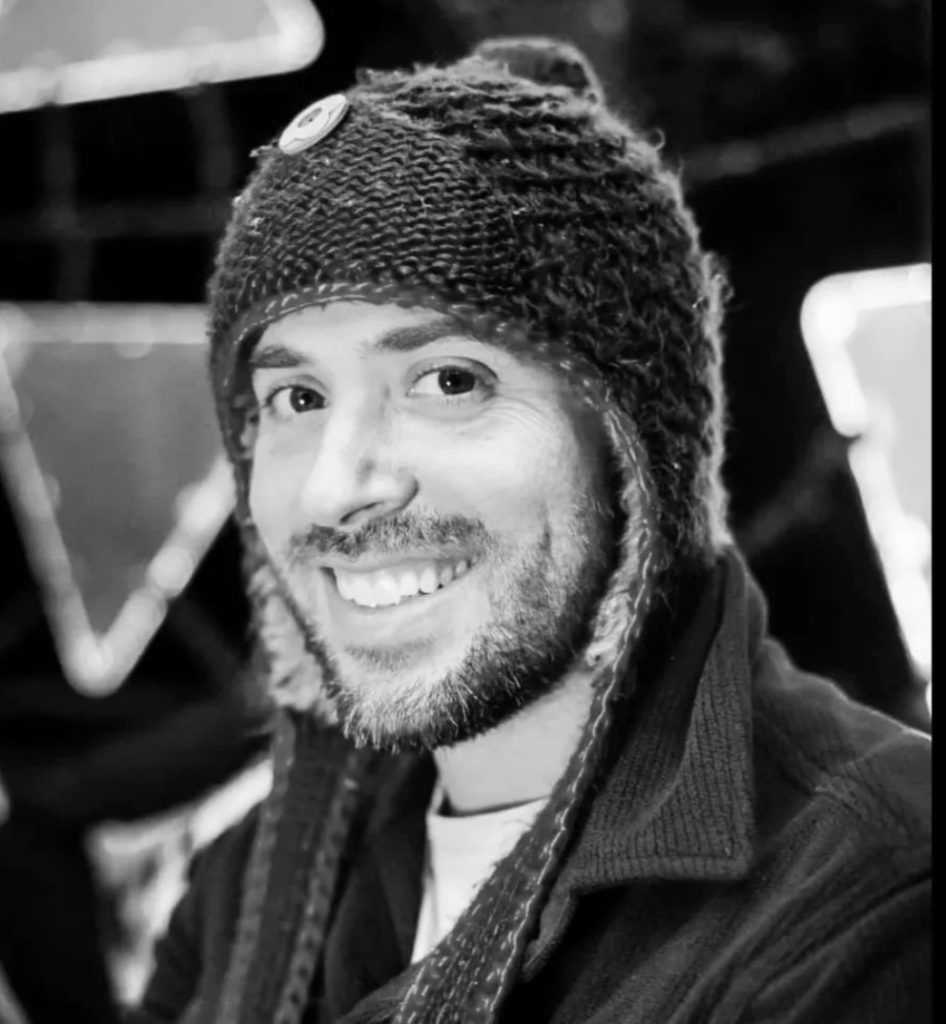 Author Bio & Information
Michael Michel lives in Bend, Oregon with the love of his life and their two children. When he isn't obsessively writing, editing, or doing publishing work, he can be found exercising, coaching leaders in the corporate world, and dancing his butt off at amazing festivals like Burning Man. His favorite shows are Dark, The Wire, Arcane, and Norsemen. He loves nature and deep conversations. Few things bring him more joy than a couple of hours playing table tennis.
Author Links
Website: https://michaelmichelauthor.com/ 
Instagram: https://www.instagram.com/michaelmichelauthor/ 
Twitter: https://twitter.com/Michael__Michel