R.W.W. Greene's Mercury Rising was one of my favourite books of 2022. I gave it a perfect 10 in my review: Mercury Rising by R.W.W. Greene
Angry Robot have kindly let me reveal the cover for the follow up, Earth Retrograde. I'm excited because just. Look. At. This.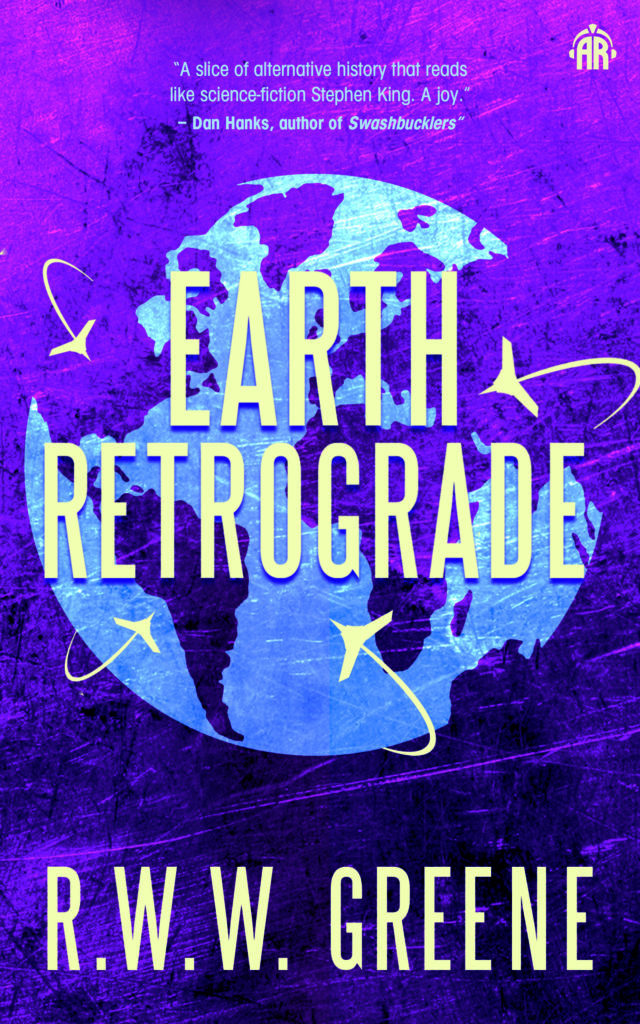 Publisher: Angry Robot
Release Date: October 24th 2023
Cover artist: Kieryn Tyler
Number of pages: 300
Pre-order here: Earth Retrograde – Angry Robot (angryrobotbooks.com)
BUT WAIT. We're not finished here. Angry Robot have also sent over an exclusive look at the first chapter of Earth Retrograde too. Grab a coffee, fire up the Oppenheimer Engines again and enjoy!
EXCLUSIVE first look at Earth Retrograde BY R.W.W. GREENE, the sequel to mercury rising
One
The old ship rocked, the forces of re-entry buffeting and scorching. Most of the tell-tale lights on the control surfaces blinked to yellow. Too many stayed that way. The pilot tapped one of the more important ones, and it flickered reluctantly back to green. If only he could do the same for himself. Sixteen words. Sixteen fucking words that change everything.
Overhead, a conifer-shaped air freshener danced on the end of a string and lost ground to hot circuits, baked dust, and the salty, clam-flat miasma of the copilot's breath.
"You check the thing?" the pilot said.
"Did." The copilot was wearing a bulky exosuit. Inside it, her mouth, arms, and tentacles moved languidly through a chilly, fishy brine that mimicked her natural environment.
"You check it, check it, or just look at the lights?"
"Jelly Tech doesn't break."
Do you know anythin''bout this?
It was hard to stay in the moment long enough to worry about the landing. Sixteen words. Two decades living under a sword, millions dead, millions more displaced, billions terrified. And the fuckin' sword decides to split. The First Cathedral of the Cosmos still loomed over the planet. Barely functional scavenger ships labored daily to sweep human garbage from orbital space.The latest fleet of evacuation ships was being stitched together near Eisenhower Station… There was a large, glaring absence of proof, but the messenger was generally reliable. Present tense. Stay in the moment. "Ain't the Jelly Tech I'm worried about. What does Bugs say?"
"Your toy computer has crashed. Again. Shall I reboot it and ask more politely?"
"Don't understand why you ain't freaking out about any-a this," he said.
"Jellies don't break, either."
Something in the ship's living section fell over with a bang. "Nice work locking things down back there."
The copilot gurgled. "It was your turn to secure the–"
An explosion off to port rocked the ship. The pilot struggled to maintain control. The radio crackled. "Unknown vessel, this is Earth Emigration & Customs, identify yourself immediately."
"They talking to us?"
The copilot manipulated the radio with one metal hand. "It appears so. The cloak may not be functioning correctly."
The radio again. "Unknown vessel, identify yourself." An explosion, this time from starboard. Bracketing, showing off, or just bad aim. All things were possible now. Hundreds of successful secret landings over the years – from Venus, from Mars, from the Belt, from the Moon – but today…
The pilot pushed away the future in favor of the more immediate threat. "You said you checked it!"
"Jelly Tech doesn't break."
"Something fucking did!"
"Unknown vessel, identify yourself or the next one is going right up your ass." The voice on the radio was not amused.
The jelly folded her arms across her broad chest. "We should have armed this ship."
"The hell would a few guns do against this?"
"Far more than your panic. E&C is not insuperable."
"Unknown vessel, this is your final warning."
The pilot jammed his finger at the radio, triggering its transmission function. "This is the Victory out of De Milo." He rattled off a string of numbers. "See, nice and friendly."
A projectile hit the ship somewhere, beginning a spin it barely recovered from. Then another, nearly worse.
"ID is incomplete, Victory. Next shot's gonna coun–"
He stabbed the radio again. "It's Brooklyn Lamontagne, damn it! Brooklyn Fucking Lamontagne!"
***
They were escorted to a porta-office. Like a semi-trailer with one end tapered to an acute angle. Made to be easily transportable and one day packed into an evacuation ship and flown to Venus to serve as housing.
The E&C official was middle management, human and sour. He failed to introduce himself, but a nameplate ratted him out as 'Special Agent Peter Hosley'. There was an object on his cheap, foldable desk, which he pointed at it with distaste. "What's this?"
"A rock," Brooklyn said.
"I see it's a fucking rock." It was gray, veined with crystal. "Why do you have half-a-ton of them boxed up in your hold?"
"Ballast. Keeps the ship from rolling in rough weather."
"Bullshit."
Brooklyn leaned back in the chair. "Old ship. Doesn't handle like the new ones."
Hosley directed his attention to the copilot. "And who are you?"
"That's Float," Brooklyn said.
"That is not my name," the medusozoa said. "Brooklyn tends to abbreviate the names of those familiar to him."
"What's your real name then?"
Float helped him with the spelling so he could type it into the desk computer.
The guy's eyes flicked back and forth, scanning the file. "Says here you have diplomatic immunity." His eyes landed on Brooklyn. "But you don't. In fact, you aren't ever supposed to come back to Earth. Any reason I shouldn't seize your ship and turn you over to the judge?"
"Saved the world a while back." Brooklyn stroked the patchy stubble on his jaw. "That count for anything?'
Hosley tented his hands on his desk. "Computer says you were discharged with prejudice from the Earth Orbital Forces and nearly got your ass jailed for treason."
"Working with the enemy." Brooklyn smirked. "An' here you are working for them. How's that going? Sleepin' OK? How're the job prospects?"
Not a nervous swallow, not a nostril flare, not a dilated pupil. Hosley wasn't in the know, or he was hell at the poker table. "You're also a known associate of the leader of the Designed Liberation Front."
"Dated a while in the '70s. Haven't seen her since before she went all Pancho Villa on you."
Hosley tapped the computer monitor. "Record says you were born in 1951."
"Sounds right."
"You don't look forty-eight. Had to guess I'd say you haven't cleared thirty yet."
"Atkins Diet. Keeps me lean and mean." Brooklyn let the front legs of the chair touch down. "Look, take my prints if you want. They'll check out. I'm the one and only, and ain't no warrants out on me."
"What are you doing back here?"
Brooklyn pulled a lazily folded piece of paper out of his jacket pocket and dropped it on the desk.His get out-of-jail-free card for this trip. "Class reunion. Big three-oh."
Hosley looked the paper over. "Says here you're a day early and twenty-thousand miles too low. Reunion's on Eisenhower. You were in a landing approach."
"The navigation system crashed, and I lost track o' where I was. Then some asshole shot at us. You gonna pay for the repairs?"
Hosley reddened. "You got twelve hours down here to arrange for repairs and get your ass back into orbit." He stamped the visa. "Next time we see your ass down here, we shoot to kill."
***
The Emigration & Customs inspectors hadn't limited themselves to the cargo hold. The team was finishing up in the engineering section. Float excused herself to check the 'ballast', and left Brooklyn to negotiate.
"Damned antique is what we got here," said the team's boss, a cigar-chomping woman of about fifty. She wiped her hands with a greasy rag that she stuffed into her pocket. "Didn't know any of these were still flying."
"Might be the only one," Brooklyn said. "Got it as salvage in the early '80s."
Her cigar bobbed. "EOF the only ones who formatted fuel for the Type Threes. Got an old depot you been raiding or somethin'?"
"Stealing from depots is illegal, ma'am," Brooklyn said. "We get our fuel in the Belt, mostly."
"In the Belt." She pulled the rag back out and blew her nose in it. "You can get anything in the Belt. That's what they say. Right, Paul?"
The guy she called Paul was about her age, balding. He whistled. "Never heard that about the Belt, boss. That's where the Reds sent their political prisoners, right? I don't remember reading anything about them being well-provisioned."
"They're doin' a lot better now," Brooklyn said. "Ought to go out and see."
"Maybe I will." She beckoned her flunky. "Paul, show the man what we found on his ship."
"You did some nice modifications on this thing." Paul showed the way to something Brooklyn had hoped they wouldn't spot. "Used to be you couldn't get one of these off the ground without a launch sled."
"Put a set of First Tech lifters in as soon as I could. Cleaner, quicker, a lot less fuel."
"Saw the field generator, too. Lets you get up to speed helluva a lot quicker, I bet."
"Fuck the physics, right?" Brooklyn said. Fucking things is what the First do best.
Paul stopped and rested his hands on a metal box wired into the power systems. "This appears to be Jelly Tech, though. If I ain't mistaking," he tapped the box, "this is one of those gadgets lets the Jellies hide from First Tech. Couple of tweaks, an it works real good on our stuff, too."
And shit. Brooklyn rubbed his jaw. "All I know is the guy put it in for me said it would make the HVAC work better."
"Did it?" Paul smiled.
"I'm still breathing."
"Lucky," the boss lady said. "And you're damned lucky this little sneak box ain't working. Level One contraband. We'd have to run you in for it."
Brooklyn whistled. "How much would it cost to have you rip that illegal thing out of my ship and run it through a crusher?"
"Be safer for all concerned that way." She pretended to do some math and offered a number.
Brooklyn reached for his wallet.
"An' don't forget Paul."
***
The Jelly flexed the exosuit's fingers. "The ship was holed twice. One of the projectiles passed through a rib on the starboard side. In addition, several systems were damaged during the search. It would not be wise to fly without repairs."
Brooklyn avoided looking at the severed power cables that had led to his Jelly Tech camouflage unit. Paul had not been gentle or tidy. "We know anyone local?"
"The Konduz brothers aren't far, but it will be more expensive if they have to come to us."
"Had to pay four days of parking fees as part of the impound. Don't see E&C giving us a refund if we leave early."
"You should have used one of the fake IDs."
"Demarco's message threw me. I was thinking too much about it." The printout was still in his pocket. Sixteen fucking words right before re-entry. Have it on good authority OAO have pulled out. Keep it under your hat. More later. Demarco often referred to the First as 'OAO', short for 'Our Alien Overlords'. "You think he's right?"
The exosuit raised its right arm to chest level and twisted its wrist back and forth – its version of a noncommittal shrug. "The First won, and they expended a lot of resources doing so. Leaving would be against the tide."
Brooklyn pinched the muscles in the back of his neck. "Fix-up's all you. You know where the cash is stashed. I'll make the delivery, but if a ticket with my name on it don't ping on their systems soon, Emigration's gonna be on my ass."
"Diplomatic immunity." The jelly's laugh sounded like a bad head cold. She might have been laughing at Brooklyn's inconvenience, might have been offering a commentary on the idea of diplomacy, could have found the number of syllables or fricatives in the phrase absolutely hysterical. Hard to tell with jellies.
"I'll take your word for it." Brooklyn slung his go-bag over his shoulder. "Call you as soon as I can."
CONTINUE READING EARTH RETROGRADE BY R.W.W. GREENE ON
24th OCTOBER 2023 FROM ANGRY ROBOT BOOKS.