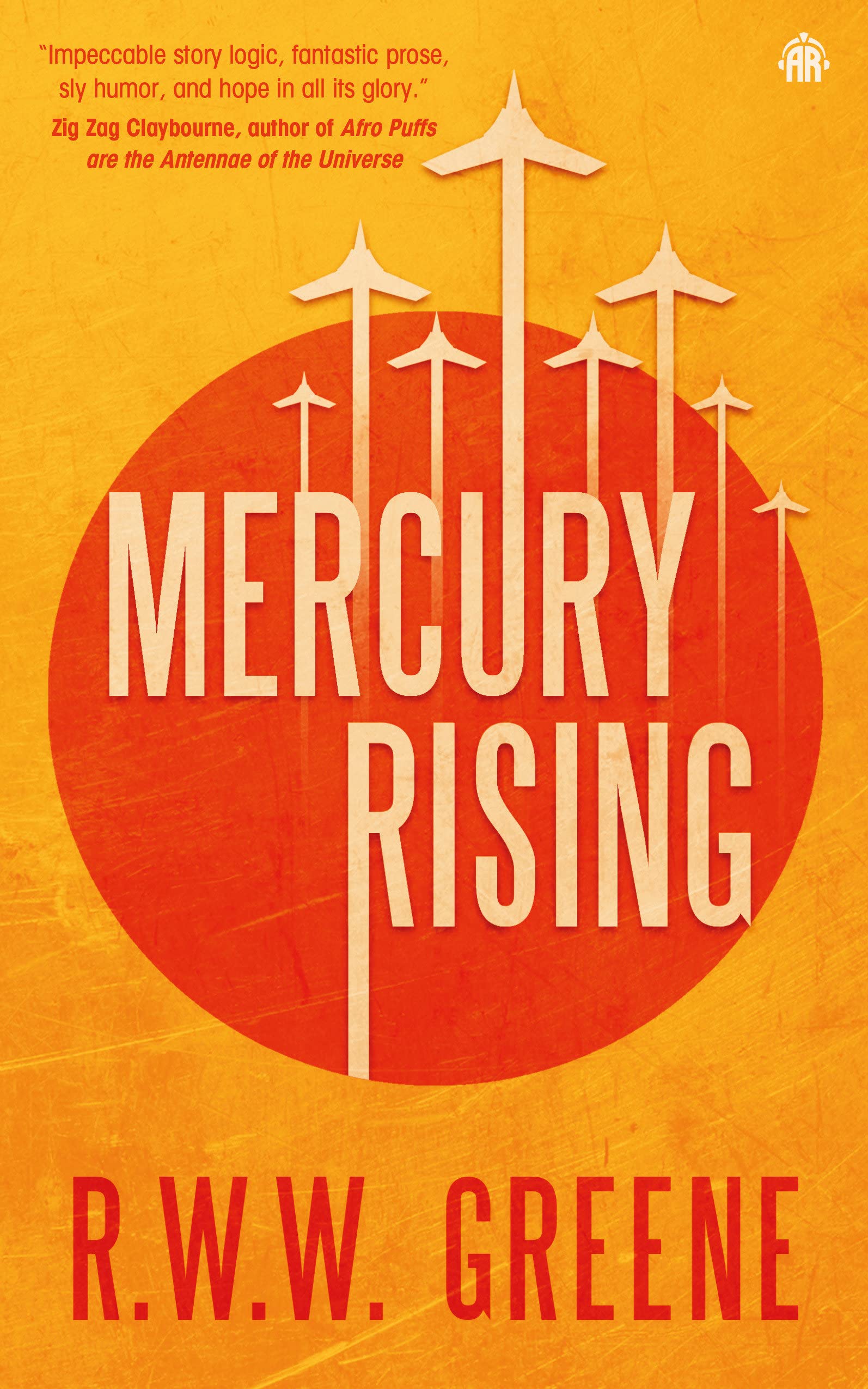 Rating: 10/10
We've reached our second and final stop on the Angry Robot blog tour for Mercury Rising. And as the Oppenheimer engines power down, I have to say I enjoyed collaborating with Rob and with Angry Robot to talk about this great book. You can check out my FanFiAddict interview with Rob here: Author Q&A: R.W.W. Greene – Author of Mercury Rising | FanFiAddict.
Synopsis
It has been 18 years since Jet Carson kicked the Oppenheimer engine of his ship Victory into overdrive and defeated the Mercurian vanguard fleet to save Earth.
Brooklyn Lamontagne isn't so concerned about alien invaders, but some guy outside the bar just blew a hole in his best friend's chest and now Brooklyn is doing time for murder. Brooklyn has a choice: wait out a long stretch inside or join the military and go to space.
Brooklyn signs up and spends his time upgrading computers, slinging hooch and camping in an inflatable. It's not long before he's called up to a space faring vessel The Baron for crawl spaces and spacewalks.
It wouldn't be so bad but there is still talk of an alien invasion and Brooklyn soon finds himself getting closer and closer to the epicentre.
Review
Greene's 2021 sci-fi road trip Twenty-Five to Life was one of my top books of last year so I had high hopes for Mercury Rising. Damn, did this one deliver.
Space Guy
Greene confesses to being a space guy and Mercury Rising is a true reflection of that. In a reimagining of history where Lee Harvey Oswald missed his shot at Kennedy, Greene pulls together so many threads from classic sci-fi stories and the space race that all space fans will be beaming.
The action kicks off with a Top Gun meets Independence Day feel in the book's cinematic opening sequence. Jet Carson is the all-American hero pilot boosting shoulder-to-shoulder with the Soviets in space against an alien menace. It's absolutely cool.
The tone and protagonist then shifts away from the all-action Carson sequence with Brooklyn Lamontagne, a greaser from Brooklyn who just wants to keep his ma in her digs. Brooklyn is a real unspectacular character. He's in with a bad crowd, he's pretty lazy and he tends to approach many situations by saying "fuck outta here". As such he's great fun to follow over the shoulder.
We follow Brooklyn on a road trip, mushroom trip, lunar camping trip, space trip and … it goes on. It's hard to explain Mercury Rising other than to say saddle up and enjoy going wherever the plot takes you next. I liked Brooklyn a lot because I felt like he just wanted to be a normal guy. Although that really doesn't happen for him at any point!
What Greene best delivers in MR is the characters we meet along Brooklyn's journey. Even characters who appear for only a few sentences feel like they have an extensive backstory and contribute to the plot. The pacing and the tone are so easy to get to grips with. The plot hops Brooklyn from character to character, lingering just long enough each time to grin at the excellent dialogue at every stop, it is Roddy Doyle-like. If I had to pick out just one character as a favourite it would be the genetically-modified Andy, described as "a green Julie Andrews", who crops up late on.
The book certainly asks a lot of questions to the reader with its look on an alternative history. Is a world where nations can collaborate against a greater threat attainable, and what would that look like? Would anything necessarily change? Perhaps Greene's characters are a study of how humanity may well just always be the same no matter how advanced we get. There's always something on the horizon ready to glass us be it our own making or some evil space squids dropping a meteor on us …
ZARK!
Mercury Rising is addictive and fun. The prose took me on a tour of all that's great about classic sci-fi tropes and if you want to do some reference spotting, this book has you more than covered. It's a neo-retrofuturistic fest that looks at humanity through a curious lens while an alien menace has guns that go ZARK! I can't emphasise enough how good this book is.