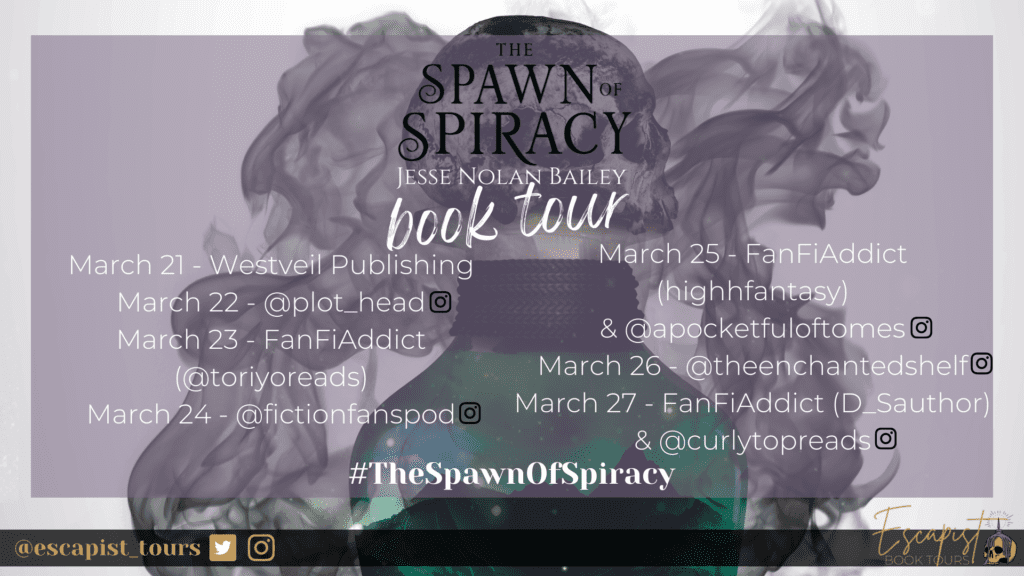 Hello everyone! Thanks for tuning into my stop on the Escapist Book Tour of The Spawn of Spiracy by Jesse Nolan Bailey. I'm so excited to be part of this tour and can't wait to share this with you! Below, you will find information about the book and author, along with an excerpt from the novel itself and an opportunity to win a hardcover copy of your own.

Happy reading!
---
Book Information
The Spawn of Spiracy by Jesse Nolan Bailey
Series: A Disaster of Dokojin #2
Genre: Dark Fantasy/Fantasy Horror
Intended Age Group: Adult
Pages: 420
Published: October 18, 2021
Publisher: Self Published
---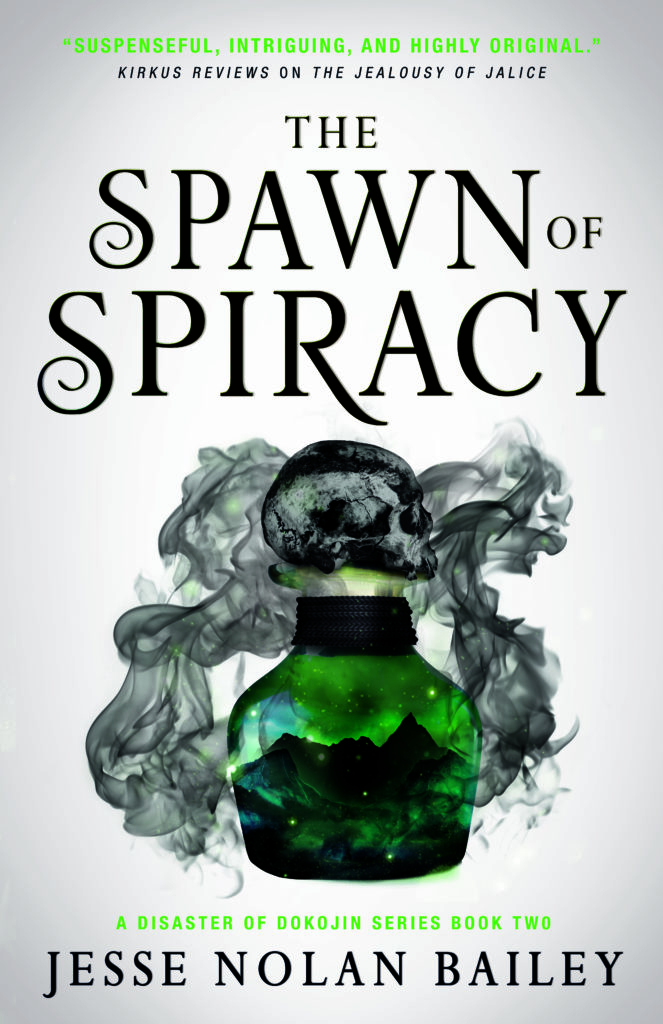 Blurb:
The Sachem has fled his Fortress. Many fear that he intends to turn on the Decayer Device.
Hoping to stop this, Annilasia resolves to track down the Sachem. But her plan falters when she discovers that, should the Sachem succeed in turning on the Device, the dokojin attached to her will rip her apart. Before she can save the world from the Sachem, she must first find a way to save herself.
Meanwhile, Jalice sets out to locate her long-lost brother, Kerothan. It is only with his help that she can hope to save the Sachem from his own wickedness. But the sins of the past are not soon forgotten, and Kerothan has no intentions of mending old wounds. He's more concerned with the infestation of twisters that scheme to unleash a new evil…
…a new evil that eludes detection and festers in a forsaken place.
---
See Also:
Something Wicked This Way Comes • Sleeping Beauty • Two's Company, Three's a Poly Relationship
---
Book Links:
Amazon (ebook): https://www.amazon.com/gp/product/B096YM79QQ/
Amazon paperback/hardback: https://www.amazon.com/gp/product/1734361670/
B&N: https://www.barnesandnoble.com/w/the-spawn-of-spiracy-jesse-nolan-bailey/1139644190
Bookshop.com (indie): https://bookshop.org/books/the-spawn-of-spiracy-9781734361674/9781734361674
---
Excerpt:
The crypt beneath the coven smelled of mildew and rot.
Annilasia stood at the far end of the vast chamber, silent and alone. The place was frequented by other pupils on occasion, but she'd chosen an hour when they were sure to be busy elsewhere. Like them, she should have been preparing for her upcoming wand trial.
But finding the Sachem always came first in her list of priorities. The great leader of the Unified Tribes had eluded her, as he was no longer hidden away at his Fortress farther south, all thanks to a pesky mirajin named Elothel who had forced the Sachem through a vortex portal. Annilasia hadn't actually witnessed this event, and there was no telling where that portal had spat him back out. The last time she'd laid eyes on the Sachem had been years ago—before she'd betrayed her fellow tillishu warriors, back when she'd dutifully served him under the threat of death. That part of her life seemed like an eternity past, or the life of some other unfortunate Vekuuv slave. Had it not been for the skin ink on her arm that denoted her as such, she might have dwelled on such things far less.
Yet it was her past that had spurred her down this path of hunting down the Sachem. He would answer for his atrocities, and she'd ensure that judgement came by her hand. Wherever it was that he was hiding, she would find him, and once he was located, she planned to depart the Orphan Mountains and end him.
No more Sachem. No more tyranny.
Now, before her where she sat, three large mirrors stood upright against the crypt's rocky wall. The outer two were turned slightly towards each other, while the central piece directly faced Annilasia. She'd discovered the mirrors by accident while following Iveer one late evening. Her mentor had gone into the depths of the crypt at this same hour, when the pupils were occupied with a preordained set of nightly rituals far off coven grounds. At first, Annilasia had supposed his trip would involve the other mentors, but as she followed him and time passed, she realized he'd come alone.
Like hers, Iveer's quest had led to the Three Mirrors. A web of giant tubes and intricate wires snaked across the ceiling downward, eventually plunging into the back of each giant rectangle of glass. The mystery of these mechanisms was of no interest to Annilasia. She knew it to be old technology from an ancient time prior to the Residuum Era, and was aware that the wires fused the mirrors to aether in some manner. Forbidden technology. Yet forbidden arts were a specialty of aethertwisters. It came as no surprise to her that the coven hosted such things as the Three Mirrors in their monastery within the Orphan Mountains.
She'd watched Iveer sink to the ground, cross his legs, and grow still. The slightest quiver disrupted the air of the crypt, and she recognized it as the energy of translation. She dared not follow the mentor into his trance, but she'd decided to return in her own time to learn what these odd antiques could offer.
And Dardajah's spit, did they offer.
Whether by some trick of the mind or a bend of time and space, the mirrors could summon just about anything into their reflections. Like looking through a window into any other part of the world, one could spy on the most secretive of schemes, the most reclusive of hermits. She could watch Mygo, that stars-awful grunt, take a piss from his bunker in the Ikaul Forest, or eavesdrop on her fellow twister peers as they whispered about her behind her back.
She could spy on the elusive Sachem of the Unified Tribes.
At least, that was her theory. She had yet to accomplish this. Prior trials on different individuals and locations had proven the mirrors' capabilities, yet the Sachem still eluded them. Some ward, no doubt, or an attribute of the dokojin that possessed the man she sought. She'd even tried that—summoning the all-powerful Dardajah, but that too had proven futile.
Perhaps today would be different. Today, she had a new spell to try.
Annilasia inhaled, then slowly breathed out through her nose. The foul odor of the crypt curled through her nostrils. She stared back at the harsh reflection currently staining the center mirror—her figure against the backdrop of the crypt. A permanent scowl wrinkled her face, and she stood with rigid posture under a swaddling of clothes meant to seal away the Wither cold. Smooth black hair crowned one side of her face; the other side was shaven down to her brown skin. Her time with the twisters had aged her. She saw it in the slight hunch of her shoulders, the lost spark of fury in her eyes. She'd seen too many horrors while under the schooling of the aethertwisters.
Before melancholy could set in, she sighed heavily, shook her hands as if to free them of some invisible spider web, and sank to the ground. Her charcoal tabard settled around her as it came to rest on her knees. Crossing her legs always ended with needleskin—she wasn't sure how an old croak like Iveer could stand it—so she knelt.
Her internal clock ticked to life. She had a slim window before someone was bound to breach the crypt for their own nefarious needs. She closed her eyes, and the twister mantra drove away all other thoughts. She focused on the words and their meanings.
There is no reality.
All things are, and all things are not.
The mind is all beginnings, and all ends.
The physical world—the Terrestrial Realm—was nothing more than a dream. It wasn't real any more than the aether Realms were real. For all things to be real, nothing could be real. Fantasies were a mere obstacle, a fool's excuse to abandon ambition.
All things began and ended in the mind.
Her mind.
A wave of vibrations drowned out the silence. Physical sensation shifted, replaced by a disconnection. A prickling crawled over her. The ground beneath her vanished, and a false sense of freefall tried to jolt her back to the Terrestrial. She resisted, pressing her mind further.
There is no reality.
The transition ended. Her emotions drifted around her, disconnected threads that she could tap into if she saw fit. The vibrations smoothed until they dissipated, and the prickles ceased.
She opened her eyes.
A desert of nothingness surrounded her. Void stretched in every direction, and the boundaries of the crypt's ceiling and walls were gone. Before her stood the Three Mirrors—the only material objects she'd intended to meet here in this place. Everything else—her body, the ground beneath her legs, the stench of rot—meant nothing to her. She knew enough about translation now to filter out those pesky details.
There'd been a time when shifting from one Realm to another—translating—had bothered her. Though she'd now mastered aspects of it—such as the journey between one vibrational frequency to another—the laws of the Apparition Realm still confounded her. Unlike in the physical world, the typical senses of the body weren't nearly as vivid here, though pain could most certainly register. She figured that this was due to the idea that pain was linked to the mind. If the mind perceived it as real, then it was to some extent.
That seemed to be the key to understanding it all—the Realms, translation, aether, twisting. The mind had to be convinced of reality. Whatever it believed, it made so.
Despite the confounding nature of the Apparition Realm, she made use of her limited knowledge, which included how to extract aether, just like the other pupils. For all its mysteries, there were at least a few constants in this Realm that she could always count on. Among those were the lifestone beside her and the lifechain of interlocked links that ran from the stone to her ankle. These objects were symbolic and didn't hold much constitution. If she were to run her hand over them, her form would pass right through as if they were smoke.
Regardless of their insubstantial natures, she knew the silvery sphere represented her existence in the Terrestrial Realm. Furthermore, the chain of miniscule links that ran from the stone to her ankle symbolized a tie to a physical body. The laws that these objects held and performed were still abstract in her mind, but that wouldn't impede her. Nothing seemed to affect them, and as long as that constant held, she wouldn't concern herself with their presence. At least not for her current task.
She focused on the mirrors, murky clouds swirling within their frames.
It was time to find the Sachem.
Her thoughts homed in on that one goal. She'd find that bastard and drag him out of whatever hole he'd burrowed into. No one could escape the mirrors.
With that, she opened her mouth and began the ritual.
***
The faintest of movements stirred in the reflection of the first mirror.
Annilasia's eyes latched onto it, and she grew quiet, letting the words of the ritual die on her lips. She counted it a twisted miracle that she'd managed to conjure anything at all, much less something that would reveal itself to her. It was one thing to summon a human or location into the mirrors.
It was another to try and summon a dokojin.
A darkness deeper than night still filled the space around her, while an even bleaker void filled the mirrors. A presence at her back beckoned for her attention. So excited for her objective upon first arrival, she hadn't given it much notice. But it made itself known now, like a blood clot over time.
Inzerious. Her very own dokojin companion.
She didn't turn or acknowledge it. She knew what horror awaited. At least it was a caged horror. Observing it would only unnerve her, and it was the mirrors that needed her focus. As long as the phantom behind her remained silent and restrained, it would be nothing more than a pesky canine on a leash.
She scanned the edges of the center mirror. No more movement. Whatever had caught her eye before had either left or remained obscured within the mirror. Her heart jumped when something flashed in the glass on the left only to vanish beyond the edges of its frame.
Stillness again. Annilasia dared not flinch lest she banish this newcomer.
Time ticked on, and dismay wormed its way through her. Perhaps her anticipation had fueled nothing more than a hallucination. Iveer had cautioned that this ritual might not yield results. Its origins were primordial, nearly as ancient as the mirrors themselves. For all she knew, the ritual might be another forgery. Plus, Iveer hadn't known at the time that she intended to combine the ritual with the power of the Three Mirrors.
Her gaze twitched back to the center glass, convinced again of movement.
Don't blink. Whatever you do, don't blink.
All doubt vanished, replaced by an instant dread that sickened her stomach. Her eyes fixated on a lower corner of the center mirror, where a crescent shape of pasty complexion was ascending like a moon. Only when a set of sunken black eyes peeked over the frame's edge, placed within the crescent's form, did she realize that what she was witnessing was the emergence of a head. The creature stared back at her and grew still. All she could see was the dome of its head and those unblinking eyes.
Eyes that swam with a ravenous energy akin to bloodlust.
Dying stars, don't blink. If I blink, I die.
As if to challenge this, a new motion twinkled in the third mirror. She resisted the urge to glance at it. An inexplicable knowledge told her that if she were to look away in the slightest, the dokojin that lurked in the center mirror would pounce. The entity remained ever so still in an attempt to trick her mind into accepting that it had always been there.
It had always been a part of the mirror.
She could look away.
It wasn't going to move. It was a part of the mirror—
Annilasia raised her hands. Words leapt from her lips, striking the air with a powerful force. Whatever was creeping in the third mirror responded with a blood-curdling screech, and spiked tendrils leaped out from that mirror's glass.
Her verbal command took. The glass of all three mirrors flickered, erasing the inner shadowy Realm and its inhabitants. She shuddered with relief, freed from her stare-down with the dokojin. Her reflection returned to the glass, and she faced her own figure once again. Only, it wasn't her physical body. Instead, a deep, endless black filled out her silhouette, a darkness set against a backdrop of deeper darkness, and within her silhouette soared dozens of orbs of light.
She was like a walking galaxy of stars. The term for this was aura. Of what she'd read in the ancient texts, it was akin to what her ancestors defined as her soul. The priesthood of her time theorized that auras were symbolic of the universal essence imbued in all humans. That is, the idea that the soul was made up of the same material as the distant stars and the very dirt of the world.
When she translated, her energy took on this astral form, just as the energy did of any human who translated from the physical world to the Apparition Realm. Always accompanying her aura were her lifestone and lifechain, which rested beside her.
All this was reflected in the mirrors.
So was the dokojin behind her.
She knew to expect this. Its presence sank into her like a knife, and despite her hatred of it, her gaze lingered on its reflection. Always with her. Even in the Terrestrial Realm, where the distractions of a physical body and a material world tempted her to forget her plight, she couldn't shake its ominous presence.
At least Inzerious no longer spoke. The dokojin didn't have much of a choice; Iveer had locked the dokojin in a cage that rendered it unable to whisper its dark musings into her mind. The visible restraints of this arrangement also comforted her. Iveer's handiwork bound the entity in a film of white web that hung off it in restless tendrils, making it so the dokojin hovered above the ground, a mere specter. Only vague impressions pressed into the webbed shroud, hinting at skeletal features meant to evoke terror. Before this entrapment, Inzerious had lurked about in a nasty, decayed form. Now its horrors were hidden.
Annilasia spotted the glint of her lifechain rising up to the dokojin's form. The dread from before returned tenfold. It didn't matter that Inzerious was caged. She couldn't shake it. Inzerious was always with her.
Always attached.
Her focus settled back on the mirrors themselves rather than what they reflected. She growled as the success of her attempt soured with its failure to produce the desired results. Five weeks. Relentless attempts that had yielded no results, and in one damn session she'd managed to lure out two unexpected dokojin—the creeper in the corner and the tentacled monster.
But they weren't the dokojin she sought. She would have to try again.
Words whispered from her mouth. The air tightened, unsure what violent musings or language she'd uttered, and cowered away. She herself knew little about her incantation, only that it demanded to reveal the most powerful of dokojin. Perhaps this time she'd actually summon a glimpse of Dardajah.
The darkness in the mirrors shifted, hinting at a change of scenery despite their vacant oblivion. The mirrors stirred ever so subtly, a blend of greys and inks that shimmered enough to betray restlessness. She was getting somewhere.
Come on, you filthy bastard. Where in the forsaken abyss have you fled?
She muttered the words again, wringing them out like a wet cloth for all they were worth. The shadowy void gave way to emerald static. Annilasia stiffened and watched closely. In transient flashes, the static solidified before instantly disintegrating back into chaos. During those moments of clarity, a barren backdrop of an empty corridor appeared, a lone silhouette standing at its far end.
The bursts were too quick to make out more details. Annilasia leaned forward.
Did I summon it? Did I finally find Dardajah?
As seconds passed, and more bursts of clarity occurred amidst the static, she decided the newcomer too slender and humanoid to be Dardajah. Nevertheless, something about this new dokojin distressed her. Made her keep watching.
Movement occurred. The silhouette raised a spindly arm, pressing its hand to its mouth. A single finger erected to form a lone tower.
It shushed her.
A claw slammed across her shoulder, and the static-filled Realm in the mirror vanished.
Annilasia jerked her head back to find a cracked skull mere inches from her face, lathered in black ichor. Inzerious was free. No webbing covered its form. Sunken eyes, wide and unblinking, bore down on her. Images of flayed corpses stunned her thoughts while a suffocating sense of dread wafted off the dokojin and swam into her.
Its maw opened. Gashed lips peeled back to reveal chipped yellow teeth and a reptilian tongue covered in blisters. Warm, rotting breath struck her as blackened blood splashed from its gums onto her shoulder. A screech bubbled from the creature. The sound shook Annilasia, and the grotesque imagery assaulting her mind intensified. She saw bodies—faces frozen in terror and agony. Faces of people she knew—Iveer, her fellow pupils, the other mentors—screaming in a writhing mound of thrashing limbs.
Annilasia fell back and pushed with her hands to backpedal away. Her mind reeled. It shouldn't have been able to free itself. This wasn't possible.
The dokojin sprang at her. Its overwhelming mass pressed over her, and she got swamped in the ichor discharging from its bones.
"Time to sleep, Bloodspill."
It pushed into her, as if forcing itself against her would weld them together. Some of the black ichor dripped down, gluing onto her silhouette. She yelped, yanking at the sticky black liquid that connected her to the dokojin. Yet it clung to her form like amber trapping a mosquito. The dokojin began absorbing her. Her screams grew muffled as she squirmed against the ichor holding Inzerious's rickety bones together. A metamorphosis initiated, with Annilasia's struggles seeming to only accelerate the transformation. The two were becoming one, human meshing with aetherwaste. A chimera of human and dokojin forming.
"Just let this happen, Bloodspill," Inzerious hissed. "Give up control, you stupid bag of bones."
It was almost too late. She had to get out. Annilasia shifted her focus off the struggle for the briefest of moments. The mantra of the twisters sprang up to focus her.
There is no reality.
All things are, and all things are not.
The mind is all beginnings, and all ends.
The world shimmered, and an uncomfortable vibration joined the already agonizing shapeshift occurring between her and Inzerious. She'd permitted herself to dwell on the mantra for only a moment. But it'd been enough time for the dokojin to seize even more control. The translation ended, and Annilasia found herself back inside the crypt, where the dokojin slammed her physical body against the ground. The loud smack of her head striking the floor popped in the silence. Annilasia shrieked. Her limbs contorted and twisted like an insect flung on its back writhing in hope of turning over. Inzerious bucked, sending her limbs in defying angles that shot pain through her nerves.
"Give up, Bloodspill," it hollered. "Time to go to sleep!"
Darkness invaded Annilasia's vision. Star flares, it's going to take over my body. I've lost control. Just as the panic of defeat washed through her and the darkness threatened to overtake her vision entirely, a voice boomed through the crypt.
Inzerious howled, still wrestling to seize control of her body but now flinching with discomfort. The new voice continued, sounding off words in an unfamiliar language. The dokojin clicked and shrieked. Annilasia sensed her lips parting to permit the dokojin's noises to escape—odd animalistic grunts breaking out from her throat.
A weight lifted.
She inhaled sharply as the darkness around her vision fled, returning her eyesight. The struggle in her own body ceased as well. Her muscles melted with exhaustion. She lay on the floor, sweat soaking the folds of her clothes. A long, heavy breath crept out of her as she realized just how close she'd been to succumbing to full possession.
Inzerious had almost hijacked her body.
---
About the Author: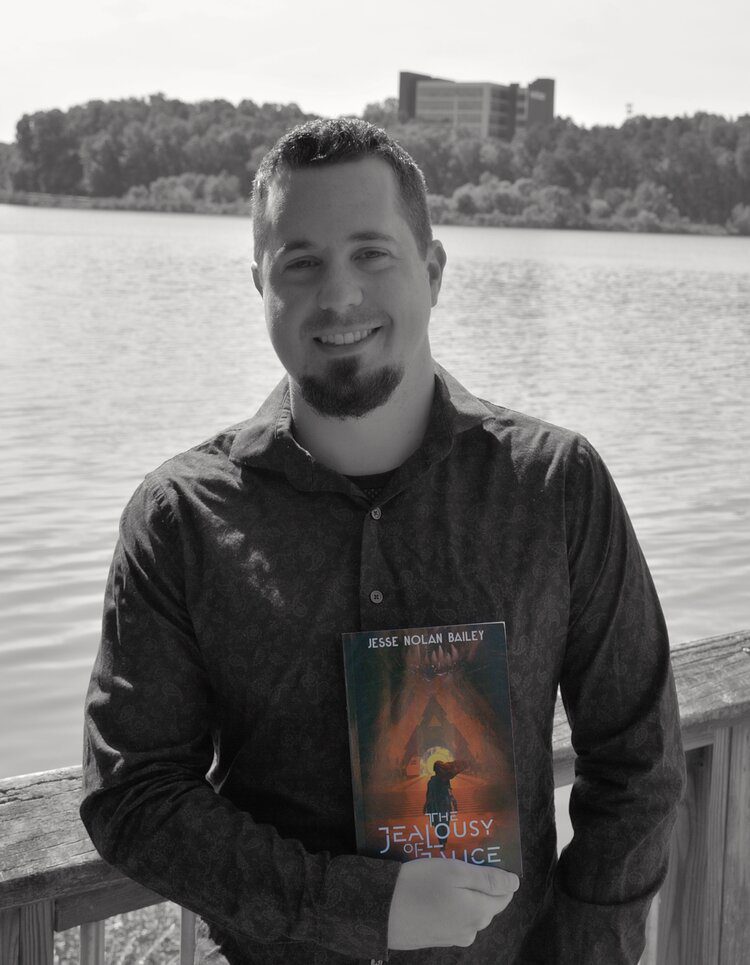 Enthralled by the magic that written stories contain, Jesse Nolan Bailey has always wanted to be an author. With his debut fantasy series, A DISASTER OF DOKOJIN, released to the masses, he can now feel validated in his growing sense of imposter syndrome. He lives in Durham, North Carolina, where he has embraced the equally gratifying lifework of hosting a trio of spoiled cats and two mini-aussies.
Twitter: https://twitter.com/jesseNbailey
Website: jessenolanbailey.com
---
Giveaway!
a Rafflecopter giveaway