---
Hello and welcome to FanFiAddict's stop on the Ultimate Blog Tour for 2020s Book Blogger Novel of the Year Award (BBNYA) winner, The Lore of Prometheus by Graham Austin-King. Massive thanks go out to BBNYA, as well as TheWriteReads and The Folio Society, for hosting the tour and for giving me the opportunity to be a part of it. And, huge congratulations to Graham Austin-King for winning last year's competition! Having read the book, I can see why it won!
BBNYA is a yearly competition where book bloggers from all over the world read and score books written by indie authors. If you're an author interested in competing or a blogger who wants to help with the judging (we're all a bit judgey, yeah?) be sure to look for more information toward the bottom of the article. Now, without further ado, on with the review!
---
Rating: 7/10
Synopsis
John Carver has three rules: Don't drink in the daytime, don't gamble when the luck has gone, and don't talk to the dead people who come to visit.
It has been almost five years since the incident in Kabul. Since the magic stirred within him and the stories began. Fleeing the army, running from the whispers, the guilt, and the fear he was losing his mind, Carver fell into addiction, dragging himself through life one day at a time.
Desperation has pulled him back to Afghanistan, back to the heat, the dust, and the truth he worked so hard to avoid. But there are others, obsessed with power and forbidden magics, who will stop at nothing to learn the truth of his gifts. Abducted and chained, Carver must break more than his own rules if he is to harness this power and survive.
Review
I was given a review copy by the author and BBNYA in exchange for an honest review.
The Lore of Prometheus is an urban fantasy military thriller — think Myke Cole's Shadow Ops by way of Blake Crouch. It has been very well received and has even won 2020's inaugural Book Bloggers Novel of the Year Award. I will be honest and say that this is a little outside of my typical reading wheelhouse, but I still found it to be quite an enjoyable read.
I haven't lived in a long time; existing doesn't count.
The book follows two different point of views, the first being that of John Carver, an ex-special forces veteran trying to get his life together after the brutal loss of several of his squadmates in Kabul, Afghanistan. Since leaving the military he has struggled to reintegrate into civilian life, falling into debt with the wrong people. They're kind of people who will ask you for their money right before they break both of your kneecaps with a hammer. Although Carver has managed to stay in the green for quite a while, his debts come due and he needs a way to earn some cash. Cue "Fortunate Son". Oh wait, he's a Brit. Cue "God Save the Queen?" Either way, Carver heads back to Kabul on a private contract to whip a security team into shape and, ultimately, confront his own legend as the 'Miracle of Kabul', the man who stopped a bullet in mid-air.
Our other POV is Mackenzie, an Aussie nurse in Kabul. She is harboring her own secret, but unfortunately it hasn't been kept secret enough and she wakes up in a dark room, strapped to a wooden frame. Now she's being forced to bare all and explore how she managed to survive the fire that ravaged her home and family if she is to have any hope of being released. Her POV was by far the weakest of the two for me, with the pacing of the book often slowing to a crawl during her parts. For whatever reason, I could never get behind her as a character and she seemed to make weird decisions at times that didn't really make any sense to me.
She could feel the flames roaring within her, begging to be released. They wanted to burn, and she would let them.
The most interesting aspect of the book and what paid off the most for me in the end are Carver's "visitors." I loved seeing the development of the squad and, later on, the banter between them all. It produced some seriously funny moments. I will never be able to look at IKEA meatballs the same! Honestly, it makes me wish that the story had just been centered around Carver and the squad, without Mackenzie. For most of the story, she seemed like an unnecessary vehicle for the plot to progress and in the end there wasn't really a satisfying character arc for her. I think the issue comes down to Austin-King's use of different tenses. While Carver's part of the story is told in a first person point of view, the author chose to use third person for Mackenzie, which made her feel flat in comparison.
Overall, I thought that The Lore of Prometheus was a fine book and, with it being fairly short (~300 pages), it was a quick and often thrilling read. The pacing sagged a bit for me in the middle parts of the story, but the frantic dash to the end was very exciting and left me on the edge of my seat. Ultimately, the few criticisms I have are fairly small gripes and Austin-King has proven himself to be a great storyteller. The ending leaves the story open for a sequel and I would definitely be interested in returning to the world that Austin-King has created.
We are each of us insane. Maybe there is no true sanity. All any of us have is the control we cling to, and any one of us can be swept away.
---
Author Info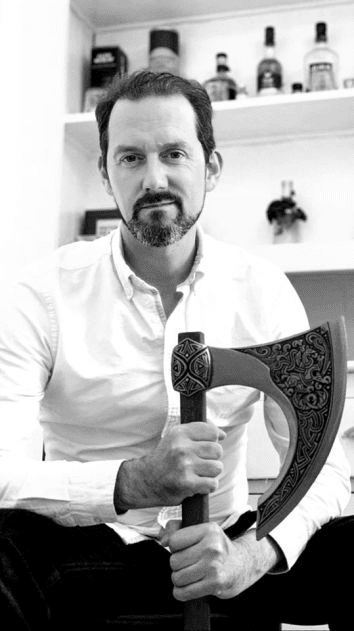 ---
Graham Austin-King was born in the south of England and weaned on broken swords and half-forgotten spells.
A shortage of these forced him to consume fantasy novels at an ever-increasing rate, turning to computers and tabletop gaming between meals.
He experimented with writing at the beginning of an education that meandered through journalism, international relations, and law. To this day he is committed to never allowing those first efforts to reach public eyes.
After spending a decade in Canada learning what 'cold' really means, and being horrified by poutine, he settled once again in the UK with a seemingly endless horde of children.
To date he is the author of five novels, drawing on a foundation of literary influences ranging from David Eddings to Clive Barker.
Website: https://grahamaustin-king.com/
Twitter: https://twitter.com/GrayAustin
---
About BBNYA
If you are an author and wish to learn more about the 2021 BBNYA competition, you can visit the official website (https://www.bbnya.com/) or our Twitter account, @BBNYA_Official. If you would like to sign-up and enter your book, you can find the BBNYA 2021 AUTHOR SIGN UP FORM HERE. Please make sure to carefully read our terms and conditions before entering.
If you are a book blogger or reviewer, you can apply to be part of BBNYA 2021 by filling out this form (also remember to read the terms and conditions before signing up)!
BBNYA is brought to you in association with the Folio Society (If you love beautiful books you NEED to check out their website!) And the book blogger support group TheWriteReads.