Synopsis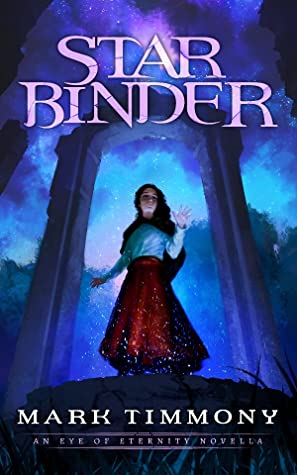 Rating: 9/10
Forged in betrayal. Tempered by the stellar winds. Chosen by the stars.

For five hundred years since the Sundering, the order of the Shaluay Starbinders has been dwindling. With their Starwells lying dormant, key artefacts of their order lost and their seers driven mad by the powers that broke the world, only one hope remains to the man who leads them; a fifteen year old girl.

Born to a clan of Wanderers, Reiana has been raised by a harsh grandmother who blames her for the death of her daughter, Reiana's own mother. When bandits attack the clan's camp, Reiana leaves the safety of the caravans to pursue the abductor of her younger cousin, heedless of the dangers.

But when a creature of the Void takes notice can Reiana's own untapped abilities save her, or will the truth of a betrayal see her lost forever?

Content warnings: suicide, gore, child abduction
About the Author
Mark Timmony was born in Sydney and grew up on the Northern Beaches. He's wanted to write for as long as he can remember and has several notebooks filled with illegible scribblings from childhood to prove it. The desire to write led to work as a bookseller and he spent almost a decade working as a genre specialist in Sydney.
Instagram: https://www.instagram.com/marktimmony/
Twitter: https://twitter.com/MarkTimmony
Facebook: https://www.facebook.com/marktimmony
Review
Novella's can be challenging to write, it's hard to build out a compelling character and create a plotline that feels realistic. Yet, Starbinder manages to achieve both of these goals with ease. I think the strength of Starbinder was that it managed to build up the lore and magic of the world quickly and create stakes that were high. From what I know, Starbinder is set 200 years prior to the beginning of The Blood of the Spear and with a time jump like that the events of Starbinder may very well end up becoming myth and legend by that point, which is why I think it's so interesting that we're getting to see the action as it unfolds.
"The Evay were fae creatures of legend, and every tale she had ever been told about them flashed through her mind. Changelings, betrayers, child stealers!"
We're dropped into Reiana's story in the midst of chaos. Reiana's people are wanderers, nomads, akin to the Romani. Immediately, that is one of my favorite fantasy tropes from the Tuatha'anan in Wheel of Time to the Edema Ruh in the Kingkiller Chronicles. I just love how nomadic people fit into fantasy narratives, often storytellers or performers. There are also fae mentioned early on, but they're called Evay and I love when authors put their own twist on a race we're already familiar with as readers. I think in a novella setting it allows readers to bring in some of the preconceived traits of the race but then also do a bit of discovery on how they appear in the world without too much time dedicated to creating a whole new race.
The prose is also incredible, it has a descriptive nature to it but it's never bogged down in my opinion, everything flowed really well and I breezed through this and immediately wanted to pick up The Blood of the Spear, and it remains high on my TBR because of course the things to read never run dry.

I also want to talk about the covers for both Starbinder and The Blood of the Spear, both have been done by Felix Ortiz and I just love them, they're both so eye-catching for different reasons. I know the font and organization of the cover itself usually falls to someone else, not sure of who in this case but the font is incredible.
Overall, I'm excited to see where The Eye of Eternity series goes and I think if you're looking for a read with an incredibly compelling main character who has to make tough choices in a short time span, then definitely give Reiana's story a read. 
This review is part of an Escapist Book Tour and if you'd like to read more reviews, click here and if you're interested in entering a giveaway for either a paperback or a hardcover copy of Starbinder by Mark Timmony click here.