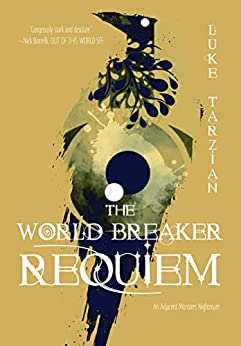 Rating: 10/10
Synopsis
Prince of Woe…
Avaria Norrith is the adopted heir to the Ariathan throne. But that means little to a man who, for the better part of fifteen years, has sought and failed to earn his mother's love. Fueled by pride and envy, Avaria seeks the means to prove himself and cast away his mental chains. When he's tasked with the recreation of The Raven's Rage he sees his chance, for with the infamous blade he can rewrite history
and start anew.
Daughter of the Mountain…
Erath has not felt sunlight for a century. Not since Ariath condemned her people to a life of darkness with their misuse of The Raven's Rage. But when an old friend comes seeking the remnants of the ancient sword, Erath cannot contain her curiosity and resolves to lend her aid. Is it true—can history be revised? Can her people be reclaimed?
Toll the Hounds…
They are hungry—and they are here.
Review
Hello everyone! Thank you to Escapist Book Tours for allowing me to join in on the book tour for The World Breaker Requiem, the dark/psychological fantasy by Luke Tarzian. Welcome to another FanFiAddict stop on the book tour. I received a reading copy and this did not influence my thoughts or opinions.
The World Breaker Requiem has a pulse of its own. Tarzian paints a twisted and melancholic picture, revealing its dark secrets and simmering menace with the utmost patience.
Set in the same world as his full-length debut Vultures, Requiem is the second standalone in the Adjacent Monsters prequel series. As someone who hasn't read Vultures yet, I found that starting with the prequel series was a good entry into the world. I did read the first book, The World Maker Parable, and it earned high marks for it's enthralling, stunningly evocative personal look into morality, redemption, and the lies we tell ourselves. Before I dive in further, if you're interested in reading my review for Parable, it can be found here.
"This place is but a moment in a time long dead and we are naught but ghosts."
Requiem is a testament to Tarzian's ability to craft an engaging story, weaving introspection and symbolism with skill and breathing new life into genre fiction. Written in his signature style of dreamlike and sometimes enigmatic voice and form, the return to Ariath was a blazing success. The intention behind pacing in various portions is really quite impressive and is something that cannot be rushed. The writing conveys so much depth and meaning in so little words.
This is storytelling at its finest from god-things and dead cities to magic and monstrous beings, multiple threads uniting, names within names, tangled histories, shadow twins, sinful manifestations, and fragmented realities. If I have learned anything it's that I can always count on Tarzian to deliver the unpredictable. With his stories, you'll commonly hear "it's unlike anything I've ever read" and there is a lot of truth there. His gift to his readers is the unexpected, a heartachingly beautiful manifestation of dreams and nightmares, scenes of poetic lamentations.
The synopsis gives a great description of what Requiem is about. On their journey to find The Raven's Rage, a legendary blade that is the key to rewriting history, Avaria and Erath find themselves facing their own nightmares. All roads lead toward the cursed forest filled with the souls of the restless, the one that surrounds the ruins of Banerowos, the forsaken city where it all began.
"I am timeless, though my soul has felt the wax and wane of millennia as I watch realities rise and fall."
As someone who spends a lot of time inside their own mind, like these characters do, the heavy presence of whatever is consuming our waking moments can be relentlessly callous. Introspection can have the habit of breaching all comfort and security because it makes us confront the core of things. The Poe-esque manner in which this was all represented worked really well for me. I felt the desperation to unleash their heavy burdens while questioning who they really were. They were made of memories, transformed by their past, their souls crying out to be remembered. Each character wanted something different in their desire to rewrite the past, with most wanting to feel worthy in the eyes of those they once loved. That hits home because I lost my mother eleven years ago and there is never a day that goes by when I wonder if she would be proud of the woman I've become. There are days when my memory of her feels distant, as if her time on this earthly plane was but wisp in the air, an echo in the wind.
"We are all of us prey to the world maker parable."
It's not always the external monsters that are the scariest, but it's the look deep inside our human psyche that can be scariest of all. When you reflect upon what he was trying to capture, you can really appreciate the brilliance of Adjacent Monsters. Each story feels like its own entity and yet they're interconnected in this natural, delicate manner. The stories that his mind creates are brilliantly dark yet you can feel the tenderness and heart within every word. It's exactly the dark fantasy that I have been searching years for which is why Luke Tarzian is a universal treasure and must be protected at all costs.
Content/Trigger Warnings: Shown on page and alluded to: Depression, Anxiety, Guilt, Loss, Death, Anger, Alcohol
I wanted to close by giving another huge thanks to Escapist Book Tours for allowing me the opportunity to join the book tour. They're doing great work for the indie book community.
Before you go, I'd like to mention that Escapist Book Tours is currently running an international giveaway in conjunction with this tour. You could win an ebook copy of The World Breaker Requiem.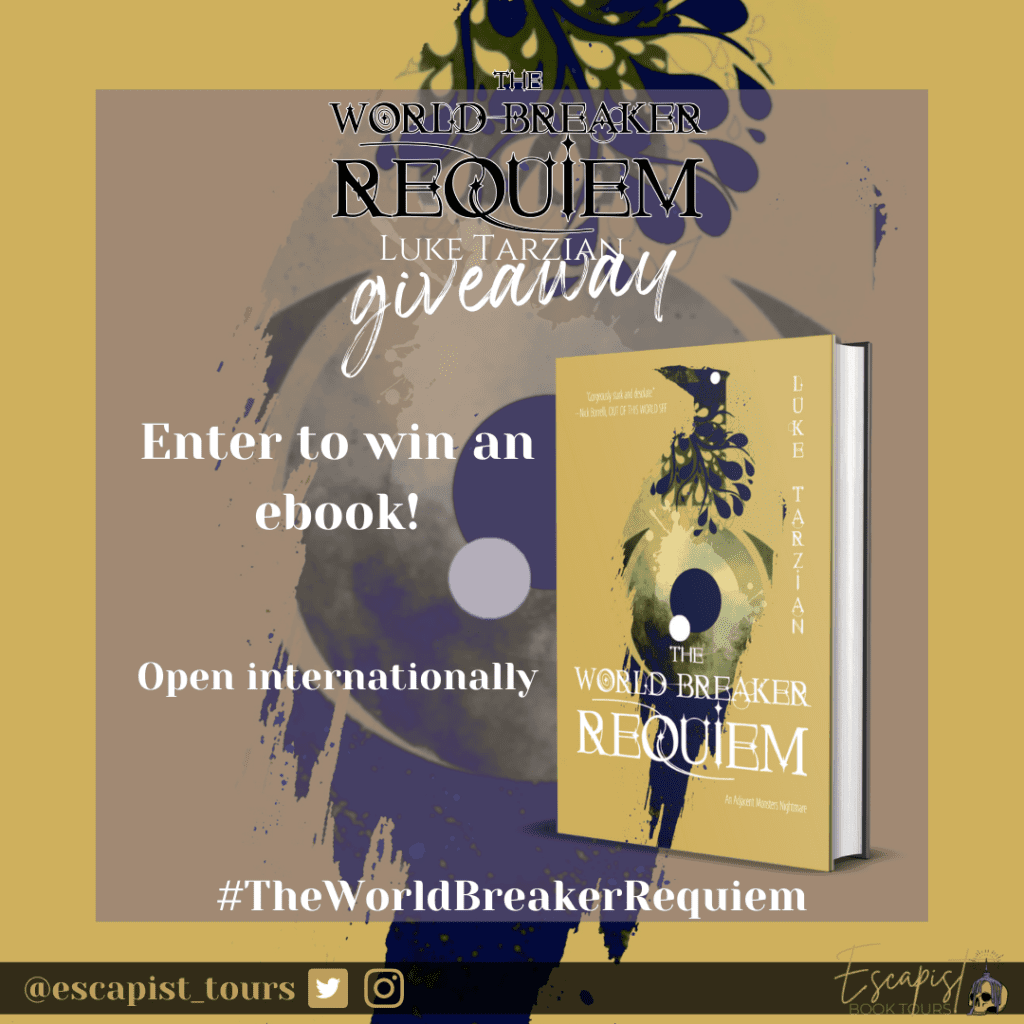 To enter, just click here. Winners will be chosen at random and the giveaway ends on Wednesday, February 23rd at 11:59pm.
Author Bio & Information: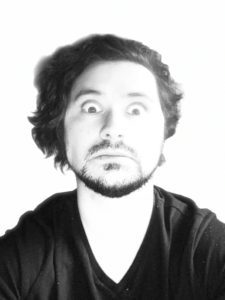 Luke Tarzian was born in Bucharest, Romania. His parents made the extremely poor choice of adopting him less than six months into his life. As such, he's resided primarily in the United States and currently lives in California with his wife and their twin daughters. Somehow, they tolerate him.
Unfortunately, he can also be found online and, to the dismay of his clients, also functions as a cover artist for independent authors.
Twitter: @luke_tarzian
Instagram: @luketarzianwrit
Website: luketarzian.com / tarzianbookdesign.com
There are still two more days left in the book tour so if you're interested in checking out the rest, here is where you can find that information!