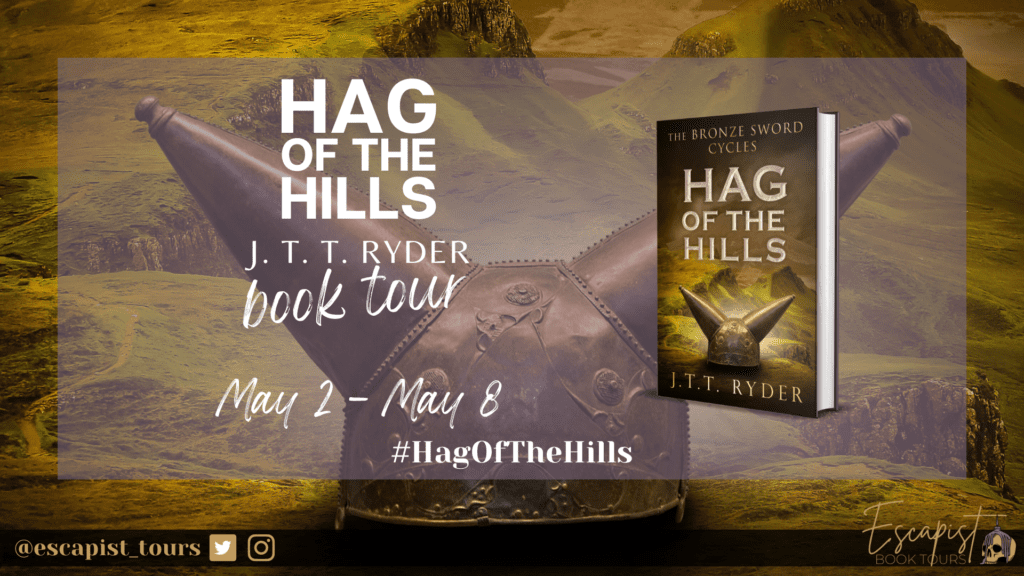 Hello everyone and welcome to the first stop on the Escapist Book Tours online tour of Hag of the Hills by J.T.T. Ryder! I am so excited to be kicking off the tour! I sat down with the author to ask him a few questions about himself, writing, and Hag of the Hills.
You can find my interview with Ryder below, along with information about the author, his book, and links to grab a copy of it for yourself (it's free from May 2nd – May 6th)! Also, be sure to check out the schedule down at the bottom of the page so you can check out the rest of the host's stops!
---
Book Information:
Hag of the Hills by J.T.T. Ryder
Series: The Bronze Sword Cycles duology
Genre: Historical Fantasy
Intended Age Group: Adult
Pages: 288
Published: March 1, 2022
Publisher: Old World Heroism ENK (Self Published)
---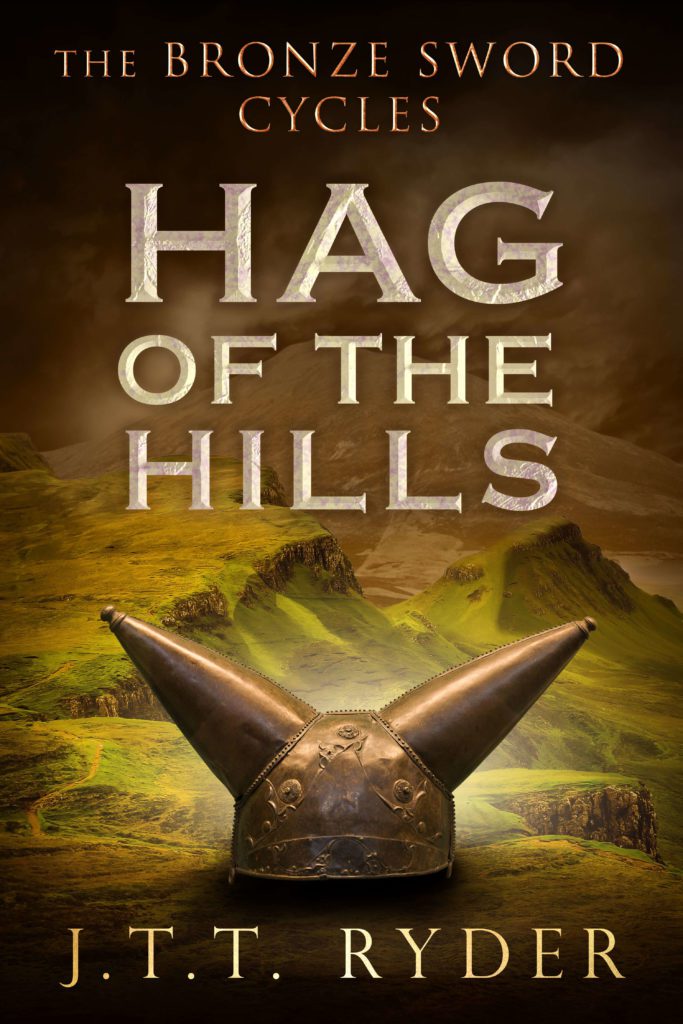 "Nothing is unconquerable; even our gods can die."

All his life, Brennus has been destined for warriorhood. However, a farmer's life doesn't provide many opportunities for swordplay and glory, despite the Goddess of Winter's gift of the Sight—the ability to see the sidhe of the Otherworld. But when the Hillmen kill his family and annihilate his clan, he knows the truth—no one can avenge his homeland but himself.

As he prepares to set out against the Hillmen and their Queen, the clan's chief druid entrusts his daughter, Myrnna, to his protection, to which Brennus swears a solemn oath. As they fight toward the sanctuary of Dun Torrin, he must survive the endless hordes of Hillman and the monstrous sidhe while shielding Myrnna from harm, aided only by the Sight, a band of shifty mercenaries, and an ancient bronze sword.

As Brennus struggles through this new world of blood and magic, the tension between protecting Myrnna and avenging his homeland threatens to tear him apart. Failure means the curse of dishonour. Victory would bring glory to himself and his ancestors. But what if keeping both of his promises proves impossible?

In the words of his father…

"Nothing is unconquerable; even our gods can die."

Hag of the Hills is the first book in The Bronze Sword Cycles duology, a heroic fantasy set in 200 B.C. on the Isle of Skye, steeped in Celtic mythology and culture.
See Also:
Welcome to the Island • We Have War and Flames • We Have Everything You Want if You Like Blood and Death
Book Links:
Amazon: https://t.co/CH2TdSPvEZ
Barnes and Nobles: https://www.barnesandnoble.com/w/hag-of-the-hills-the-bronze-sword-cycles-1-jt-t-ryder/1141059703
Black Dragon Books (UK): https://www.blackdragonbooks.co.uk/shop/genre/fantasy/hag-of-the-hills-the-bronze-sword-cycles-book-1/
Q&A
Thank you so much for joining us for this short Q&A! Before we get going, please tell us a bit about yourself.
I am an American that lives in Norway, and I am currently finishing my Ph.D. I am an archaeologist – so my research is where a chunk of my inspiration for writing comes from!
I want to start things off by asking: what is a great book that you've read recently and why should we give it a go?
The original Tarzan series. Simple, brutal, and thoughtful.
Do you have any hobbies or interests outside of reading/writing? Do you care to elaborate?
I do historical reenactment – Viking, I put on Viking clothes and also stab people with blunt historical weapons.
Tell us about your road to writing. What made you want to become an author?
I first started writing when I was 7 or 8, as common for writers I hear. I think I first wrote a novelization of a Final Fantasy game. I wrote all throughout my teens, but nothing consistent. Then around 18, I read Lovecraft and Robert E Howard and said "damnit, I want to do that, too!". After a long hiatus where I focused on my academic career, I decided "now or never" and just started publishing.
Writing is a hard and lonely affair in the best of circumstances. How do you achieve a good work/life/writing balance?
Psyche myself into it, mostly. If I died tomorrow, and the story is incomplete, who is going to finish it? I also write very efficiently when I am a little drunk and listening to black metal.
Is this your first book? If so, what lessons have you learned from writing it? If not, what lessons did you learn from writing earlier books that you brought into this one?
This is my first book. I would say the hardest lesson I learned was "you don't know jack about marketing". Another lesson I learned is that people will interpret your book differently than you do. Readers had all kinds of thoughts on what I wrote, and that is wonderful. As an educator who believes people should be taught to think, that is important.
Do you usually write to background noise, music, etc. or do you prefer silence?
Usually black metal, or well, dungeon synth!
What made you want to write in historical fantasy? Do you write (or plan to write) in any other genres?
I write a blend of historical fiction and sword and sorcery that we can just call historical fantasy. Historical fiction because historical is what I know best – I spent the last 15 years reading and writing about history, so it is certainly a strength of mine. For sword and sorcery: Robert E Howard. There is something otherworldly about the Conan stories, and I wanted to capture something akin to that. Another genre I would write is straight historical fiction, with no fantasy elements.
What is one thing that you love about the current state of SFF and what is one thing that you wish you saw more of?
I love the effects of self-publishing on SFF! The community is welcoming and there is a lot of cross-pollination going on between those traditionally published and those independently published. It is like a whole new and exciting world has busted open. What would I like to see more of is authors who are less inclined to categorize themselves. Often when I read about a book, I get a laundry list of tropes, as if every book in that genre needs to contain x or y trope. I would like less of that, particularly, I want to be surprised when I read a book, and knowing the tropes beforehand is not too surprising. I am also worried there is a "write-by-numbers" mentality cropping up. But to each their own.
Who are your favorite current writers and who are your greatest influences?
Current as in still alive, or newer? Well, my favorite current writer is Bernard Cornwell. My biggest influences would be Robert E. Howard, H. Rider Haggard, H.P. Lovecraft, Jack London, Thomas Berger, and Cormac McCarthy.
What do you think characterizes your writing style?
Multilayered.
Are you a plotter or a pantser?
Plotter, certainly. But I do get random bouts of pantsing in addition.
What are your favorite types of characters?
Characters built upon real people, because real people are always more interesting. I also adore characters who are morally grey or well, immoral, are forced to do the right thing for some reason or another. Love that trope!
How much of yourself do you write into your stories?
A lot. I think if you knew me, you would know I am the writer even if it was written anonymously.
For those who haven't read Hag of the Hills, give us the elevator pitch.
On the Isle of Skye in 200 B.C., a farmer transforms into a warrior when his clan is annihilated, but revenge becomes complicated when he swears to protect the daughter of the clan's chief druid. Despite magic, a bronze sword, and a band of shifty mercenaries on their side, failure looms—failing either task will bring certain dishonor. Will he rise above everything in his way, or will the tension tear him apart?
Describe your book in 3 adjectives.
Bloody. Red. Bellicose.
What do you think is the overarching theme?
I would say the overarching theme is fear of failure.
Were there any specific challenges with writing Hag of the Hills, did you find anything to be easier?
Yes, I would say I tried to create an aesthetic when it came to language. The narration is from someone who is technically a non-English speaker – he's in 200 BC Scotland! He's supposed to be speaking some form of ancient Celtic! Obviously, I cannot just write in that, so it was mostly me trying to balance out what is modern English, and what is modern English but doesn't sound "too" modern. In addition, it's narrated in the first person, and he's telling it all to a bard. I flitted in and out of past/present tense to give that sense of floating time, which is somewhat controversial, and I tried to "dumb" down my language as best as I can, which is also controversial. Moreover, I repeated some phrases and words intentionally, because I wanted to give the work the sense that Brennus (the main character) was trying to be poetic so the bard can write his poem of the story. This is all challenging, when you are writing a PhD and are writing about words like acculturation and praxis or something and then you have to write in the voice of a farm boy from 200 BC who wouldn't even have spoken English.
If you had to do so in just one or two sentences, how would you describe the plot of Hag of the Hills?
Brennus' clan is wiped out by the Hillmen. He swears to avenge them while protecting the daughter of the chief druid.
They say to never judge a book by its cover and maybe that's true in the philosophical sense, but it certainly happens with books. Can you tell us about the idea behind the cover of Hag of the Hills?
Well, I leaned on my cover designer hard for this. I chose the general aesthetic, the choice to have bronze, brass, and stone-like lettering. To signify it is a Celtic historical archaeological book, I threw a historical artefact on the cover, and let the cover designer work her magic with the rest. The helmet itself is not -actually- in the book, but a similar one, just this one is more visually striking. The helmet on the cover is dated a bit later than the book, and being the archaeological nerd that I am, I could not let that fly!
One of my favorite things is highlighting quotes that really resonate with me and sharing them in my reviews. Do you have a favorite quote from Hag of the Hills that you can share with us?
"A man should die not too early or too late. A man who dies early never reaches his potential, while a man who dies late will become a mockery of himself."
What can you tell us about what's coming up next for you?
The second book in the duology, the Lion of Skye, comes out August 1st. It's currently being edited. In January or February 2023, I should have my 3rd book out, which will be in the series but a stand-alone called the King's Coin, which I have over 40,000 words written already. In the meantime, I have a whole other serial planned that takes place in the Viking Age, possibly for Kindle Vella, but that is in a nascent stage.
Thank you so much for taking the time to answer a few questions for us! I always enjoy this little peek behind the curtain. Do you have any parting thoughts or comments you'd like to leave for our readers?
Never give up or surrender. Life is for the taking.
---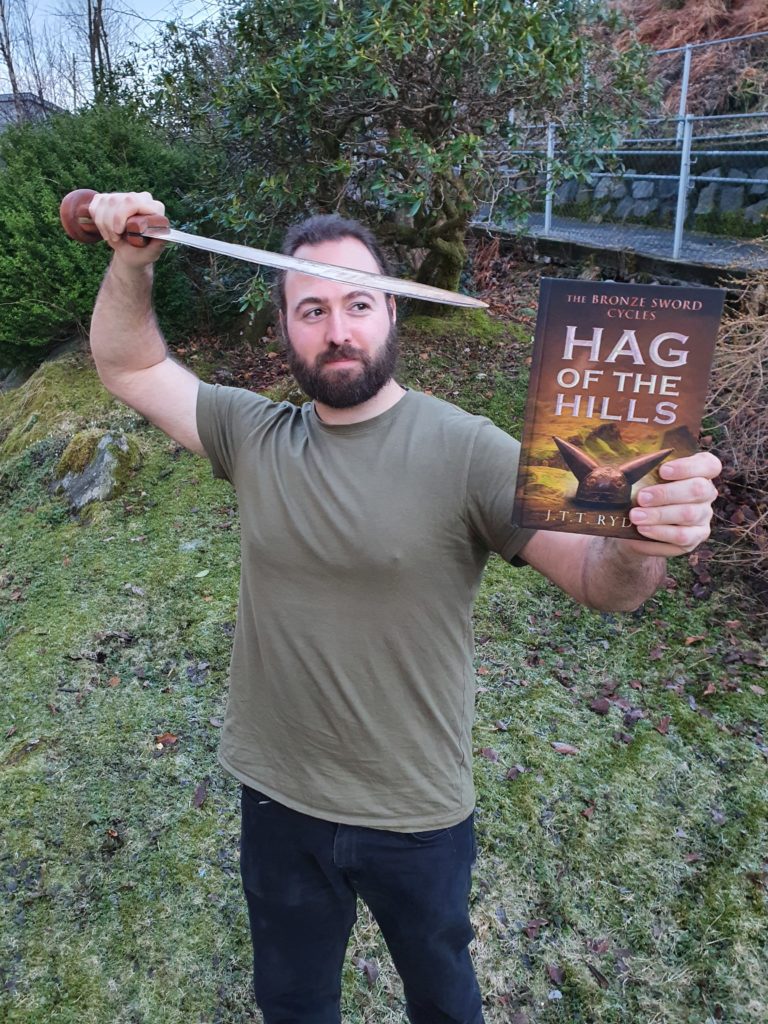 J.T.T Ryder is an archaeologist and author of the heroic fantasy novel HAG OF THE HILLS, book 1 of THE BRONZE SWORD CYCLES duology. He is a published author of Viking archaeology, and a doctoral candidate specializing in the Viking Age and Celtic Iron Age. He resides in Norway where he conducts archaeological research and writes heroic fantasy set in historical periods.
Social media links:
https://linktr.ee/jttryder
---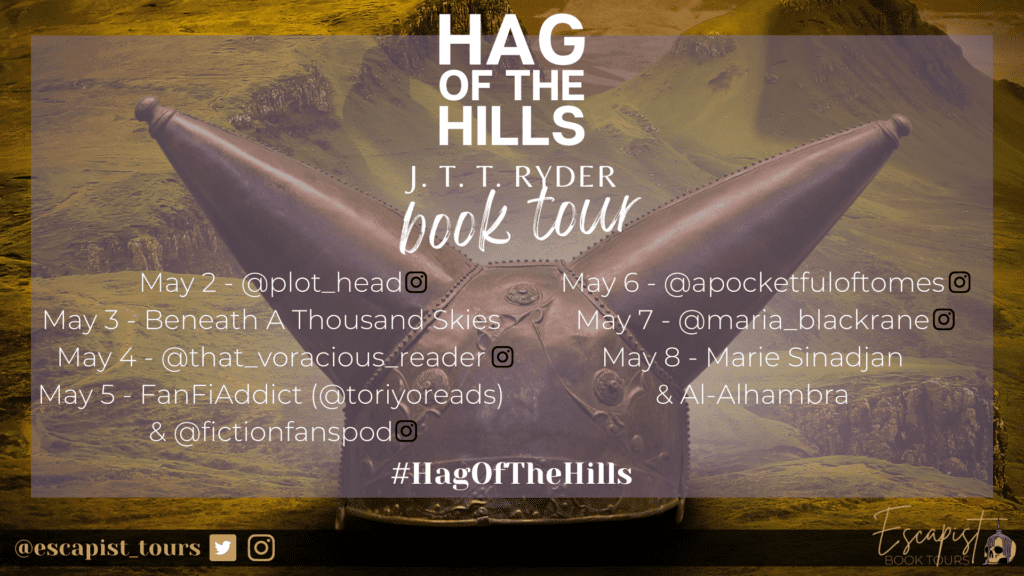 ---