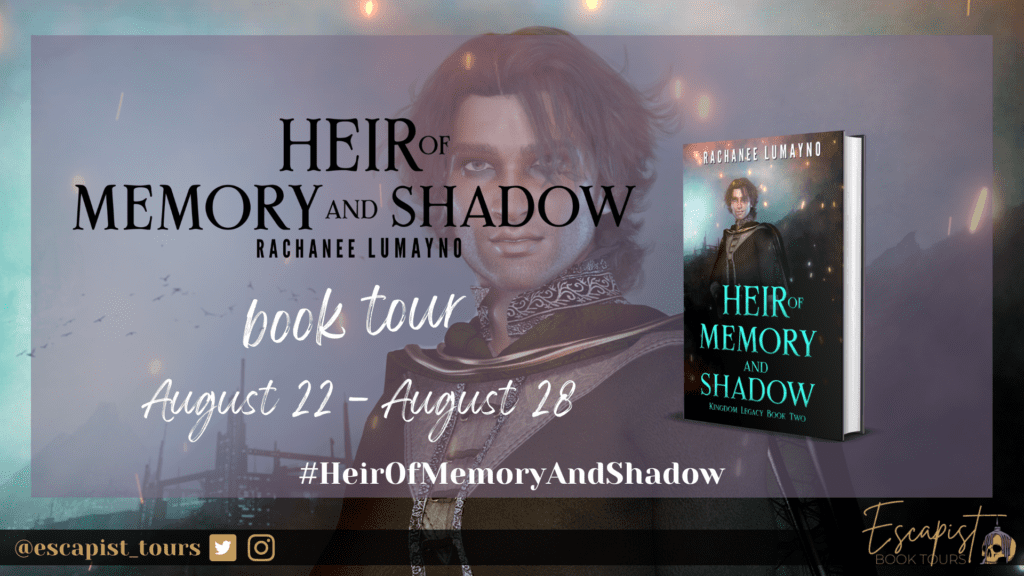 Good evening and welcome to my stop on the Escapist Book Tours celebration of Heir of Memory in Shadow, the second installment of the Kingdom Legacy series by Rachanee Lumayno!
I am lucky enough to be able to call Rachanee a friend, and I thought there was no better way to promote this series than to let her talk about it herself. Below, you'll find a post written by the author herself about the intersection between acting (or roleplaying, cause we stan D&D in this house) and writing, or just creativity in general. As creators, we know that inspiration can strike from anywhere, and—well, I'll let Rachanee tell it.
Don't go anywhere after reading because you'll also find some info about the book and the author, as well as an opportunity to win a copy of your own!
Enjoy!
---
Book Information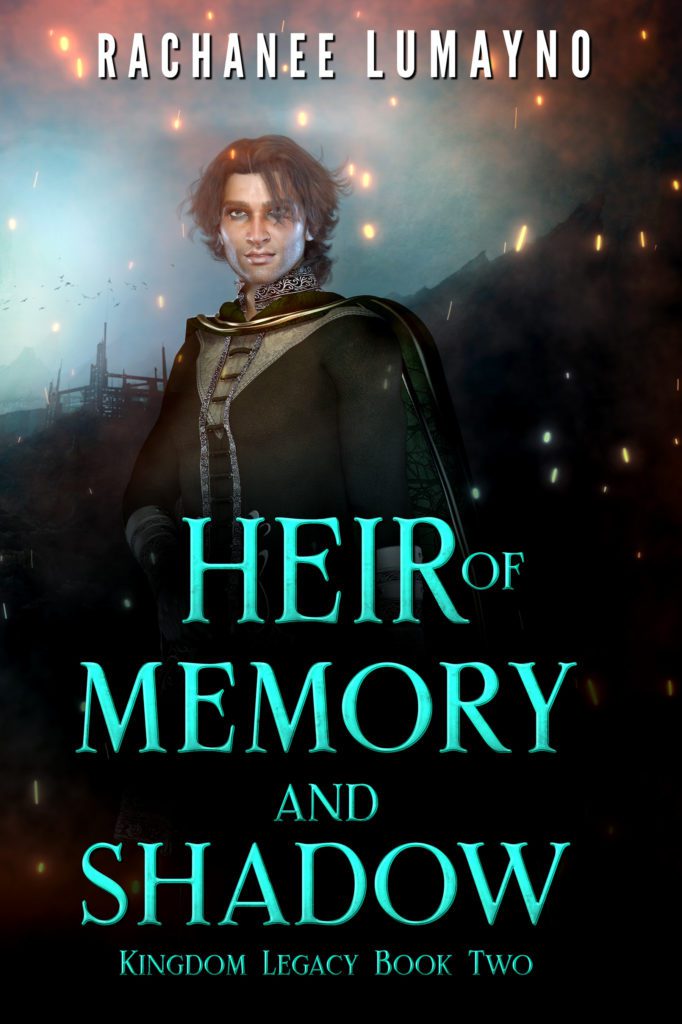 Heir of Memory and Shadow by Rachanee Lumayno
Series: Kingdom Legacy #2
Genre: YA Fantasy
Intended Age Group: 12+
Pages: 277
Published: May 3, 2022
Publisher: Miss Lana Press (Self Published)
---
Book Links
Universal Link: https://books2read.com/kingdomlegacy2
Amazon: https://www.amazon.com/gp/product/B09ZD46BKM
Barnes & Noble: https://www.barnesandnoble.com/w/heir-of-memory-and-shadow-rachanee-lumayno/1140787750
Audible: https://www.amazon.com/Heir-Memory-Shadow-Kingdom-Legacy/dp/B0B3NGXHYY/
Goodreads: https://www.goodreads.com/book/show/60485892-heir-of-memory-and-shadow
---
About the Book
Kaernan Asthore may be one of the most gifted Seekers in the kingdom of Orchwell, but he wants nothing more than to be rid of his gift: the ability to find lost loves, which often ends in heartbreak.
So when Lady Adallia Pahame hires him to find her own lost love, Kaernan assumes it will be an easy, routine commission.
But when the mystery surrounding his new traveling companion causes them to run afoul of an infamous gang of bounty hunters, Kaernan realizes this is one commission he might not return from. Will he be able to uncover the truth in time to save his friends — and himself?
Heir of Memory and Shadow is the second book in the Kingdom Legacy series.
---
See Also
Love Stinks • Love is a Losing Game • Search Party
---
On Creativity by Rachanee Lumayno
When I was a kid, I had this habit that drove my mother crazy. I loved to read, and I loved to act out the stories I was reading. So, I would read my books out loud, with a bunch of crazy character voices, and then when my mom would poke her head in my room and ask, "Who are you talking to?" I would answer, "No one." She'd give a funny look, leave, and then I'd go right back to doing it.
Fortunately, my mom wrote it off as silly kid stuff instead of deciding to have me committed for constantly talking to myself. Otherwise, I wouldn't be the person who I am today: an author, actress, and audiobook narrator. (I also just realized that's a lot of A's – I swear that was totally unintentional alliteration.)
My childhood antics hit on several things I would grow up to do (write, do voiceover, and act), but it all had one thing in common: tapping into imagination to create something. Because that's really where it all starts. You know your favorite movie? Someone imagined that story into life. Maybe someone else took it and imagined the screenplay that would eventually be filmed. Many someones imagined how it would look visually, how it would sound, the general mood and look of the film through wardrobe and makeup and props. Other someones would imagine how those characters would feel and think and act, so you as the viewer would believe in who they were and what they desired.
Even books are a collaborative medium. I might write the words, but then my editor looks at them and helps me determine the best way to present the story. And you, as the reader, take those words and decide for yourself how the characters sound, how they move, and sometimes even what they look like.
Here's the thing: imagination transcends medium. Creativity begets creativity.
When I meet other writers and they ask me about craft, I always suggest taking a class … in something other than writing. Are you a screenwriter? Take an acting class or shadow a director. Learning how an actor breaks down a script helps you become a better screenwriter, since now you understand what an actor needs to interpret things correctly, or how dialogue sounds when someone says it out loud.
Are you a fiction author? Consider taking an improv class. I know that sounds weird, but I was taking classes at Upright Citizens Brigade while I wrote my first fantasy novel, Heir of Amber and Fire. Since I'm a pants-er and hate outlining, knowing how to "Yes, and" in my story made things flow a lot easier. I still apply that "Yes, and" thought to all the books I write and that's what helps me build my plots.
The fun thing is, you probably have these skills and don't even know it. Do you play any roleplaying games, like Dungeons and Dragons? Guess what — you're already an improviser. Especially if you're the Dungeon Master creating the game on the fly. You are applying that "Yes, and" improv principle to everything as if your life depended on it. (Or, in this case, your players' lives.)
And there's an added bonus to trying out creative pursuits in multiple disciplines. Your imagination is a muscle that needs to be exercised on the reg. I've found that I have less writer's block when I'm actively taking acting classes. Or if I'm in the middle of writing a new book, something about my characters inspires a new voice I can use in one of my acting projects. It's like going to the gym (which, honestly, I never do, but I know I should, and I really hate it anyway, so I can't believe I'm actually using this analogy, but work with me here). You may have leg day one day and arm day another, but it's all benefiting the same body (you). In the same way, using your imagination in different disciplines all benefits the same body (of work).
There are other ways you can keep exercising that creative muscle. Take writing classes, read other people's books. As an audiobook narrator, I also enjoy listening to other narrators in the field to hear how they interpret text and handle multiple character voices. Really analyze the things you're taking in. When you can pick apart something, then you'll know how they did it — and how you can possibly do it better. Just be a student of everything.
And call me if you're going to play some Dungeons and Dragons. Just not at the gym, please.
---
About the Author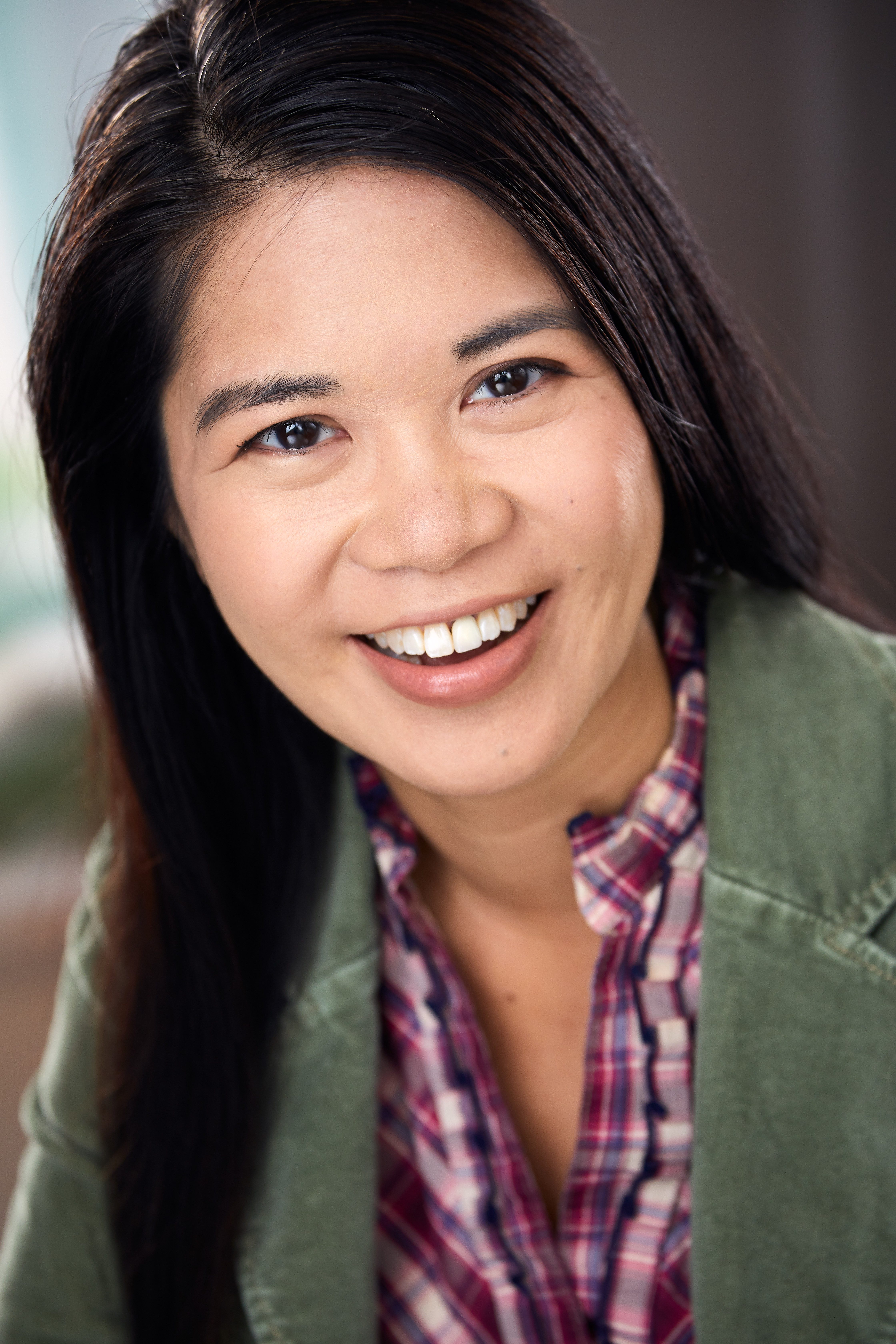 Rachanee Lumayno is an actress, voiceover artist, screenwriter, avid gamer, and amateur dodgeball player. She grew up in Michigan, where she spent way too much of her free time reading fantasy novels. She still spends too much of her free time reading fantasy novels, although now she writes them too. Heir of Memory and Shadow is her second novel, and the second book in the Kingdom Legacy series. You can find her online at www.rachanee.net or on Twitter, TikTok, or Instagram (@rachaneelumayno).
Author Site: http://www.rachanee.net
Twitter: http://www.twitter.com/rachaneelumayno
Instagram: http://www.instagram.com/rachaneelumayno
TikTok: https://www.tiktok.com/@rachaneelumayno
YouTube: https://www.youtube.com/channel/UCXVJnaB6cV48iVsL5UqSG2w
---
Giveaway Information
a Rafflecopter giveaway