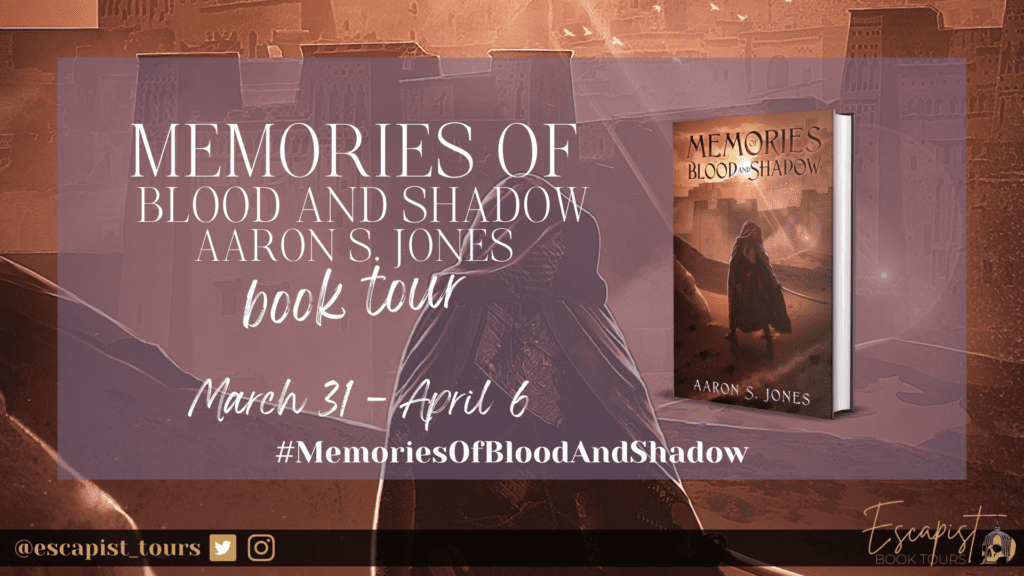 Hello Hello! I'm Tyra, and it's my stop on the Escapist Books Tour book tour for Aaron S. Jones' Memories of Blood and Shadow. I am so excited to be a part of this tour and I'll be sharing my book review below.
Genre: Epic Fantasy
Audience: Adult
Pages: 644
Content warnings: alcohol dependency, slavery, gratuitous violence, suicide, vomiting, gore and beatings as well as allusions to child harm/slavery
Synopsis
Guilt cuts sharper than the deadliest of blades.
Tavar Farwan lives alone past the Undying Sands. One stormy night, he is attacked by two young warriors claiming vengeance for an ill from ages past. Tavar defends himself, killing one of the intruders and leaving the other to bleed on the floor. Weary and filled with regret, Tavar offers to tell the young man his story: a story of how a nomadic orphan rose to kill a God. 
Review
It is impossible to read the synopsis of this book and not immediately see the similarities and inspiration from The Kingkiller Chronicle by Patrick Rothfuss, which just so happens to be my favorite book of all time. So I went into this book with a little bit of hesitation initially. However, I was not only pleasantly surprised but I was flat out blown away.
"They don't go away. They live on in you. Every time you close your eyes or have a moment of silence to yourself. It's like you're never alone. They're watching you, always watching, making sure that their loss wasn't for nothing. Only thing we can do is keep living. And make sure that we live a life worth dying for."
This book is steeped in a vibrant, Middle Eastern inspired setting which I found to be so perfect for this story as well as underrepresented in fantasy. In addition, there are also flavors of a Pacific Islander setting and an Asian/Japanese inspired setting. Similar to The Kingkiller Chronicle, the story is told retroactively from our main character, and therefore we only have one POV in Tavar. Tavar grows up over the course of the book and we really get to hear the good, the bad and the ugly about his life.
Let's talk about (non-spoilery) tropes that you will find in this book. I am a huge fan of a training montage, and it's done so well in the first part of this book. There is also a perfect ye olde wise mentor character that Tavar encounters at the perfect time. There is also a gladiator prison which honestly, I love. It's such a great way to raise the stakes while simultaneously breaking a character down to their most base desires and goals. In these scenes we learned so much about Tavar and not only who he is but who he wants to be moving forward. And last, but not least, we have good ol' swashbuckling pirates and not only pirates but a bad-ass pirate queen, enough said.
Memories of Blood and Shadow is driven forward in a big way by character dialogue which I think is what makes it read so quickly despite being 600+ pages. I did feel that at times for me as a reader, I would have preferred some more descriptive passages but I understand that the author was really allowing us to fill in the gaps using context. Whenever a new setting or character was introduced their appearance might get described once but then it was not labored over and repeated which really allowed me to craft head cannon characters easier, I found.
This book was paced really well. There was a fast-paced inciting incident that drew me in, a great training montage, and then we got into a cycle of high-action followed by a lull. New problems and circumstances for Tavar to overcome just kept appearing followed by a period of slower-paced problem-solving, which really worked well.
Overall, my final rating is 4.75/5 stars and I highly recommend this book if you are looking for a fantasy book with a protagonist who perseveres through many struggles, and who deals with both loss and hope. This book has a unique setting from the 'mainstream' European setting as well as great LGBTQ representation. And I did confirm with the author that a book two is in the works so Tavar's story isn't over. 

Also check out the remainder of the book tour, lots of reviews and content heading your way!