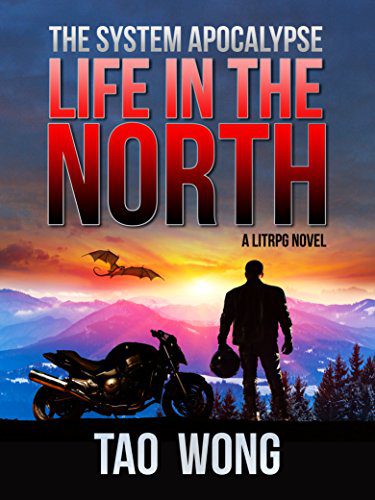 Welcome back to Fanfiaddict for another Book Excerpt. This time we're gonna talk about a LitRPG series, System Apocalypse by Tao Wong! The author has generously included both a written and audio excerpt for you to enjoy!
The System Apocalypse is a multi-series world, with the main series being completed and having a total of 12 books in it. It starts with 'Life in the North', and ends with 'System Finale' , spanning the introduction of the System and the apocalypse it brings with it to Earth all the way to the center of the galaxy and resolution of what the System is.
The basic premise of the series is What if the world ended by becoming a video game with monsters, character classes, level ups and magic? Aliens, dragons and other horrible things come along, along with a complete failure of electricity and game mechanics taking over, including automatic healing and experience points.
In-between all the progression fantasy fun of leveling up and growing more powerful, I also get to tackle things like apocalyptic themes such as societal structures, trauma, loss and grief and coping mechanisms as well as themes like racism/speceism and honour.
The world itself is quite large these days with:
– Two co-authored series (System Apocalypse: Australia and System Apocalypse: Relentless)
– An anthology of short stories by Tao Wong & other authors
– A graphic novel adaptation of Life in the North (Book 1 of the System Apocalypse)
– Audiobooks for all the series in English (excepting book 12 which should be done soon)
– Numerous individual short stories
– Translations into German (whole series), Russian, French and Spanish.
Author Bio/Social Links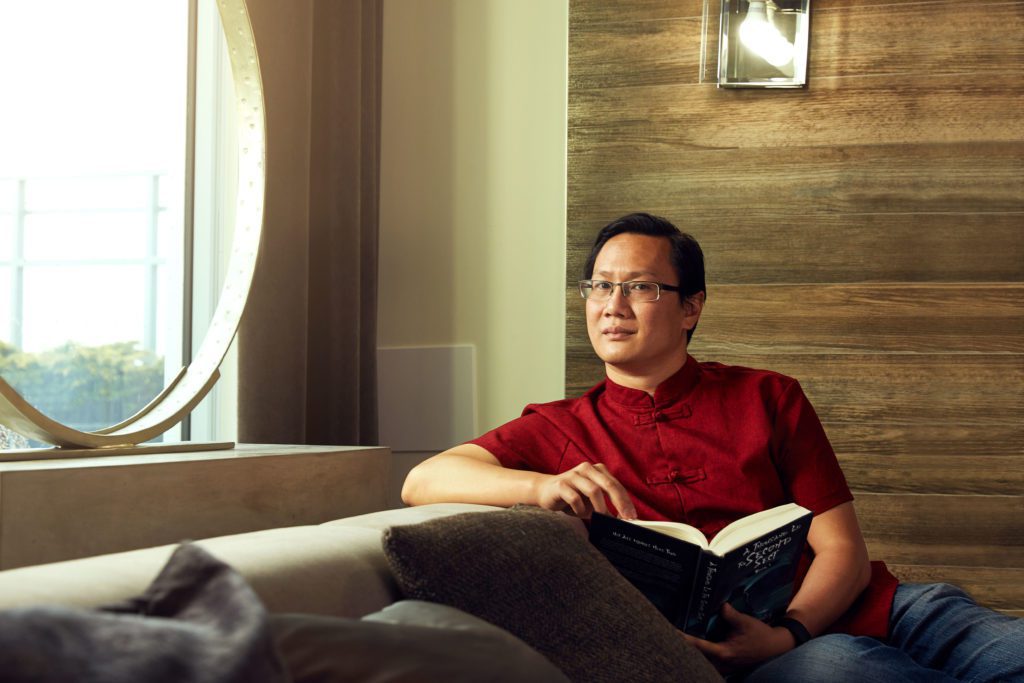 Tao Wong is a Canadian author based in Toronto who is best known for his System
Apocalypse post-apocalyptic LitRPG series and A Thousand Li, a Chinese xianxia
fantasy series. His work has been released in audio, paperback, hardcover and ebook formats and translated into German, Spanish, Portuguese, Russian and other languages. He was shortlisted for the UK Kindle Storyteller award in 2021 for his work, A Thousand Li: the Second Sect.
When he's not writing and working, he's practicing martial arts, reading and dreaming up new worlds.
Tao became a full-time author in 2019 and is a member of the Science Fiction and
Fantasy Writers of America (SFWA), NINC and ALLI.
Website: https://www.mylifemytao.com
Newsletter: https://www.subscribepage.com/taowong
Facebook: https://www.facebook.com/taowongauthor/
Twitter: https://twitter.com/tr_wong
Discord: https://discord.gg/jyznHPJ
Patreon: https://patreon.com/taowong
So without further ado, here are the excerpts from book 1 in The System Apocalypse series!
Life in the North Excerpts
Greetings citizen. As a peaceful and organised immersion into the Galactic Council has been declined (extensively and painfully we might add), your world has been declared a Dungeon World. Thank you. We were getting bored with the 12 that we had previously.
Please note that the process of developing a Dungeon World can be difficult for current inhabitants. We recommend leaving the planet till the process is completed in 373 days, 2 hours, 14 minutes and 12 seconds.
For those of you unable or unwilling to leave, do note that new Dungeons and wandering monsters will spawn intermittently throughout the integration process. All new Dungeons and zones will receive recommended minimum levels, however, during the transition period expect there to be significant volatility in the levels and types of monsters in each Dungeon and zone.
As a new Dungeon World, your planet has been designated a free-immigration location. Undeveloped worlds in the Galactic Council may take advantage of this new immigration policy. Please try not to greet all new visitors the same way as you did our Emissary, you humans could do with some friends.
As part of the transition, all sapient subjects will have access to new classes and skills as well as the traditional user interface adopted by the Galactic Council in 119 GC.
Thank you for your co-operation and good luck! We look forward to meeting you soon.
Time to System initiation: 59 minutes 23 seconds
I groan, freeing my hand enough to swipe at the blue box in front of my face as I crank my eyes open. Weird dream. It's not as if I had drunk that much either, just a few shots of whiskey before I went to bed. Almost as soon as the box disappears, another appears, obscuring the small 2-person tent that I'm sleeping in.
Congratulations! You have been spawned in the Kluane National Park (Level 110+) zone.
You have received 7,500 XP (Delayed)
As per Dungeon World Development Schedule 124.3.2.1, inhabitants assigned to a region with a recommended Level 25 or more above the inhabitants' current Level will receive one Small perk.
As per Dungeon World Development Schedule 124.3.2.2, inhabitants assigned to a region with a recommended Level 50 or more above the inhabitants' current Level will receive one Medium perk.
As per Dungeon World Development Schedule 124.3.2.3, inhabitants assigned to a region with a recommended Level 75 or more above the inhabitants' current Level will receive one Large perk.
As per Dungeon World Development Schedule 124.3.2.4, inhabitants assigned to a region with a recommended Level 100 or more above the inhabitants' current Level will receive one Greater perk.
What the hell? I jerk forwards and almost fall immediately backwards, the sleeping bag tangling me up. I scramble out, pulling my 5' 8" frame into a sitting position as I swipe black hair out of my eyes to stare at the taunting blue message. Alright, I'm awake and this is not a dream.
This can't be happening, I mean, sure it's happening, but it can't be. It must be a dream, things like this didn't happen in real life. However, considering the rather realistic aches and pains that encompass my body from yesterday's hike, it's really not a dream. Still, this can't be happening.
When I reach out, attempting to touch the screen itself and for a moment, nothing happens until I move my hand when the screen seems to 'stick' to it, swinging with my hand. It's almost like a window in a touchscreen which makes no sense, since this is the real world and there's no tablet. Now that I'm concentrating, I can even feel how the screen has a slight tactile sensation to it, like touching plastic wrap stretched too tight except with the added tingle of static electricity. I stare at my hand and the window and then flick it away watching the window shrink. This makes no sense.
Just yesterday I had hiked up the King's Throne Peak with all my gear to overlook the lake. Early April in the Yukon means that the peak itself was still covered with snow but I'd packed for that, though the final couple of kilometers had been tougher than I had expected. Still, being out and about at least cleared my mind of the dismal state of my life after moving to Whitehorse. No job, barely enough money to pay next month's rent and having just broken up with my girlfriend, leaving on a Tuesday on my junker of a car was just what the doctor ordered. As bad as my life had been, I'm pretty sure I wasn't even close to breaking down, at least not enough to see things.
I shut my eyes, forcing them to stay shut for a count of three before I open them again. The blue box stays, taunting me with its reality. I can feel my breathing shorten, my thoughts splitting in a thousand different directions as I try to make sense of what's happening.
Stop.
I force my eyes close again and old training, old habits come into play. I bottle up the feelings of panic that encroach on my mind, force my scattered thoughts to stop swirling and compartmentalise my feelings. This is not the time or place for all this. I shove it all into a box and close the lid, pushing my emotions down until all there is a comforting, familiar, numbness.
A therapist once said my emotional detachment is a learned self-defence mechanism, one that was useful during my youth but somewhat unnecessary now that I'm an adult with more control over my surroundings. My girlfriend, my ex-girlfriend, just called me an emotionless dick. I've been taught better coping mechanisms but when push comes to shove, I go with what works. If there's an environment which I can't control, I'm going to call floating blue boxes in the real world one of them.
Calmer now, I open my eyes and re-read the information. First rule – what is, is. No more arguing or screaming or worrying about why or how or if I'm insane. What is, is. So. I have perks. And there's a system providing the perks and assigning levels. There's also going to be dungeons and monsters. I'm in a frigging MMO without a damn manual it looks like, which means that at least some of my misspent youth is going to be useful. I wonder what my dad would say. I push the familiar flash of anger down at the thought of him, focusing instead on my current problems.
My first requirement is information. Or better yet, a guide. I'm working on instinct here, going by what feels right rather than what I think is right since the thinking part of me is busy putting its fingers in its ears and going 'na-na-na-na-na'.
"Status?" I query and a new screen blooms.
Status Screen
Name
John Lee
Class
None
Race
Human (Male)
Level
0
Titles
None
Health
100
Stamina
100
Mana
100
Status
Twisted ankle (-5% movement speed) Tendinitis (-10% Manual Agility)
Attributes
Strength
11
Agility
10
Constitution
11
Perception
14
Intelligence
16
Willpower
18
Charisma
8
Luck
7
Skills
None
Class Skills
None
Spells
None
Unassigned Attributes:
1 Small, 1 Medium, 1 Large, 1 Greater Perk
Would you like to assign these attributes? (Y/N)
The second window pops up almost immediately on top of the first. I want more time to look over my Status but the information seems mostly self-explanatory and it's better to get this over with. It's not as if I have a lot of time. Almost as soon as I think that, the Y depresses and a giant list of Perks flashes up.
Oh, I do not have time for this. I definitely don't have time to get stuck in character creation. Being stuck in a zone that is way out of my Level when the System initializes is a one-way ticket to chowville. The giant list of perks before me is way too much to even begin sorting through, especially with names that don't necessarily make sense. What the hell does Adaptive Coloring actually mean? Right, this system seems to work via thought, reacting to what I think so, perhaps I can sort by perk type – narrow it down to small perks for a guide or companion of some form?
Almost as soon as I think of it, the system flashes out and only the word Companion appears. I nod slightly to myself and further details appear, providing two options.
AI Spirit
I select AI but a new notice flashes up
AI Selection unavailable. Minimum requirements of:
Mark IV Processing Unit not met
I grunt. Yeah, no shit. I don't have a computer on me. Or… in me? No cyberpunk world for me. Not yet at least, though how cool would that be with a computer for a brain and metallic arms that don't hurt from being on the computer too much. Not the time for this, so I pick Spirit next and I acknowledge the query.
System Companion Spirit gained
Congratulations! World Fourth. As the fourth individual to gain a Companion Spirit, your companion is now (Linked). Linked Companions will grow and develop with you.
As I dismiss the notifications, I can see a light begin to glow to my right. I twist around, wondering who or what my new companion is going to be.
***