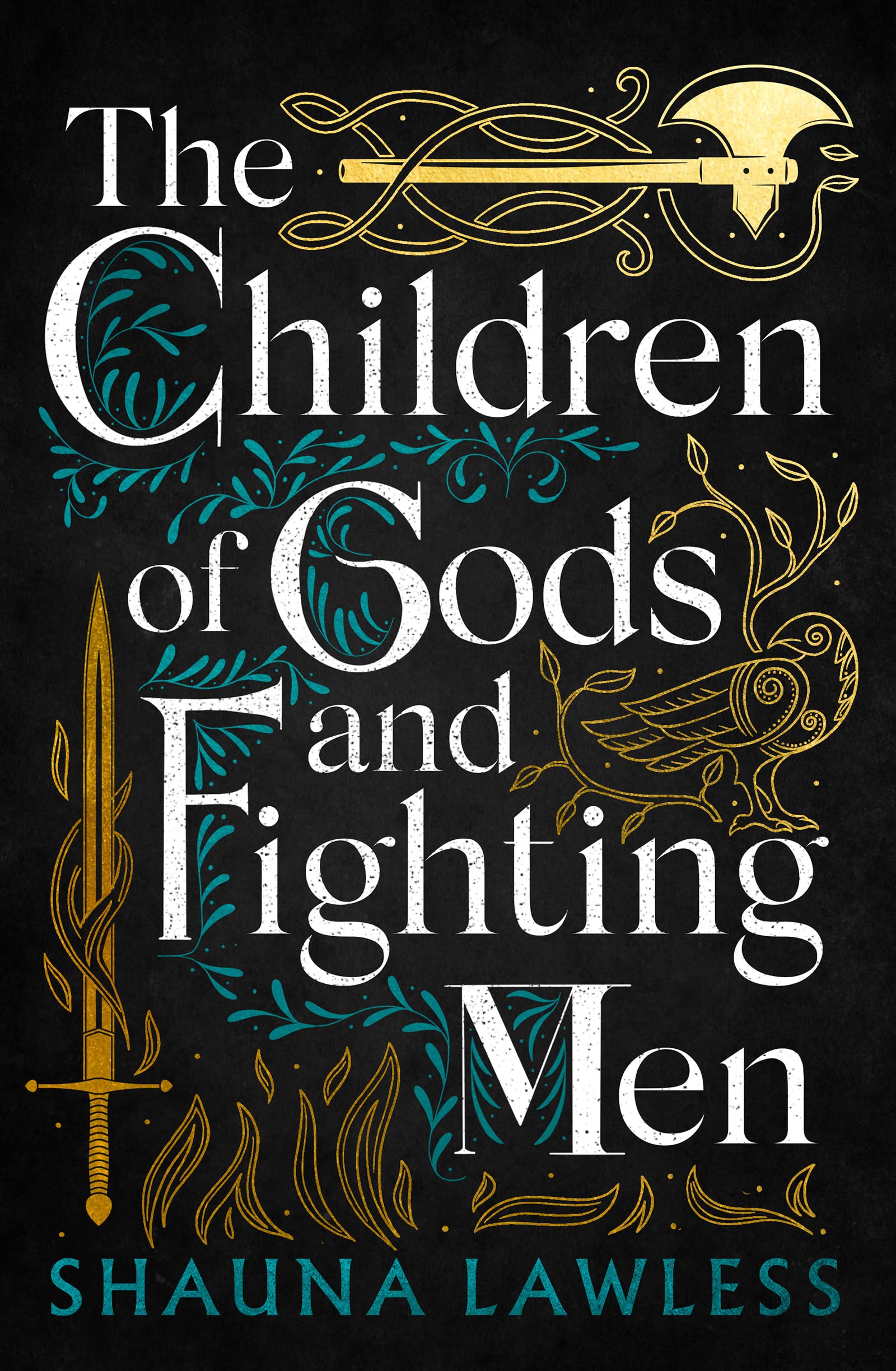 Rating: 8/10
Synopsis
The first in a gripping new historical fantasy series that intertwines Irish mythology with real-life history, The Children of Gods and Fighting Men is the thrilling debut novel by Shauna Lawless.
They think they've killed the last of us…
981 AD. The Viking King of Dublin is dead. His young widow, Gormflaith, has ambitions for her son – and herself – but Ireland is a dangerous place and kings tend not to stay kings for long. Gormflaith also has a secret. She is one of the Fomorians, an immortal race who can do fire-magic. She has kept her powers hidden at all costs, for there are other immortals in this world – like the Tuatha Dé Danann, a race of warriors who are sworn to kill Fomorians.
Fódla is one of the Tuatha Dé Danann with the gift of healing. Her kind dwell hidden in a fortress, forbidden to live amongst the mortals. Fódla agrees to help her kin by going to spy on Brian Boru, a powerful man who aims to be High King of Ireland. She finds a land on the brink of war – a war she is desperate to stop. However, preventing the loss of mortal lives is not easy with Ireland in turmoil and the Fomorians now on the rise…
Review
First, I'd like to say thank you to Paige and the team at Head of Zeus for sending me this work and including me on the tour – this in no way affected my opinion of the book.
The Children of Gods and Fighting Men is a mix of political intrigue, intimate character-work, and vast, effective world-building; it was a joy to read and would certainly appeal to those fantasy fans who don't necessarily need their action upfront and overwhelming, for its pages are etched with rich characters and a complex storyline.
The plot is as vast as the sea of characters that popular it, but the POVS number two main characters: Fodla, a Tuatha De Danann, a sect of mages that have manipulated and protected Ireland from the shadows, a sect that grows smaller in number and members born with actual power. These legendary magicians are first and foremost foe to the Fomorians, 'descendants from the line of King Balor himself, and with fire-magic in our blood.' Both characters are a part of a war, fought by Viking convert Kings and Irish Kings as they butt heads and act unknowingly as proxies to this war that has been going on for hundreds of years. For me, the pace was a lot slower than I'd normally read, with a lot of the initial fifty-percent of the book focusing on political maneuvering between both POV characters, manipulating from the shadows, and a lot less on the brutalities of war, battle, and everything in between. Yes, there's bloodshed, but I'm someone who usually enjoys the odd duel or two and certainly a lot more throwing-of-magic, that isn't to say this book isn't beautifully written.
When it comes to efficiency of sentence and delivery of world-building Shauna is an expert; there were passages, and sentences that were both deliberate and absolutely magical in terms of world-building:
'The way Fomorian descendants aged was strange. We lived hundreds of years in the blood of youth, and then in the last year, age rotted us like over-ripened fruit.'
Simple, powerful, and only in the first chapter are we told enough to get through the book knowing exactly what Fomorians are and how they can wield fire-magic; often, writers are told to show, and this can dilute the sense and increase confusion but – from a world-building point of view – I felt comfortable right away. These speak of a writer comfortable with their craft; there are many examples of why this book is so efficiently world-built, but I wouldn't want to spoil them for you. I found myself many times jealous of the craft that went into this book, and this is why primarily I've focused on this in my review.
With efficiency of world-building comes clarity of writing and so that flows into character-work and the depth that is presented. Both characters you're forced to follow, forced to turn the page because of their very human motivations, despite their other-worldy powers. Both have family, often in the form of sons, they want to see thrive and protect, which you cannot help but want to see out until the end.
Overall, if you like your fantasy doused in political intrigue and maneuvering, your plots complex, and that steer away from outright violence, this would be the perfect read for you. Couple that with Shauna's writing prowess, and you're in for a great read.