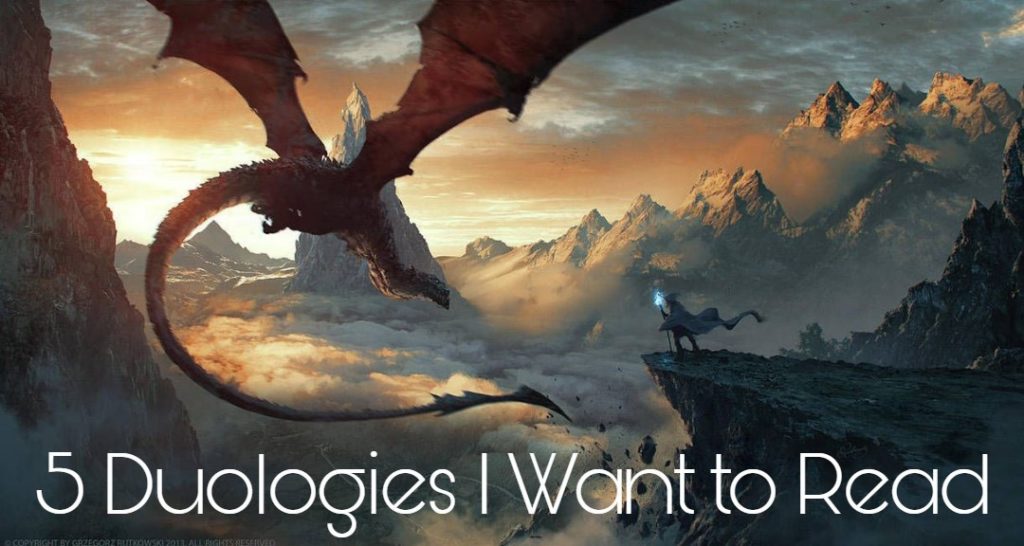 I am on a quest to finish 10 completed series this year. You see, it feels as if I am constantly reading book 1's and I hardly ever finish a series. Especially now that I am blogging, reading and reviewing arcs, and new books are constantly being paraded in front of me.
This is not a complaint. I love finding new series to read. I love the experience of a new world to explore and especially discovering new characters to love. I love supporting authors with reviews and spotlights. I just want to see at least some of those series to their end this year.
I have 5 months and 11 days left to complete this challenge I have set before myself. This may seem like a lot of time, but for me with continuing to do arcs, blog posts, work, and other things that take up my time it is not much. In order to complete this I need to read something other than the lengthy epic fantasies that I love.
And now dear reader, you have discovered the inspiration for this list of 5 Duologies that I would like to read. I have included a Goodreads link, as well as a synopsis, blurb, or whatever you call it below each series so you can decide for yourself if you are interested and would like to add a series or 5 to your own TBR. Enjoy, and may your TBR be forever overflowing!
1) Best Laid Plans by Rob J Hayes
Everybody knows Captain Drake Morass is only out for himself.
As the fires of a dying city burn on a distant shore, Drake sees an opportunity to unite the other pirate Captains under his flag and claim a crown for himself. If he is to succeed, he will need allies and the Oracle named Keelin Stillwater, the best swordsman in the isles, as his right hand.
With enemy ships sailing his waters and setting fire to his cities, and the sinister Tanner Black threatening to steal the throne before Drake even has a chance to sit upon it, Drake Morass must somehow convince the other Captains that his best interests are also theirs.
Where Loyalties Lie is the first book in the Best Laid Plans duology and is set in the same world as The Ties That Bind trilogy, continuing Captain Drake Morass' story where the trilogy left off.
2) The Arthurian Tales by Giles Kristian
The legions of Rome are a fading memory. Enemies stalk the fringes of Britain. And Uther Pendragon is dying. Into this fractured and uncertain world the boy is cast, a refugee from fire, murder and betrayal. An outsider whose only companions are a hateful hawk and memories of the lost.
Yet he is gifted, and under the watchful eyes of Merlin and the Lady Nimue he will hone his talents and begin his journey to manhood. He will meet Guinevere, a wild, proud and beautiful girl, herself outcast because of her gift. And he will be dazzled by Arthur, a warrior who carries the hopes of a people like fire in the dark. But these are times of struggle and blood, when even friendship and love seem doomed to fail.
The gods are vanishing beyond the reach of dreams. Treachery and jealousy rule men's hearts and the fate of Britain itself rests on a sword's edge.
But the young renegade who left his home in Benoic with just a hunting bird and dreams of revenge is now a lord of war. He is a man loved and hated, admired and feared. A man forsaken but not forgotten. He is Lancelot.
Set in a 5th century Britain besieged by invading bands of Saxons and Franks, Irish and Picts, Giles Kristian's epic new novel tells – through the warrior's own words – the story of Lancelot, that most celebrated of all King Arthur's knights. It is a story ready to be re-imagined for our times.
3) Age of Tyranny by Cameron Johnston (Read and really enjoyed book 1!)
A city threatened by unimaginable horrors must trust their most hated outcast, or lose everything, in this crushing epic fantasy debut.
After ten years on the run, dodging daemons and debt, reviled magician Edrin Walker returns home to avenge the brutal murder of his friend. Lynas had uncovered a terrible secret, something that threatened to devour the entire city. He tried to warn the Arcanum, the sorcerers who rule the city. He failed. Lynas was skinned alive and Walker felt every cut. Now nothing will stop him from finding the murderer. Magi, mortals, daemons, and even the gods – Walker will burn them all if he has to. After all, it wouldn't be the first time he's killed a god…
4) Quest for Heroes by Stephen Aryan
Who will take up the mantle and slay the evil in the Frozen North, saving all from death and destruction? Not Kell Kressia, he's done his part…
Kell Kressia is a legend, a celebrity, a hero. Aged just seventeen he set out on an epic quest with a band of grizzled fighters to slay the Ice Lich and save the world, but only he returned victorious. The Lich was dead, the ice receded and the Five Kingdoms were safe.
Ten years have passed Kell lives a quiet farmer's life, while stories about his heroism are told in every tavern across the length and breadth of the land. But now a new terror has arisen in the north. Beyond the frozen circle, north of the Frostrunner clans, something has taken up residence in the Lich's abandoned castle. And the ice is beginning to creep south once more.
For the second time, Kell is called upon to take up his famous sword, Slayer, and battle the forces of darkness. But he has a terrible secret that nobody knows. He's not a hero – he was just lucky. Everyone puts their faith in Kell the Legend, but he's a coward who has no intention of risking his life for anyone…
5) The Empire of a Hundred Houses by Tom Lloyd
In a quiet corner of the Imperial City, Investigator Narin discovers the result of his first potentially lethal mistake. Minutes later he makes a second.

After an unremarkable career Narin finally has the chance of promotion to the hallowed ranks of the Lawbringers – guardians of the Emperor's laws and bastions for justice in a world of brutal expediency. Joining that honoured body would be the culmination of a lifelong dream, but it couldn't possibly have come at a worse time. A chance encounter drags Narin into a plot of gods and monsters, spies and assassins, accompanied by a grief-stricken young woman, an old man haunted by the ghosts of his past and an assassin with no past.

On the cusp of an industrial age that threatens the warrior caste's rule, the Empire of a Hundred Houses awaits civil war between noble factions. Centuries of conquest has made the empire a brittle and bloated monster; constrained by tradition and crying out for change. To save his own life and those of untold thousands Narin must understand the key to it all – Moon's Artifice, the poison that could destroy an empire.