Happy World Book Day everyone! I hope you are all having a great day, reading books that you love, along with reminiscing about all the books that you loved as a child and love as an adult.
World Book Day is a day to celebrate everything books, from your favourite fiction to the most intriguing non-fiction, tales of fantastical adventures to emotional stories that help you grow. It's also about supporting libraries, independent bookshops & authors; dressing up as your favourite literary characters, and also thinking about how books have helped changed the lives of so many.
And so, to celebrate, the FanFiAddict team wanted to share some of the books that are special to us, whether it be an old favourite from our childhoods or a new found love. But we also want to know some of your favourites too! Be sure to let us know in the comments or on Twitter!
Harry – The Waste Lands (The Dark Tower series #3) by Stephen King
As some of you may know, Stephen King is one of my favourite authors. The Dark Tower series, which is often touted as his magnum opus (and I wholeheartedly agree), holds a very special place in my heart. Its the series that brought me closer together with my better half (and more specifically this entry, The Waste Lands, which I happened to be reading when we first met. It also happens to be my favourite one, tied with Book 4, Wizard & Glass), its a proper cinematic rollercoaster of a series with some of the most memorable moments, characters, quotes, and just general King weirdisms that make these stories so unique. The Waste Lands cements itself as my favourite of the series by being the the first full proper adventure with the Ka-Tet (the main group of characters that we follow), where we learn more about Mid-World and Roland's role & history within it, the ideas it introduces that up the scale of what's at stake for the characters and the universe, the action scenes, the vividness that King portrays this dying world, ZZ Top's Velcro Fly, Blaine the Pain (and that is the truth), and so much more! It gripped me from page 1 and didn't let me go until it's major cliff-hanger ending!
Sean – My Heart is a Chainsaw by Stephen Graham Jones
Every chapter (aside from one) is told from Jade's perspective. I could read about her for the rest of my life and be fine. Several times, she had me tearing up, just because I felt like someone finally understood me. I felt like I wasn't a creep or weirdo, or if I was, at least I'm not the only one. Jade lives her life like her eyes are the camera filming the next great slasher. She never sees herself as the star, just the quiet observer. In that respect, Jade speaks to me again. She's the Randy (from Scream) of the story, meant to build up the final girl, even if it means she dies along the way. The idea that she could be the final girl is unfathomable because she doesn't feel like she's worthy of such an honor. There's a song by Weezer called Heart Songs. In it, Rivers Cuomo sings about the songs that speak to his heart, that marked important moments in his life, or that helped shape him into the person he is. My Heart is a Chainsaw is my heart book. My new comfort read. My favorite book published in the past ten or so years. Maybe even longer. It reminds me that I'm not alone, that horror is awesome, and this book just a bloody good time.
Scott – The Humans by Matt Haig
To me, Science Fiction was always read as a recreation, for pleasure just to pass the time. I would open a book and embark on a fun space-faring adventure and then at the end, be done and eventually the story fades away in my mind, then onto the next. A sort of turn-and-burn. It was in 2015 after I read The Humans, that made me completely stop in my tracks. People don't expect to absorb new life affirmations from a SciFi book, but this is exactly what this books provides at an enriching and wholly entertaining level. I was stunned and awed at the enlightenment, and sense of empathy that this book provided me off of the page. It explores humanity, life, the nuances of love and loss, and wraps it all up with a beautiful series of 90+ pieces of 'Advice for a human' at the end of the book. Advice such as: "Make sure, as often as possible, you are doing something you'd be happy to die doing." "No one will understand you. It is not, ultimately, that important. What is important is that you understand you." and "If you think something is ugly, look harder. Ugliness is just a failure of seeing." To this day I still think about this book and would recommend it to any reader type (it's quite light on the SciFi and has great mass-appeal.) Go check it out!
Tom – Dawn of the Dragons by Joe Dever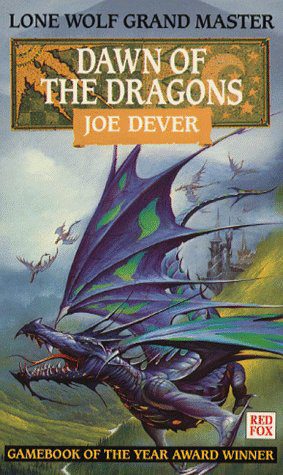 For Sommerlund and the Kai! This book is important to me for two reasons. 1, it's awesome and immediately set me on to reading The Hobbit for more fantasy and dragons; 2, it's a choose-your-own-adventure book so it also set off my love for TTRPGs. Little 9-year old beardless me was hooked!
Gamebooks seemed to be a huge thing in the 80s and 90s and sadly are a lot harder to find now. The genre seems to have now evolved into LitRPGs. You can never have enough fingers to save your previous places just in case you make a stupid ass choice and get yourself killed, or you want to do something differently to progress. Dever's series of Lone Wolf Grandmaster gamebooks still hold up to this day, they're bloody hard to actually beat, mind you. Maybe I'll get my toes involved just in case I dig this out for yet another re-read.
Eleni – The Immortality Thief by Taran Hunt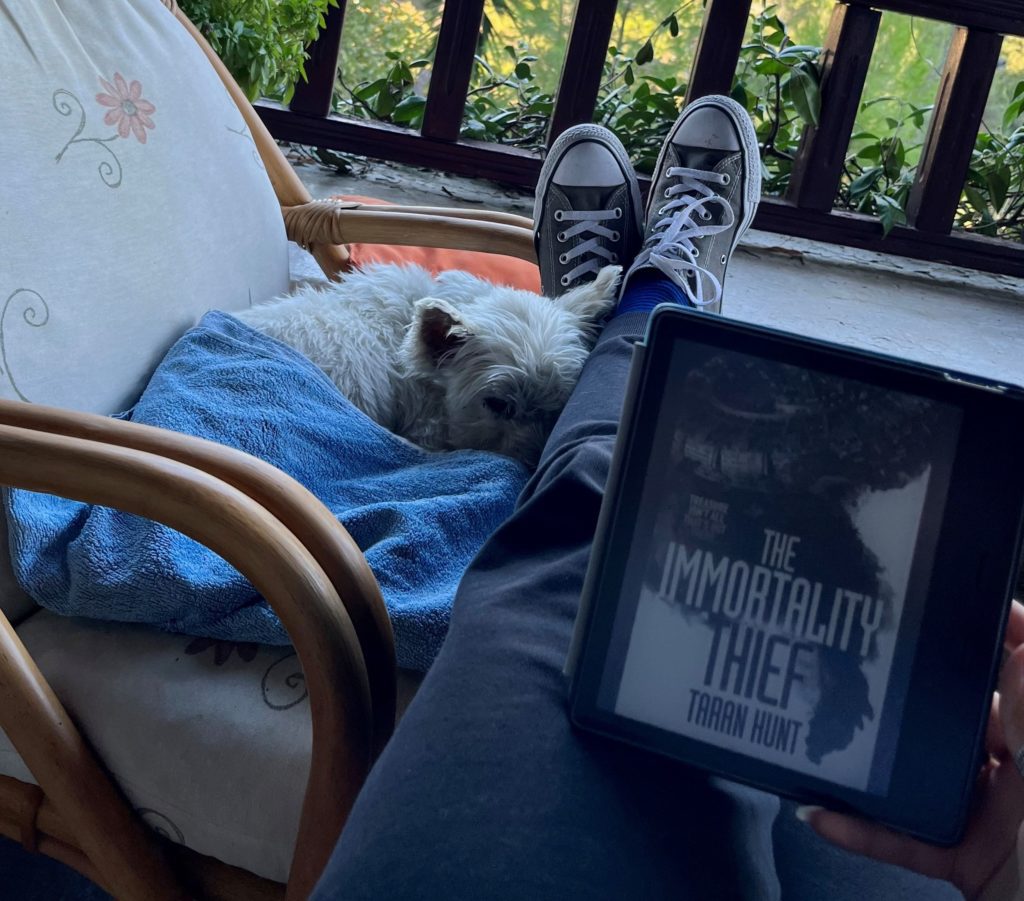 Hello dear reader or listener, my choice for this list is the most recent addition to the few books that are well and truly important to me. Hunt's work speaks for itself to be honest, as it is hilarious, dramatic, more than a tad anxiety inducing and all around a most satisfying space adventure with high stakes and chef's kiss banter.
But the reason it is important to me specifically – and why I chose it for this instead of my usual go-to books that got me into fantasy and reading in general – is because this was the last book I read with Figaro beside or on me. Plain and at the same time complicated as that. Figaro had cuddled up beside me when I read for 15 years and, back in October, this was the last book I got to read with him for company. I always need to fidget while sitting for long times and petting him would help ground me and give my hands something to do, allowing me to well and truly get lost in other worlds. But understandably, knowing things were going a certain way, I really struggled to get into any until this book, which managed to lift my spirits somewhat in those days.
The Immortality Thief was our last story and for that it'll always hold a special place in my heart along with my old boi.
Cassidee – Royal Assassin (The Farseer Trilogy #2) by Robin Hobb
This was a difficult choice. Narrowing it down to Robin Hobb's Realm of the Elderlings was hard, and then picking a book within that series was even more grueling. I know, you might be wondering why I didn't pick Assassin's Apprentice, the book that started it all. Or even Assassin's Fate, the book that closed the lid on this entire world. They were close contenders, for the obvious reasons, but when I think of the moment I knew Robin Hobb was going down as one of my favorite authors of all-time, it is pinpointed to Royal Assassin. By the end of book two of a sixteen book world, I was fully enthralled. The emotions this book brought out in me are imprinted on my heart. We meet Nighteyes. Nighteyes might be my all-time favorite character in any series. The ending of this book gives me chills just to think about. The tenderness in those final scenes brings tears to my eyes every time. Nobody writes the way Hobb does, and Royal Assassin tore my heart open, only to nestle itself into it quite thoroughly.
Justin – Redwall by Brian Jacques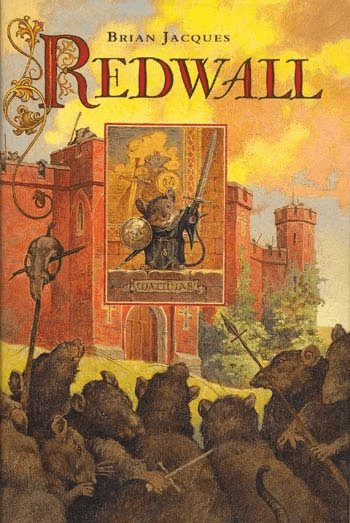 It was hard for me to narrow my choices down to just one book as there are so many that are important to me for so many different different reasons, but I eventually settled on Redwall by Brian Jacques. I think maybe because of my autism I was reading at a very young age, and my mother (despite not being a reader herself) helped foster a love of reading in me from the very start. One of the earliest books I read, after Little Critters and Hank the Cowdog, was Redwall and I was completely swept away! Probably the most mature thing I had read so far, Redwall featured a truly villainous character in Cluny the Scourge and a lovable everyman hero in Matthias! No longer was I satisfied with the slice of life and cartoony depictions of heroes, I now craved the adventure and depth of character I had found between the pages of this book about an abbey filled with peaceful woodland creatures suddenly besieged by a wicked, evil rat. I can easily point to Redwall as the book that started my love affair with fantasy and that's why I wanted to highlight it for World Book Day.
Frasier — The Time Machine by HG Wells
Why should I read? — That was a question I used to ask myself regularly. It started after I'd finished Martin The Warrior (A Tale Of Redwall) and those little mice had broken my heart and left me distraught. I didn't realise that reading could reach places so deep inside me, and I never wanted to experience grief from fiction again. So I vowed never to read for pleasure, and to feel good about myself, I'd often ask — why should I read? — not to find an answer, but just to be a snarky and sarcastic and smarmy teenager.
Then I watched that classic movie from 1960 — The Time Machine. I loved it. The story blew me away. And I realised that maybe I should give the book a try. After all, it might be fun. And it was only 80 pages. What could go wrong?
By the time I finished reading it, I had an answer to the question "why should I read," and I've never asked that question again. The Time Machine is the book that saved books for me, and for that, I will love it forever.
Adrian – Annihilation by Jeff VanderMeer
From all of the books that I've read in my life (and as tasking as it could have been to narrow it down to just one!), the decision of which is most special was surprisingly easy. Only a single book has so thoroughly colonized my mind and consumed my thoughts: Annihilation by Jeff VanderMeer.
Even ten years after first reading Annihilation, it has lingered in my head and heart like the potent psychological aftereffects of a heroic dose of psychedelic mushrooms. From its lush, poetic prose and the dream-like nature of its narrative, to its eerie atmosphere and the invasive, alien presence of Area X (where the novel takes place), this story was an annihilation of my preconceived notions of what literature could do in terms of craft, mood and philosophical musings.
On top of that, this is the book that convinced me to become a writer. If I can one day create a piece of fiction that is even half as evocative and resonant as Annihilation, my creative mission will be fulfilled.
Arun – Gardens of the Moon (Malazan #1)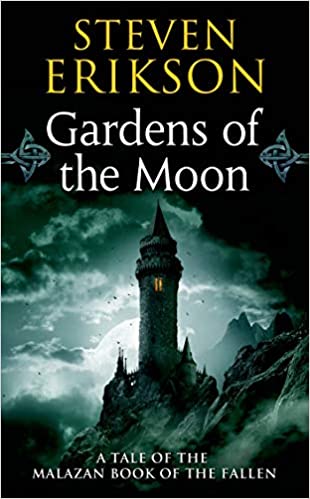 One of the series that really did wonders for me. The in-situ entrance, the sheer epic events and immersive writing just grabbed me like few other books before. Lots of others since have expressed their frustration in the way users are dropped in without history and context, but it just set me on a reading journey like no other. A beginning to what I consider the greatest fantasy series of all time, that I've read. The way the author drops hints all across and somehow everything connects together in a way that I never could predict where the story is headed for was an addiction.
Be it epic battles, tragic events, humor or deep reflections the book just delivers on all of it. A plethora of memorable character like Whiskeyjack, Anomander Rake etc still are fresh in my memory decades after finishing this series. One of my go to books to browse or re-read whenever I'm in a slump. Simply superb!
David S – Ender's Game by Orson Scott Card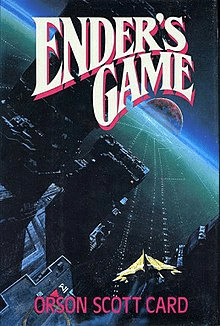 I honestly thought this choice would be hard. But it only took me a few moments to realize that Ender's Game by Orson Scott Card was the book I had to choose for this. This is a classic of the sci-fi genre and for good reason. It is incredibly well written and captivating in its own unique ways. However, this book is so dear to me because what it has meant to me personally.
Growing up, I struggled to fit in. I was a kind and quiet kid who got bullied. Reading Ender's Game was the first time I felt really understood. Sans having a genius level intellect, I related to Ender deeply in a number of ways. Dealing with a world that did its best to take advantage of a kind and quiet soul. The struggle of being bullied and mistreated. I was also, and am still in a lot of ways, a sensitive and incredibly empathetic person like Ender is throughout the book. Ender's Game gave me hope that I would someday have friends who knew the real me and accepted me for I am. Ender set me on a path to standing up for myself when I needed to despite our shared hatred of conflict. And more than anything, Ender showed me that empathy and kindness are never, ever a weakness. That despite the cruelness of the world I should hold onto that for dear life. Ender's Game taught me a lot about myself and how I need to interact with the world around me. I'll forever be grateful for that.
---
And remember, please share with us some books that are special to you! We loved making and talking about the books in this post, so we'd love to hear from you too! Also, if you fancied treating yourself and picking up a book or 5, consider using your local library or independent book shops, like The Broken Binding (if you use FANFI at checkout, you get 5% off your purchase!)
Happy World Book everyone!