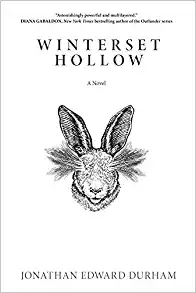 Rating: 10/10
Synopsis
Everyone has wanted their favorite book to be real, if only for a moment. Everyone has wished to meet their favorite characters, if only for a day. But be careful in that wish, for even a history laid in ink can be repaid in flesh and blood, and reality is far deadlier than fiction . . . especially on Addington Isle.
Winterset Hollow follows a group of friends to the place that inspired their favorite book—a timeless tale about a tribe of animals preparing for their yearly end-of-summer festival. But after a series of shocking discoveries, they find that much of what the world believes to be fiction is actually fact, and that the truth behind their beloved story is darker and more dangerous than they ever imagined. It's Barley Day . . . and you're invited to the hunt.
Winterset Hollow is as thrilling as it is terrifying and as smart as it is surprising. A uniquely original story filled with properly unexpected twists and turns, Winterset Hollow delivers complex, indelible characters and pulse- pounding action as it storms toward an unforgettable climax that will leave you reeling. How do you celebrate Barley Day? You run, friend. You run.
Review
I received a physical copy of this book from the author in exchange for a honest. Everyone who follows my post and reviews knows that the genre's I typically read are sci-fi and fantasy. So I seldomly like to venture out side of my comfort zone, but when the author reached out to gage my interest I was immediately floored when discovering Winterset Hollow is a genre blender. These types of stories I immediately gravitate towards and as you can tell by my rating, this story is amazing. Think of it as an urban fantasy mixed with a thriller type movie and a touch of Stephen King. The story will not be what you except to read but at the same time everything you could want in a brilliant work of fiction. No matter what your tastes, preferences, or reading acumen Winterset Hollow will be a story you will never forget.
So what is this story about? Imagine your favorite fable story growing up as a kid with animals going on fun adventures, important life lessons, and having it all end with a massive feast called Barley Day. For John Eamon Buckley and his two friends Mark and Caroline the story Winterset Hollow meant the world to them in their adolescence. So much so that they decide to visit the location where the author of Winterset Hollow got his inspiration for the stories on Addington Isle off the coast of Washington State. Our three characters are joined by other fans of the story as it is Barley Day and the celebration has yet to begin. But once they get to the isle, they are faced with a shocking discovery. The stories written in the fable story are not a figment of the authors imagination, THEY ARE REAL!!! They story from here turns into a dark thriller that you will not be able to put down. I will leave it here to avoid talking about spoilers.
The prose and writing style of Jonathan Edward Durham are the equivalent of a literary scholar submitting his life work for national recognition. Each sentence is fluid and descriptive but elusive with a hidden agenda. The story will slowly build and move towards the climax where the whole story will be flipped on its head. Durham also introduces very dark themes surrounding the human psyche. Winterset Hollow dives into abusive past for characters, depression, and even touches on the effects of insanity to varying degrees but this is just the beginning. The book is divided into five parts and at the beginning of each is a fable regarding the characters of Winterset Hollow. Reading these sections for the first time will give you one reaction but a completely different one upon completing the story. The twists and revelations are that grand and mind-blowing to say the least. Don't miss out on this literary spectacle!
For Jonathan Edward Durham to write a debut novel this fantastic is a testament to the type of writer he is and what else he may have in store. I can recommend this to anybody and everybody looking for a novel with dark tones and blends the very best from several genre's. Diana Gabaldon quoted this novel as being "Astonishingly powerful and multilayered", I couldn't agree more. How about you?
Cheers!