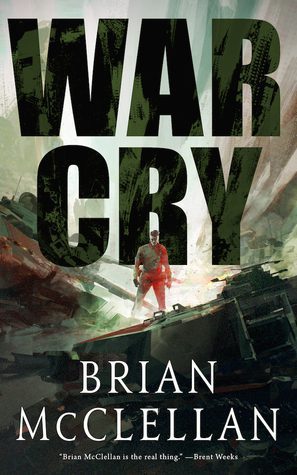 Genre: Military Fantasy
Publisher: Tor.com (August 28th, 2018)
Paperback: 96 pages
5/5 Stars
I first want to thank the publisher and the author for an Advanced Reading Copy of 'War Cry' in exchange for an honest review. Receiving this ARC in no way influences my overall opinion of the novella.
War. War never changes.
The great war has been ongoing for ages. Some do not even remember a time before there was war. Teado is one of those. He is a 'Changer', a wizard with the ability to shape-shift into a large, destructive creature on a whim. He didn't always have this power, but once it manifested, he was sent to the front lines to lead the attack. Armed with large talons and close to impenetrable skin, his kind were thought to bring about an end to the war. (Picture a mix between the video game Prototype and a Deathclaw from Fallout and you'll get a glimpse as to Teado's form.)
But as the war continues, supplies and rations become scarce. The enemy, whom Teado's platoon uses in order to resupply themselves, has moved back and there is no resupply coming in their near future. Teado and his platoon must make a last ditch effort to attack the enemy, recover their supplies, and get out alive. When they arrive, they find out that they are in for more than they bargained for.
War Cry starts out a little slow, giving the reader a sense of what is going on surrounding Teado and his platoon. We are given a small glimpse into their struggle for survival and the limited avenues in which they can turn, but then the world-building begins and our characters are fleshed out as much as humanly possible within the confines of 96 pages. There are firefights, dogfights, hand-to-talon combat (see what I did there?), political intrigue, etc, all of which McClellan excelled at in his Powder Mage novels, except the talons of course.
I thoroughly enjoyed this story and it is a very quick read if you need something on a lunch-break. It is very engaging, and intriguing, what with the originality of the 'Changers' and other wizardry among the ranks, plus the consistent tempo changes keeping the reader off-pace. In short, "Gritty, violent, and downright fun, War Cry will go down as one of my favorite novellas of all time."
Pre-order your copy today. Release date is August 28th, 2018.
Amazon | Barnes & Noble | Google Play | Kobo
-Review by David