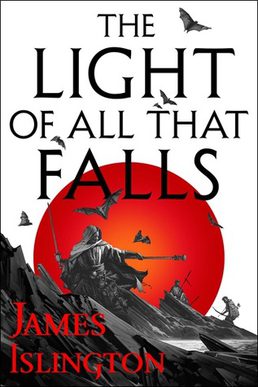 Rating: 6.5/10
Synopsis
The journey that began with The Shadow of What Was Lost reaches its spectacular conclusion in The Light of All That Falls, the final chapter of the Licanius Trilogy by acclaimed epic fantasy author James Islington.

After a savage battle, the Boundary is whole again — but it may be too late. Banes now stalk the lands of Andarra, and the Venerate have gathered their armies for a final, crushing blow.

In Ilin Illan, Wirr fights to maintain a precarious alliance between Andarra's factions of power. With dark forces closing in on the capital, if he cannot succeed, the war is lost.

Imprisoned and alone in a strange land, Davian is pitted against the remaining Venerate. As he desperately tries to keep them from undoing Asha's sacrifice, he struggles to come to terms with his own path and all he has learned about Caeden, the friend he chose to set free.

Finally, Caeden is confronted with the reality of a plan laid centuries ago — heartbroken at how it started and devastated by how it must end.
Review
First of all, I would like to say that even though this book did not rank as highly for me personally compared to the other two in this trilogy, I'm glad that I took the time to read these books. I think they were very worthwhile.
This book concludes The Licanius Trilogy, the debut trilogy from James Islington. It picks up roughly a year after the events of the last book. The outlook for our heroes is bleak, and getting bleaker by the minute. However, they are not out of hope yet.
After finishing the trilogy I have been thinking back on it overall, and for me it is very much a plot driven story. The characters are fun, and I didn't dislike them at all, but the core of the development and the heart of the series is in the plot. I loved the way Islington wrote this story, with all its intricacies, reveals, grand ideas and philosophical musings that we are left with to ponder on. This book really dives deep into the time-travel aspect of the story and the age-old question of choice vs fate, free-will vs predetermined outcomes. It's a hard theme to tackle and I mentioned before in my previous reviews for this series that time travel is often a big turn off for me. I've rarely come across this theme in media and have it be something I remember enjoying. However, Islington handles it well and I really did enjoy it here. The plot that drives this series is strong, and for a debut series I am blown away with what Islington accomplishes in this regard.
Having said this, I am very much a character driven reader. I did fell the lack of character depth tripped me up in this book at several points. Certain life altering things would happen to them, and I would be waiting to see how the heroes we follow would react or how this would change their outlook. But they would just continue on pretty much as normal. I didn't notice this as much in previous books but I did in this one. I feel like this book prioritises plot over character, and that's just something that is not for every reader.
I also felt like this book and series overall would have benefitted from the parameters of what essence can do being clearly defined from the get go. I feel like it never really was and I was waiting for it, but we just do not get it. Not all fantasy needs to have clearly defined magic systems but I really feel that a story as intricate as this one would have been improved by doing so. At several points in this book characters who wield essence are able to do things with it that are previously unmentioned and a little too convenient.
Let me circle back around to one aspect I really loved about this book. The ending. There are a lot of threads to wrap up after three long epic books, with history spanning literally thousands of years. Islington manages to tie things together in an explosive, heart-felt, and very satisfying way that I absolutely loved. The pacing is a bit off at times for the book overall, with the beginning and middle having a definite lull in them. However, the ending comes in swinging and makes it all worth it. The epilogue, once again, was the real kicker.
So, overall this is not the strongest entry in this trilogy but I did still enjoy it. Despite certain aspects that didn't work for me, if you have gotten this far into this series I would highly recommend picking this one up. I would also recommend this series to anyone looking for an epic fantasy with an engaging story and especially to those who like books where you really need to pay attention to everything closely.