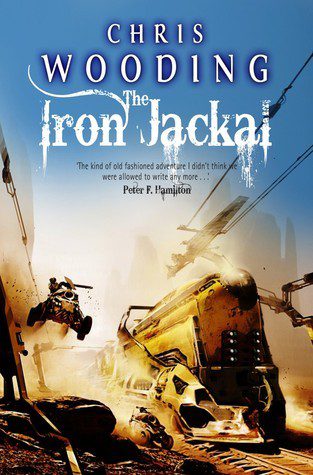 Rating: 10/10
Synopsis
Things are finally looking good for Captain Frey and his crew. The Ketty Jay has been fixed up good as new. They've got their first taste of fortune and fame. And, just for once, nobody is trying to kill them. Even Trinica Dracken, Frey's ex-fiancee and long-time nemesis, has given up her quest for revenge. In fact, she's offered them a job – one that will take them deep into the desert heart of Samarla, the land of their ancient enemies. To a place where the secrets of the past lie in wait for the unwary. Secrets that might very well cost Frey everything.
Join the crew of the Ketty Jay on their greatest adventure yet: a story of mayhem and mischief, roof-top chases and death-defying races, murderous daemons, psychopathic golems and a particularly cranky cat. The first time was to clear his name. The second time was for money. This time, Frey's in a race against the clock for the ultimate prize: to save his own life.
Review
"So here's what I reckon,' said Samandra. 'We get in there. We find somethin' that looks like it shouldn't be blown up. And we blow it up."
I wasn't planning to write this review honestly. I reviewed the last book in the series and I figured, people wouldn't want to read about my ramblings on the next one too. If they read the others in the series surely they'll either keep reading if they liked it, or they won't. But here we are. After reading this book I'm here blessing you all with my bookish word-vomit again, you know why? More people need to know about this series! It's that good! And it's so underrated.
This third instalment continues to follow the crew of the airship 'The Ketty Jay'. This time things are changed up a bit from the last two and it was awesome to see the story go in a different direction. Rather than taking on another dodgy job that doesn't go as planned, Darian now has to get himself out of some serious trouble that he stupidly gets himself into. Not only this but Darian is also grappling with the issue that he can't simply be the self-centred rogue he used to be, as he now actually cares about his crew a whole awful lot.
The character work continues to be exceptional. You will likely recognise some archetypes in the crew. This didn't bother me at all and actually made the vibes even better for me as I was reminded of other stories with similar characters that I love. All the characters here stand out on their own, have their own inner voices and struggles, and are really fleshed out throughout the series as a whole. You can't beat a well done 'group of misfits' vibe and here it is so well done.
The story here was a highlight for me. It's fast paced, full of action and humour and it changes things up from the last two books as I said. Which was needed. There are elements here and there that are predictable but I really think Wooding is going more for fun and action rather than surprising twists, and he certainly succeeds at this story being fun. The side plots are also really great to follow too, with Trinica, Slag and Samandra all making appearances again.
If you like steam-punk fantasy/sci-fi with vibes from Firefly and Indiana Jones check this series out.