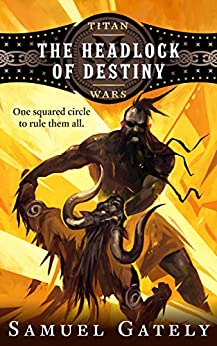 Rating: 7.5/10
Synopsis
Some say titans are descended from giants. Others say they are risen from men. But there's never any debate about where to find them. They will be in the center of a roaring crowd, beating the hell out of each other. From contenders like the Savage and Scott Flawless to pretenders like Richard the Living Portrait and Troll-Blooded Thom, a titan's lot in life is the same: To wrestle for dominion and glory in the squared circle.
Van, a quiet titan from the brewery town of Headwaters, wants no part in this. He'd prefer to be left alone with a beer. But destiny has him in a headlock, and it is prepared to drag him into battles that will shake the land and change his world forever.
Step into the ring with this one-of-a-kind novel, brewed special for fans of epic fantasy, fans of professional wrestling from the Golden Era and beyond, or simply fans of a good tale.
Review
With my every growing TBR and the mountainous volumes in the epic fantasy genre, every once in a while I'm in a mood for a fun and adventurous story. Samuel Gately's debut novel combines all the great aspects of the fantasy genre with the entertainment of wrestling between Titans. When you throw into that towns brewing their own beer and looking to one up each other for the big show is guaranteed to bring up cheers from the crowd. Who will win The Headlock of Destiny? It might be a Titan that no one expected.
The Headlock of Destiny is a national contest where Titans (Giants) and several other mythical creatures face off in the arena for pride, glory, and of course for the huge amount of money changing hands. But what happens when a Titan does not wish to participate in the contest? That is where we find our main character Van, working in a brewery carrying around beer barrels due to his enormous size and strength he is enjoying the quite life. Seemingly isolated when his childhood crush marries his once best friend, Van hopes to look for something more to do with his life. Titans are also referred to in this series as ten men and you can probably guess the reason why. When an spot opens up in the contest with no more entries to be had, Van is approached to do a one-off fight as no one expects him to do much of anything. To everyone's shock and amazement, Van wins the match and forever adopts the name Van the Beer Man as he moves to the main competition at the capital. Darker forces are at play and this is just a sneak peek into the world at large.
The writing style for The Headlock of Destiny is quick and fun while presenting undertones of emotional connections and heartbreak on the part of Van. This book leans more towards the atmosphere and action scenes but the more quiet moments will be just as impactful. The worldbuilding I felt could have been handled a bit better as good portion of it is divulged in a chapter or two, but this was my only quibble and somewhat of a personal preference for me.
The Headlock of Destiny is a very good adventure that will be sure to make you cheer and laugh along the way. This book was actually the perfect remedy for getting me out of a reading slump and these types of books are worth there weight in gold. With the sequel already out, this series is sure to bring in fans across the fantasy genre. Give this series a try as it is a smashing success.
Cheers!