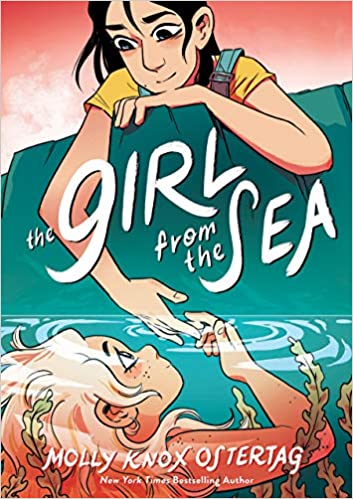 Amazon | Barnes & Noble | Book Depository | Goodreads
---
Rating 8/10
Synopsis
Fifteen-year-old Morgan has a secret: She can't wait to escape the perfect little island where she lives. She's desperate to finish high school and escape her sad divorced mom, her volatile little brother, and worst of all, her great group of friends…who don't understand Morgan at all. Because really, Morgan's biggest secret is that she has a lot of secrets, including the one about wanting to kiss another girl.
Then one night, Morgan is saved from drowning by a mysterious girl named Keltie. The two become friends and suddenly life on the island doesn't seem so stifling anymore.
But Keltie has some secrets of her own. And as the girls start to fall in love, everything they're each trying to hide will find its way to the surface…whether Morgan is ready or not.
Review
Aaaah, but I loved this graphic novel! A beautiful story, beautifully told, about how life isn't neat and tidy, but is absolutely worth grabbing with both hands.
Morgan Kwon is just biding her time: with her parents newly divorced and her younger brother acting out, she can't face coming out to her family and friends and plans to hold on to her secret until college, when she can escape her small island home. And then Keltie the selkie arrives on the scene, with a mission of her own, and Morgan's plans get turned on their head.
Primarily, this is Morgan's story about her fears and hopes around being gay. It is far more about her own acceptance of herself than about those who know her having to come to terms with anything – she's got a loving family and has picked great friends, all of whom take her eventual declaration in stride. Just this, on its own, makes for a comforting, lovely story, but I like that alongside Morgan's tale is that of an endangered seal rookery, for which Keltie has … run aground (*snorts* I crack myself up). Keltie is fabulous, (not that Morgan isn't fabulous, she just hasn't embraced her own fabulousness quite yet), and is everything that Morgan is not. She sees no need to hide what or who she is, the things she likes (that sparkly dolphin tee-shirt!) or what she believes in. And while Morgan is trying to control and contain everything, the exuberant Keltie represents that chaotic element in life that lays waste to the best laid plans.
This kind of tightly-focused story can be quickly ruined by unbelievable characters, but Ostertag's cast and their relationships with one another are done well and the author-artist is never heavy-handed. Morgan, her mom and her brother Aiden are all just a little out of kilter with one another in the wake of the divorce; Morgan's friends sense that there's something their friend isn't telling them, but don't know how to help, not knowing what the problem is; and Morgan and Keltie's summer romance unfolds sweetly in the quieter out-of-the-way places on Wilneff Island. A lot of these different vibes are shown through the characters' expressions and poses, rather than awkward or unwieldy dialogue, and Morgan's interactions with her friends are often captured neatly in phone screen grabs of chat, which serves to underline the two lives she finds herself living after meeting Keltie.
I am a sucker for mermaid and selkie stories and always have been, and I happily blarted at the end of this story as if I were a teenager all over again. I remain unashamed. Any coming-of-age tale that assures its readers (no matter how old) that they can be anything they choose to be, that they needn't be just one thing and that we all contain multitudes, gets a standing ovation from the little reader in my head. That it's been done here with such style, and in Ostertag's characteristically gorgeous artwork – softly rounded, mobile figures, clean lines, expressive faces – and in a lovely palate of seaside colours, and you have the perfect weekend/holiday/Pride Month read. Pretty, romantic, with a hint of magic and a life-affirming message. What more could you possibly want?