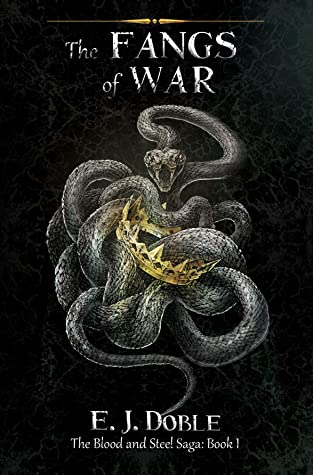 Rating: 8.5/10
Synopsis
After the brutal execution of Provenci's King by the roving forces of Tarraz, a new military government vaults into power with the nefarious Alvarez at the helm. Hell-bent on bloodshed and the glory of an imperial past, he amasses the largest army seen in a generation and plunges the two nations into a bloody war, against the will of the god-like being known as the All-Mother.
Cavara, a general of the army at odds with her superiors over the war, is ground under the heel of the scheming Commander Revek and betrayed by her own people, left for dead on a distant shoreline. Saved by a passing ship and taken to the other end of the world, she is plagued by visions of a white void and a figure known as the Shadow Woman, who begins to unravel the true nature of the war – a conflict not only of men, but also of gods alike.
In a story of hope, power, greed and hatred, all are driven mad by the enemy within – none are safe from the Fangs of War.
Review
The Fangs of War is an indie published book by E.J Doble, which I picked up through a recommendation and a fantastic sounding premise that drew me in.
I will start by saying this is about as grimdark as it can get – think Anna Smith Spark levels. I'm a huge fan of grimdark, so I can safely say this more than satisfied that need. So, if you like your stories bloody then read on.
The Fangs of War is set in a world hanging on the balance of an uneasy rivalry between two nations which last ended in bloodshed, and by the looks is on its way to returning to those roots. The book begins with the death of the King of Provenci, brutally murdered, instigating a bloody war. The story follows a path of visceral destruction, betrayal and brutality as the two nations (Provenci and Tarraz) duke it out. Elements of magic and monsters are thrown into the mix, making for an interesting and at times edge of the seat read, like some kind of bloody adventure through the unknown and alien. On top of the focus on war, there is definitely a political aspect going on, with characters vying for positions of power and control, ready to step over or even kill anyone in their way of it.
There was quite a lot of world-building and scene setting involved at the beginning, meaning the start was on the slower side. I will say, despite this, it picks up hugely half way through and ends with a bang and a cliff-hanger, ready for book two. I need answers Mr Doble!
In terms of characters I felt like there was a real mix, some completely unlikeable, yet enjoyable to read and others that showed there was some hope left in this world. Firstly we have Revek who is the brutal commander of the Provencian forces. He is a despicable character who is in no way likeable, yet made for some unique reading. I really did want to find out what would happen to the dirtbag! Next up was Cavara a general within Revek's army, who doesn't quite agree with his methods. What follows is a series of betrayals after which Cavara finds herself face to face with some…interesting beings. Markus was probably my favourite character, probably as he seemed the most human, and because his character development and motivations really drove the plot forward. He works beside Savanta and the two of them make quite a pair…There are of course other characters, but I'll let everyone discover those!
I would say the characters in this story really made the story, as each was extremely well written. I imagine some of them were made unlikeable for a reason, however some redeeming qualities might have made them more rounded. Also, a POV from the Tarraz side would have added some intrigue in terms of seeing what the "other" sides motivations are.
Doble's writing is excellent, being highly imaginative and even vivid in detail. It did take me a while to get into the prose of the story, especially due to it being very descriptive and even complex at times. However, it did fit the narrative of the story and made The Fangs of War feel like a satisfying read.
If you're a fan of Anna Smith Spark or even looking to quench that grimdark thirst, then this is most definitely the read for you. Strap in and get comfortable, because you're in for a wild blood filled ride.