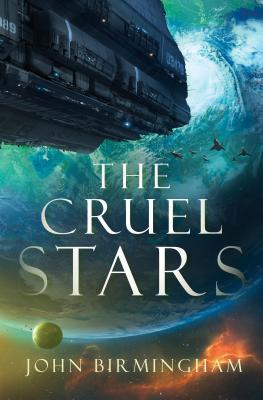 Rating: 10/10
Synopsis
In this epic sci-fi adventure for fans of The Expanse and Battlestar Galactica, five intrepid heroes must unite to save civilization after a long-dormant enemy awakens and strikes a devastating blow
"This jarring, engrossing story of a species-wide fight for survival is recommended for all science fiction readers."—Publishers Weekly (starred review)
The galaxy was once terrorized by the Sturm, a group of "species purists" intent on destroying any human with genetic or cybernetic enhancements. Fashioning themselves as the one true "Human Republic," the Sturm cut a bloody swath across the stars, killing billions before finally being defeated and driven into the far reaches of Dark Space. Centuries of peace bred complacency. Everyone believed the Sturm had died out in the Dark. They were wrong.
The enemy has returned and, with a brutal and decisive attack, knocks out almost all of humanity's defenses. Now on the brink of annihilation, humankind's only hope is a few brave souls who survived the initial attack: Commander Lucinda Hardy, thrust into uncertain command of the Royal Armadalen Navy's only surviving warship. Booker3, a soldier of Earth, sentenced to die for treason, whose time on death row is cut short when the Sturm attack his prison compound. Princess Alessia, a young royal of the Montanblanc Corporation, forced to flee when her home planet is overrun and her entire family executed. Sephina L'trel, the leader of an outlaw band who must call on all of her criminal skills to resist the invasion. And, finally, Admiral Frazer McLennan, the infamous hero of the first war with the Sturm hundreds of years ago, who hopes to rout his old foes once and for all—or die trying.
These five flawed, reluctant heroes must band together to prevail against a relentless enemy and near-impossible odds. For if they fail, the future itself is doomed.
Review
First, thanks goes to Paige from Head of Zeus books for sorting me out with a beautiful hardcopy of this book for review. It in no way affected my review, nor was this book on my radar before she told me about it … so, for this random book to be one of the highlights of 2021 was very pleasant indeed.
Combat Intellects, mechs with humans written from a source code, old family dynasties, more advanced tech than you can throw a stick at, and that's just in the first chapter. It's a smorgasbord of everything that's cool about modern science fiction; it's bonkers in all the right ways. It would definitely suit fans of explosive space battles in series like the Expanse and the body-switching, souls uploaded into chips, and other weird tech of Altered Carbon.
If that isn't enough, and I haven't name-dropped enough technology, then I'm about to do a lot more of that. My favourite thing about this novel was the imaginative technology on display; yes, it's not like ship Intellects (AI that control the ships) are something new, but this certainly had its own spin and certainly its own voice. Birmingham really took concepts we know and love from the genre and made them exciting and brand new: ships are engulfed in their own 'Discrete Pocket Universe'. Folded space gates, external universe shielding. Not to mention most people with their Neural Net wired as a carbon braid through neocortex and plunging into hindbrain … yeah, whatever that is it's very cool. There's skinjobs, body implants, and gene-mods, making some characters giant humans spliced with rhino and gorilla DNA to form a hulking mutant.
Lucinda, a war hero who has now landed herself a position on the HMS Defiant, a space-craft set on a mission to find out what's happened to three long-range scanners that went out all at the same time in deep space – the same deep space the Sturm were said to have disappeared to when they were defeated by the ancient Armada-class Intellects over six-hundred years ago; Professor McLellan, or Mac, and his old Intellect friend Herodotus on a dig of a Sturm Generation ship that crashes hundreds of years ago; Sephina, a space pirate with her Rhino/Gorilla friend and Alessia Montanblanc, princess to a family so powerful they own entire worlds, and Cell M23 Prisoner, Booker, a Coder waiting for permanent deletion … there's such a variety of characters here, all with backstories that you can already see stretch hundreds of years in the past, each one with visible faults and a very distinct personality of their own. It's an absolute delight to watch as these very separate stories collide.
One of the focal points initially in the story is a Malware breach on ships and sites around the Volume, but instead of it taking down systems, it … well, I won't be spoiling that for you but it's just to say the plot doesn't take long to get going and when it does, it's fireworks all around.
The battles are vivid, a joy to read: high-tech, micro missile, nanoscale wormholes, flechette rounds, shock armour, arc lightning, I'm super-impressed by the different ways of killing employed in the battle scenes of this novel. They're amazing, turning each firefight into a firework display.
Hero is the hero and deserves a special mention. You've got to love that Combat Intellect. the absolute superiority of the Intellects is outstanding – and Birmingham spends a lot of time, effortlessly, building the information surrounding what an Intellect is capable of compared to a normal human, and what a particular type of Intellects can do; when it happened, and we finally saw what they're about, it was goosebump-inducing.
I realise this review was practically a list of cool things from the novel, but really, I'm kind of stuck for words at how much I enjoyed this one. I'm really, really excited about this series and I'm jumping straight into book 2. I can't wait.