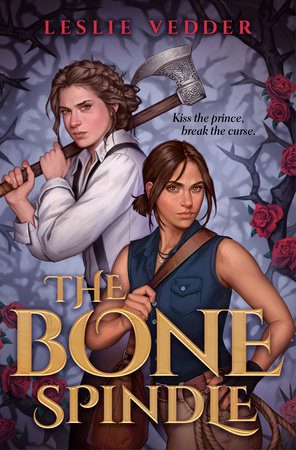 Rating: 8/10
Synopsis
The kingdom of Andar sleeps along with its prince, Briar Rose, for Briar Rose was inflicted by the Spindle Witch's sleeping curse until his true love awakens him with a kiss.
Fi, a treasure hunter, pricks her finger on a bone spindle while searching for treasure with her bolshy new partner Shane, a battle-ax-wielding outcast in search of riches. The bone spindle binds Fi and Briar and the partners soon find the journey ahead is not without peril.
Fi and Shane now go up against curses, witch hunters, real bad exes, and true love as they set off on the quest to break the curse.
Review
Right off the bat I liked The Bone Spindle and found it to be an accessible read. It takes its lore from a number of classic fairytales while weaving in a treasure-hunting element. There's a real smattering of recognisable characters in this fairytale Indiana Jones story as a result.
Fi is the lone wolf treasure hunter afflicted with the butterfly curse, which means those she loves will suffer bad luck should she stay with them for longer than three days.
Red, the thief, is absolutely a dangerous witch and a take on Red Riding Hood.
Briar Rose is the prince cursed to sleep forever by the book's unseen antagonist, the Spindle Witch, until the spell is broken by love's kiss, which just so happens to be Fi.
The list goes on but none of these characters felt more loveable to me than Shane, the huntsman, an ax-wielding barbarian lesbian who is as hilarious as she is utterly fierce. I fell in love with Shane instantly and found myself grinning at her blunt approach to almost every situation in the story. If a problem can't be solved by hitting it with your battle-ax, then Shane really isn't your gal.
What I also loved about this book was the snappy dialogue between the characters. Everyone on the roster gets a chance to shine. Take Briar and Fi's early back and forth as an example:
"Do you believe in love at first sight?"
… "I find it highly improbable, given that you first saw me flailing and drowning."
Not just a fairytale Indiana Jones?
Vedder isn't afraid to tackle harder-hitting topics either. The price of fate sees a number of characters making near-impossible choices. Shane's walking away from the woman she loves, who is in love with her brother and marrying her only out of duty, for her twin brother to take his place as their father's heir. Fi's ex-partner Armand's inflicting the butterfly curse upon her to entrap her in a controlling relationship. Briar's 100-year wait for his true love to break the sleeping curse inflicted upon him while his kingdom has become an overgrown and forgotten legend.
There's countless heart wrenching twists, turns, kisses, pledges of love and betrayals that just feels so satisfying. I hope we have a chance to go ruin-delving with Shane and Fi again very soon because I really wasn't ready for this book to end.