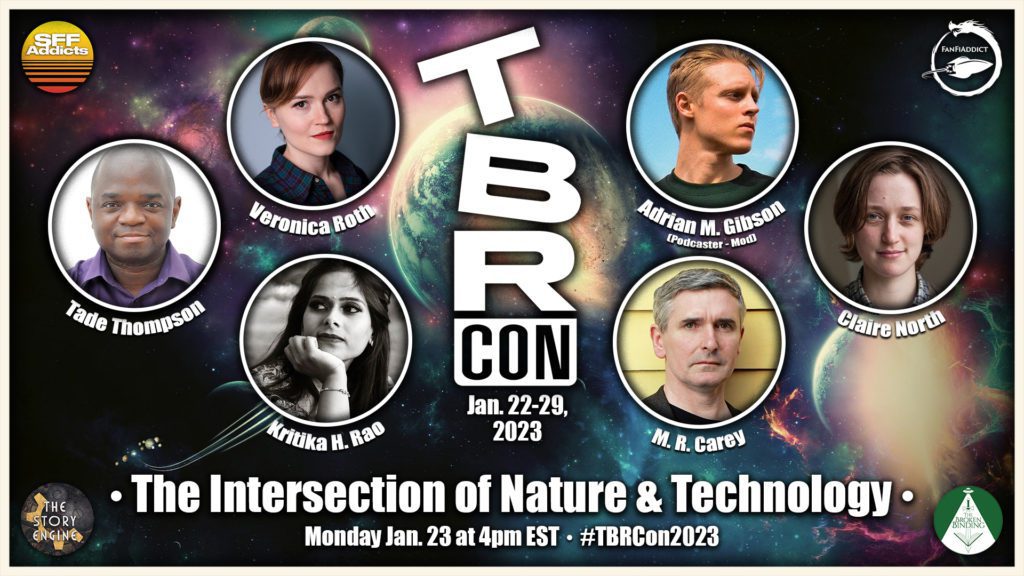 Every week, we are highlighting a panel from TBRCon2023, looking back on the amazing variety of panels that we had the honor of hosting.
This week, join moderator Adrian M. Gibson and authors Veronica Roth, Tade Thompson, Claire North, M. R. Carey and Kritika H. Rao for a TBRCon2023 author panel on "The Intersection of Nature & Technology."
To check out all of our TBRCon2023 content, click here.
---
ABOUT THE PANELISTS:
Adrian M. Gibson is a writer, illustrator and the creator and co-host of SFF Addicts, and he is currently working on his debut novel. Find Adrian on Twitter, Instagram or his personal website.
Veronica Roth is an American novelist and short story writer, known for her internationally bestselling Divergent trilogy. Her newest releases are Poster Girl and Arch-Conspirator. Find Veronica on Instagram, Amazon or her personal website.
Tade Thompson is a psychiatrist and science fiction author. His works include Rosewater and its sequels, Far from the Light of Heaven and more. Find Tade on Amazon.
Claire North is the author of Notes from the Burning Age, 84k, The Pursuit of William Abbey, The Fifteen Lives of Harry August and more. She has also written under the names Kate Griffin and Catherine Webb. Find Claire on Twitter or her personal website.
M. R. Carey is the author of The Rampart Trilogy (The Book of Koli, The Trials of Koli, The Fall of Koli), The Girl with All the Gifts, the Lucifer comic book series and more. Find Mike on ⁠Twitter⁠ or Amazon.
Kritika H. Rao is the author of The Surviving Sky, her debut novel. Find Kritika on Twitter, Amazon or her personal website.
---
The audio of this panel is available to stream and download on:
Anchor | Apple Podcasts | Spotify | Google Podcasts | Podcast Addict | Stitcher | Amazon Music | Overcast | RadioPublic | Pocket Casts | Breaker | Podbay
You can also watch the panel below via the FanFiAddict YouTube channel or stream the audio via Spotify.