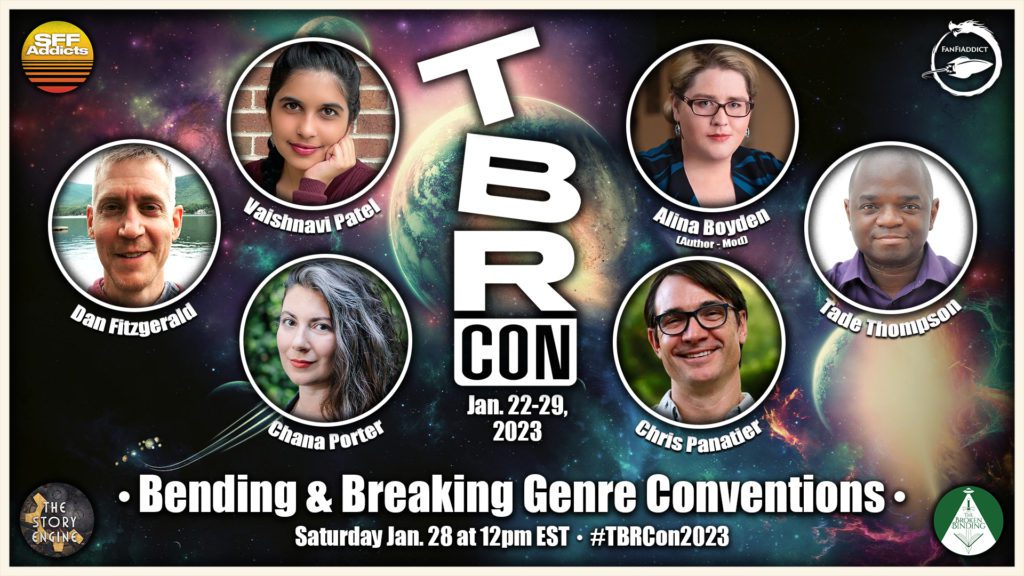 Every week, we are highlighting a panel from TBRCon2023, looking back on the amazing variety of panels that we had the honor of hosting.
This week, join moderator/author Alina Boyden and authors Tade Thompson, Vaishnavi Patel, Dan Fitzgerald, Chana Porter and Chris Panatier for a TBRCon2023 author panel on "Bending & Breaking Genre Conventions."
To check out all of our TBRCon2023 content, click here.
---
ABOUT THE PANELISTS:
Alina Boyden is the author of Stealing Thunder and Gifting Fire. Find Alina on ⁠⁠Twitter⁠⁠ or ⁠⁠Amazon⁠⁠⁠.
Tade Thompson is a psychiatrist and science fiction author. His works include Rosewater and its sequels, Far from the Light of Heaven and more. Find Tade on ⁠Amazon⁠.
Vaishnavi Patel is a law student focusing on constitutional law and civil rights, as well as the debut author of Kaikeyi. Find Vaishnavi on ⁠Twitter⁠ or ⁠her personal website⁠.
Dan Fitzgerald is the author of the Maer Cycle trilogy, the Weirdwater Confluence duology and more. Find Dan on ⁠Twitter⁠, ⁠Amazon⁠ or ⁠his personal website⁠.
Chana Porter is a novelist, playwright, teacher, MacDowell fellow, and cofounder of The Octavia Project. Her works include The Seep and The Thick and the Lean. Find Chana on ⁠⁠Instagram⁠⁠, ⁠⁠Amazon⁠⁠ or ⁠⁠her personal website⁠⁠.
Chris Panatier is an artist and author of short stories and novels. His works include The Phlebotomist and Stringers. Find Chris on ⁠Twitter⁠, ⁠Amazon⁠, ⁠his personal website⁠ and ⁠his artist website⁠.
---
The audio of this panel is available to stream and download on:
Anchor | Apple Podcasts | Spotify | Google Podcasts | Podcast Addict | Stitcher | Amazon Music | Overcast | RadioPublic | Pocket Casts | Breaker | Podbay
You can also watch the panel below via the FanFiAddict YouTube channel or stream the audio via Spotify.